It's been a little over two months since we came back from North Korea – the most mysterious country Paro and I have ever set foot in. If you've been following my ramblings on Facebook and Instagram, you'll know that I try to do a cooking class in every country I travel to. For me – a recipe beats a fridge magnet any damn day of the week. Cooking classes are a brilliant way to get to know the people of a country, and really throw yourself into local culture. I do my research early and usually connect with the teacher / chef in advance to discuss the menu I'd like to cook. This is usually done over email, WeChat or whatever, but with this trip it was different. I wasn't able to find any information around cooking classes in North Korea. Nothing on TripAdvisor, no travel forums nothing.
I reached out to Koryo Tours, who were handling our entire trip and asked if they offered cooking classes or knew of anyone who did. We waited a few days, and they replied saying that we were the first people to ask for something like this, and that they'd do their best. They confirmed the class in a few days, but set the expectation that this was a first for them, and it may not be up to global standards.
Let me just say this – they ended up giving us one of the most detailed cooking classes we've ever had. I went to chef school for three years, guys. I know a serious lesson when I see one. The class was held in a restaurant tucked away in the suburbs and the TV crew waiting for us was a hint that this was going to be a much bigger deal than I'd anticipated. We stepped in and got down to business right away.
MUNG BEAN PANCAKES
The first thing we cooked was Mung Bean Pancakes. I found these similar to South Indian Pesarattu – but thicker and with less chilli. What makes these absolutely yum, is the fact that they're cooked in pork lard instead of oil. It was so cool to have a nice little block of pork belly on the griddle itself, that you could move around and generate more cooking grease from. The pancake is cooked for quite long, and is fried well on both sides. You can add chopped prawns and some Kimchi to the batter and get something pretty special too.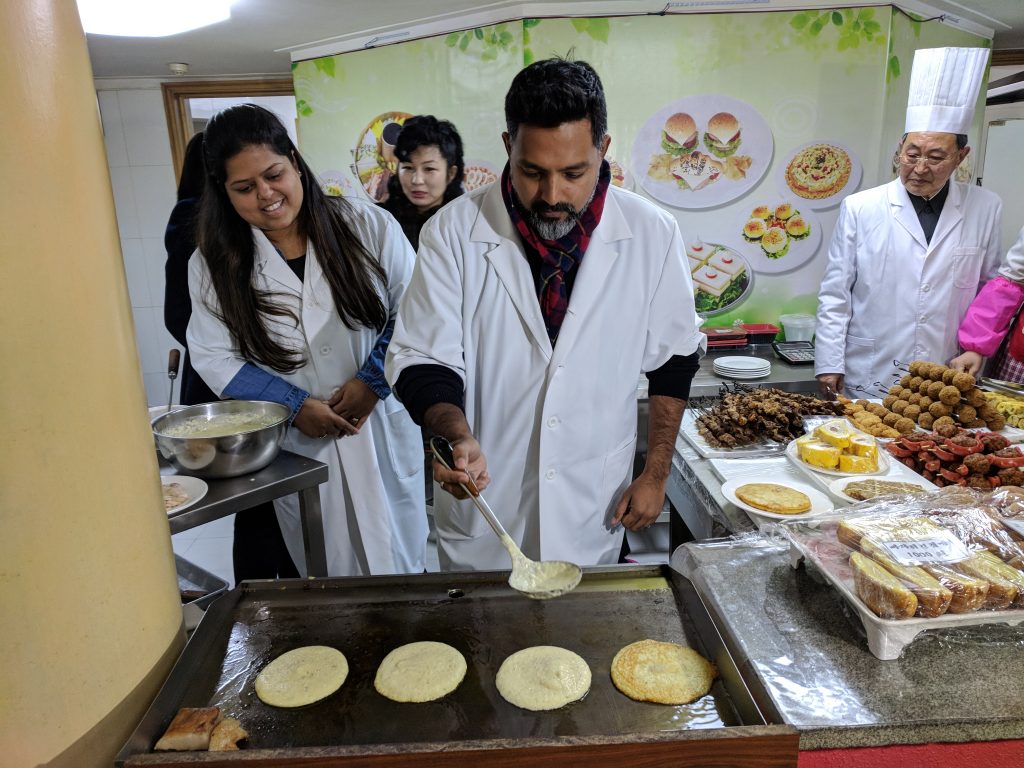 BALLOON FLOWER SALAD
I had never eaten balloon flower before this. Heck, I'd never even heard of balloon flower before this. It's a damn interesting ingredient, and the squeakily crisp texture makes it quite a fun thing to eat. Wtf is squeakily crisp? Go eat a balloon flower and then you'll know. The flower itself, called the cousin of Ginseng has a bitter taste, so it is important to soak it in salt water overnight. We shredded the soaked flower by hand, and dressed it generously in red pepper oil. We then added chopped scallions, smashed garlic, salt, sugar, vinegar and lettuce and mixed the salad well using our hands. It's worth noting that this salad needs to be worked quite hard. A gentle toss will not do. The flavours come together beautifully and I feel like it will go really well with a nice big piece of crumb fried fish.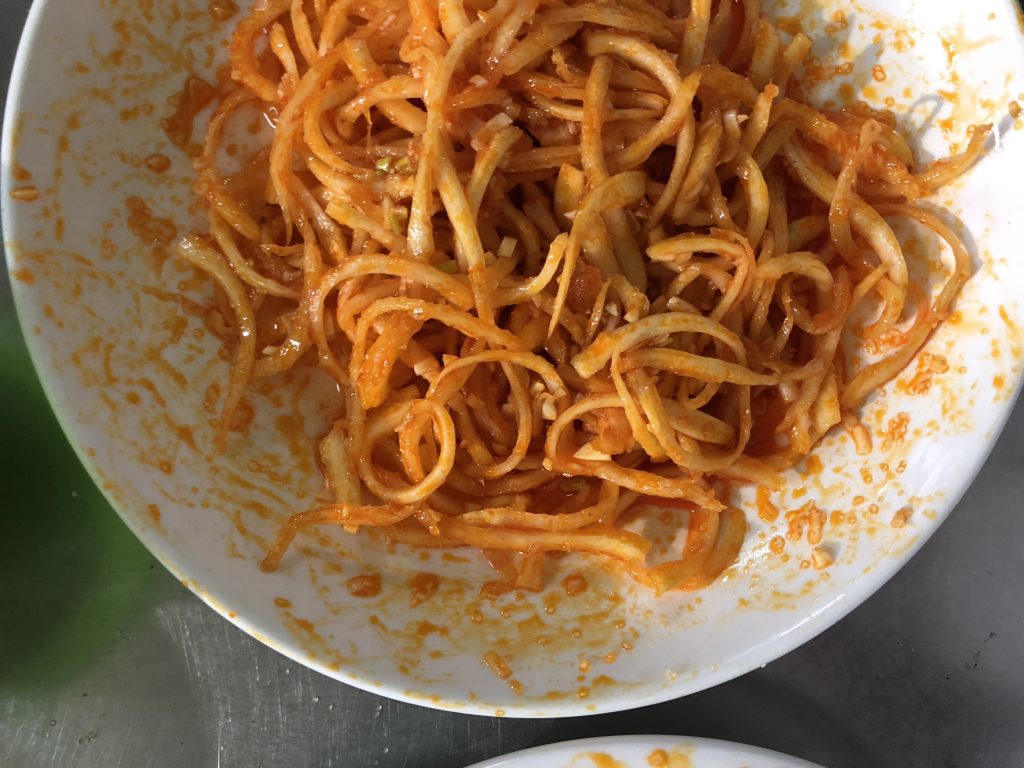 PYONGYANG COLD NOODLES (RAENGMYON)
This is the national dish of the DPRK and I was warned that it could take a while to cook. I was determined to make it, so the team got a head start on things like the stock etc. The first step is to make the broth – a slow cooked pork, beef and chicken essence that can take upto 8 hours to prepare. Next step – the garnishes. These are super detailed. Shredded chicken, sliced cucumber, boiled egg, and egg silk – a crepe thin omelette julienned so fine it looks like silky hair. The egg silk was masterful stuff actually. The chef was incredibly talented and while I was able to do a half decent job with my juliennes, I cooked my omelette too damn thick. Coming to the noodle itself – buckwheat flour is mixed with baking soda and warm water and then pressed through a.. umm.. press. The noodles are then boiled and immediately transferred to an ice water bath. They are then washed repeatedly in freezing H2O and the water is changed at least twice.
To plate up – the noodles are carefully assembled in a high coil like Grammy award winning singer Pink's hair, the garnishes carefully placed on top, and the bowl then flooded with the slow cooked stock. The dish is eaten cold with yellow mustard as a condiment. I'll be honest with you folks. I did not get the hype around this dish. It's obviously very popular in the DPRK, but I simply don't understand why. It seemed like a gigantic amount of effort to produce something fairly pedestrian. That said, if people like it and enjoy cooking and eating it, who the f*ck am I to say anything? My biggest takeaway from this recipe was the egg silk that I think will look great perched on top of a nice red chicken tikka.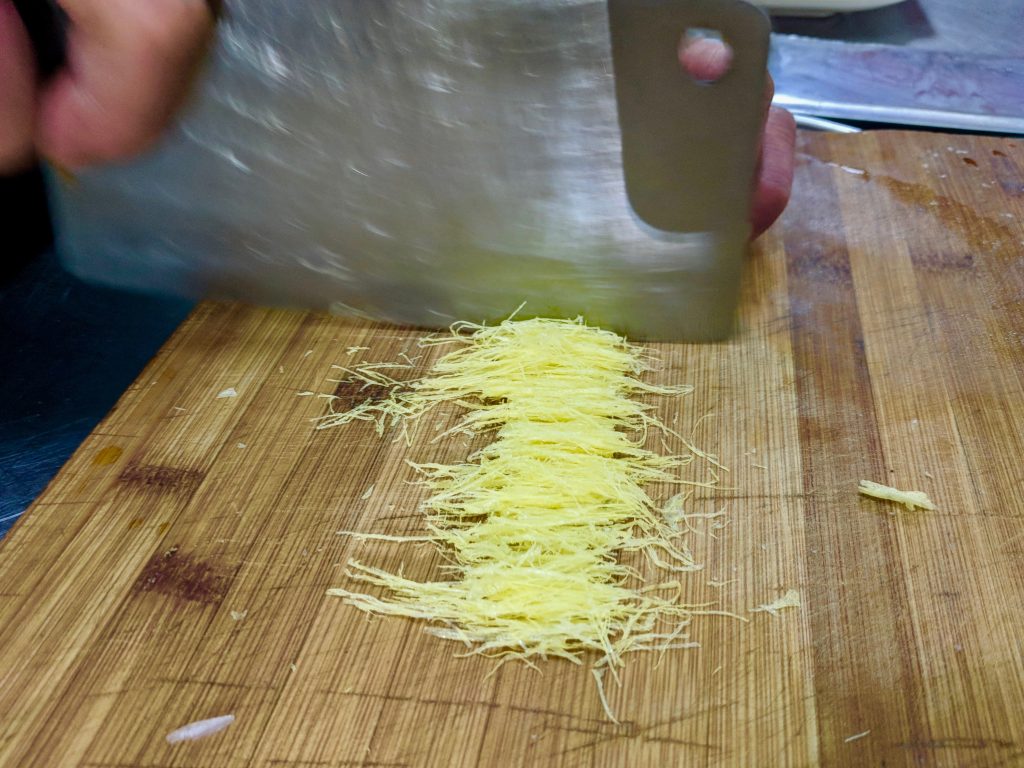 KIMCHI
The quintessential Korean staple had to be on the menu. We lathered fresh Kimchi sauce (made of red chilli, garlic, sugar, pickled shrimp) onto cooked Napa cabbages, making sure the sauce entered every single layer of the vegetable. Rolled up and stored.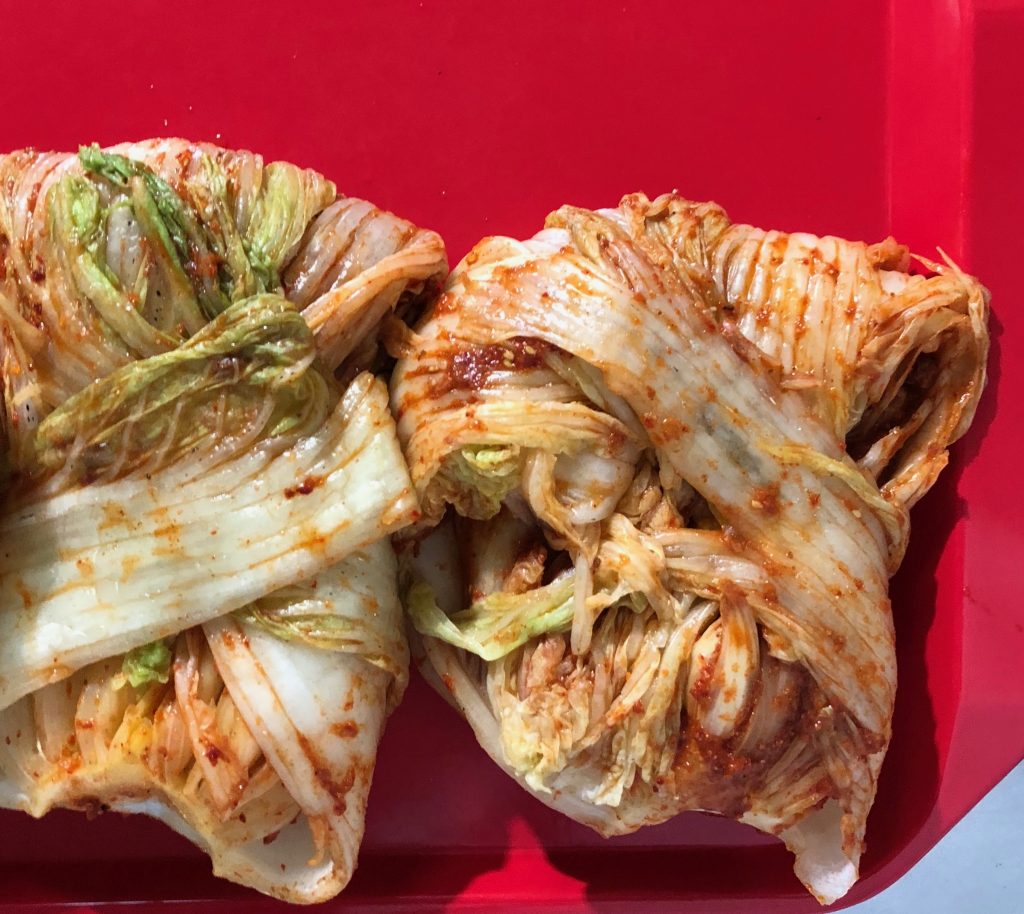 STIR FRIED CHICKEN WITH MUSHROOMS
We came to the end of our class, and I wanted to personally thank the Director of the Culinary Association of the DPRK for coming down just for this. With the help of KTDC's interpreter, I was able to ask him a few questions too, and asked what he liked to cook when he was at home. He simply smiled and reached for an apron. I was instantly transported back to my days as a hotel management student trying to learn the basics of cookery. This man was probably the most senior chef in the whole country, and he was personally going to cook for us! Unreal.
Within minutes, he rustled up the simplest but most delicious meal of the evening. A simple stir fry with chicken and mushrooms. He first blanched what looked like wild shiitake mushrooms, and cut them into strips. He julienned some boneless chicken, a red bell pepper and a capsicum. He tossed everything in a smoking hot pan with some oil, added smashed garlic, smashed scallion and a splash of soy. A pinch of MSG, some sugar and a generous sprinkling of black pepper, and we were done. Bloody delicious.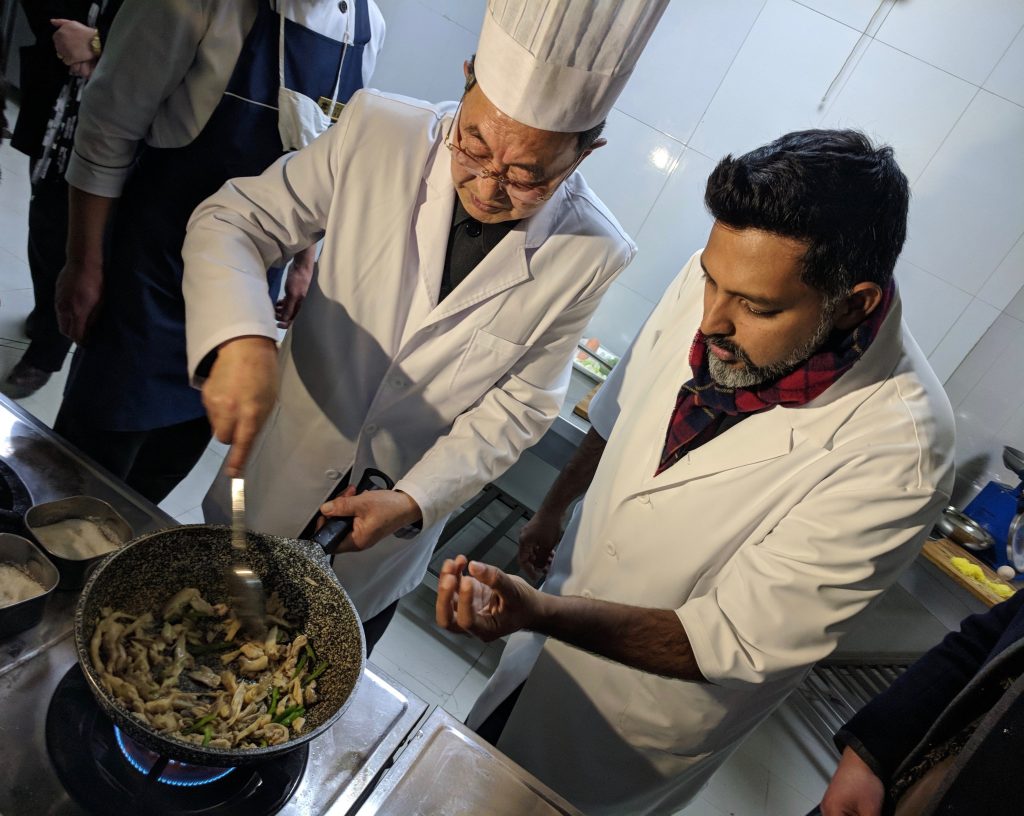 I find myself thinking about the food of the DPRK very often, and keep wondering how the country's cuisine would have evolved if people like this man simply had access to more ingredients. Everyone in the kitchen was cheerful, and simply so kicked that the outside world wanted to learn about their food. I got a ton of questions around curries and spices and it was just such a fun experience. I've done a lot of classes around the world but this one is going to stay with me for a while.
Can't believe Paro and I are on TV somewhere in North Korea. Over and out! ????