Found a frighteningly good recipe for Coorgi pork, and cooked the hell out of it this week. Mad props to Shireen Sequeira for posting this gem. The first time I tasted Coorgi Pandi / Pork Curry was when Paro and I had taken a quick weekend trip to Coorg in South India. We'd stayed at this superb little homestay called Elephant Corridor and the hosts had cooked this wonderful dish that I remember vividly to this day.
I changed the proportions slightly to suit my palate, and here's how it all went down.
Ingredients:
Boneless pork – cubed with fat and skin – 1 kg (I used a mix of belly and loin)
Garlic – 12 cloves – minced
Ginger – 1 inch – chopped
Green Chilli – 6
Curry Leaves – two sprigs
Onion – 1 large, sliced
Red chilli powder – 2 tsp
Turmeric powder – 1/2 tsp
Water – 1 cup
Kachampuli Vinegar – 1 tbsp
Salt – to taste
Spice Mix:
Coriander Seeds – 2 tbsp
Cumin Seeds – 1.5 tbsp
Cinammon – 1 inch
Fenugreek Seeds – 1/4 tsp
Mustard Seeds – 1 tsp
Black Peppercorns – 1 tbsp
Cloves – 5
Curry Leaves – 2 sprigs
This recipe calls for the dry spices to be roasted one by one, and then powdered. Follow these instructions to the T and you will be successful in life. I slow roasted each ingredient (including the curry leaves) in my little red fried egg pan, let them cool and asked Belinda to powder them. In case you're tuning in late, Belinda is what I affectionately call my blender. She comes with a 3 year warranty and can pulverize a dry coconut better than The Mountain from Game of Thrones. The curry leaves are the game changer here. They lend a heady aroma to the mix and really make for something interesting.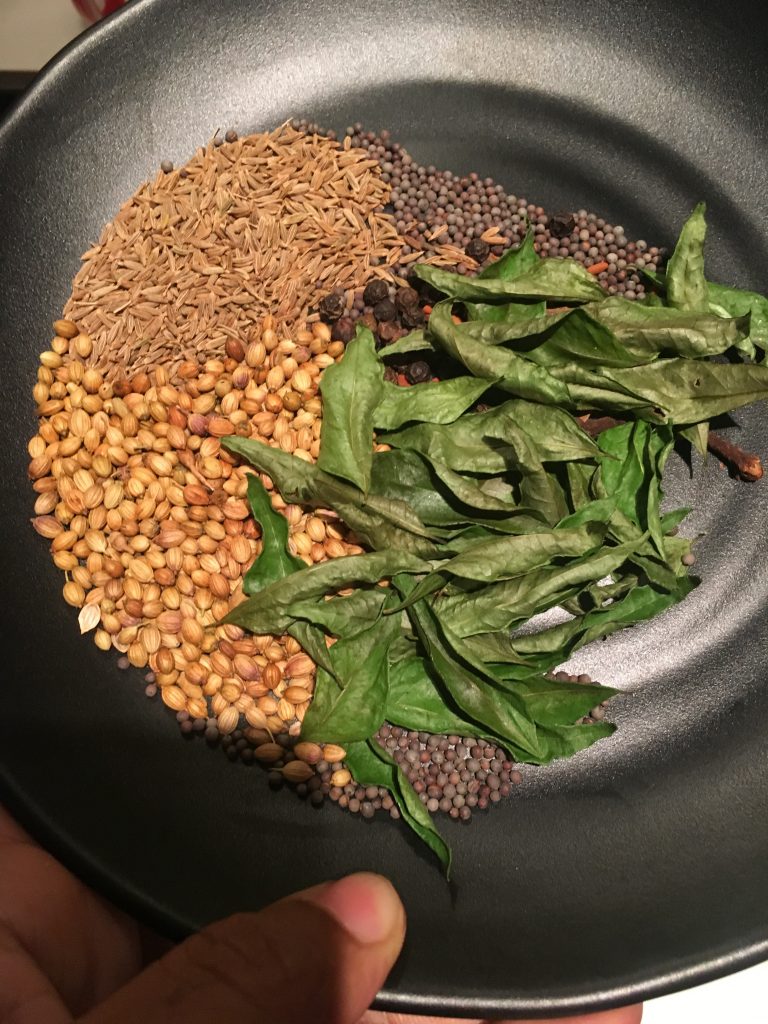 Since I have absolutely no time management skills, I first roasted the spices and then cooked the meat. Use your time wisely, and do it the other way round folks. I chucked all the ingredients except the spice powder into a pressure cooker and gave it a good stir. Slammed the lid shut and let it do it's thing for 5 whistles. Took about 15 min. If you don't want to use a cooker, simply slow cook the meat in a covered pan for about 35 – 40 min on medium heat.
Let's take a moment here to talk about Kachampuli vinegar. I've gone to great lengths to get a bottle of this interesting stuff. It is strong black vinegar made from the Kachampuli (Garcenia Camboja) berries that only grow in Coorg. After several failed attempts at stores, I finally decided to look for it online, and to my delight found a marketplace called Qtrove selling it. They sell a lot of other cool stuff too, but Kachampuli was exactly what I was looking for. You can use a tablespoon of tamarind pulp but to be honest it's really not the same thing. Here's the product again, on the manufacturer – Made in Coorg's website. Really cool.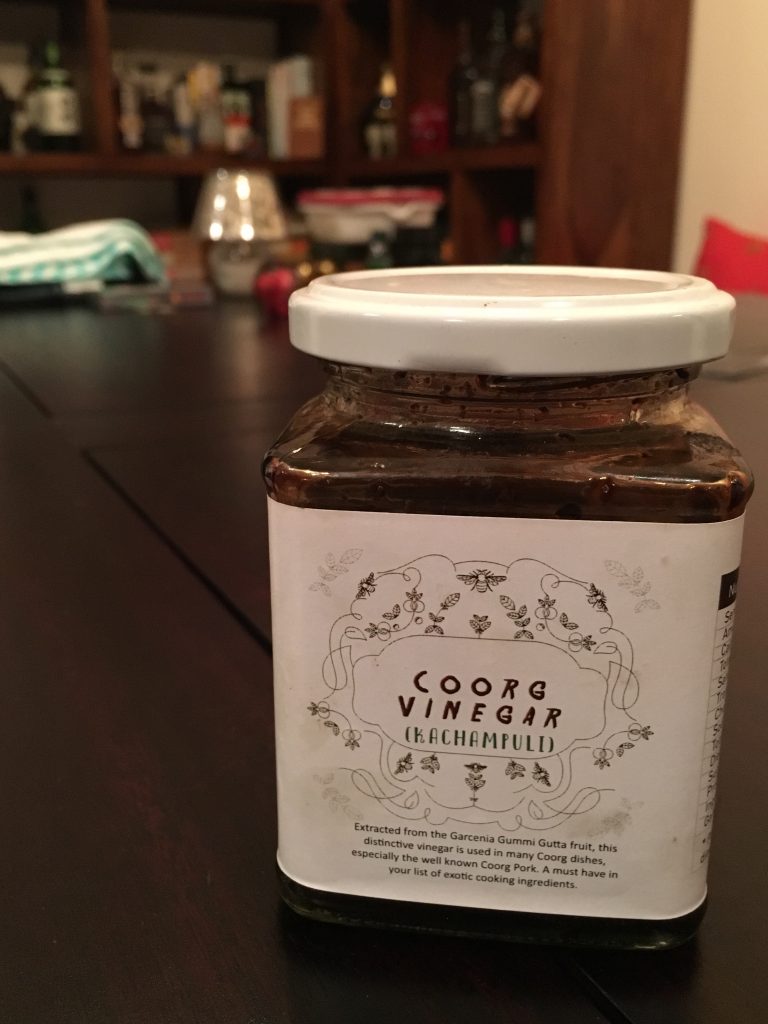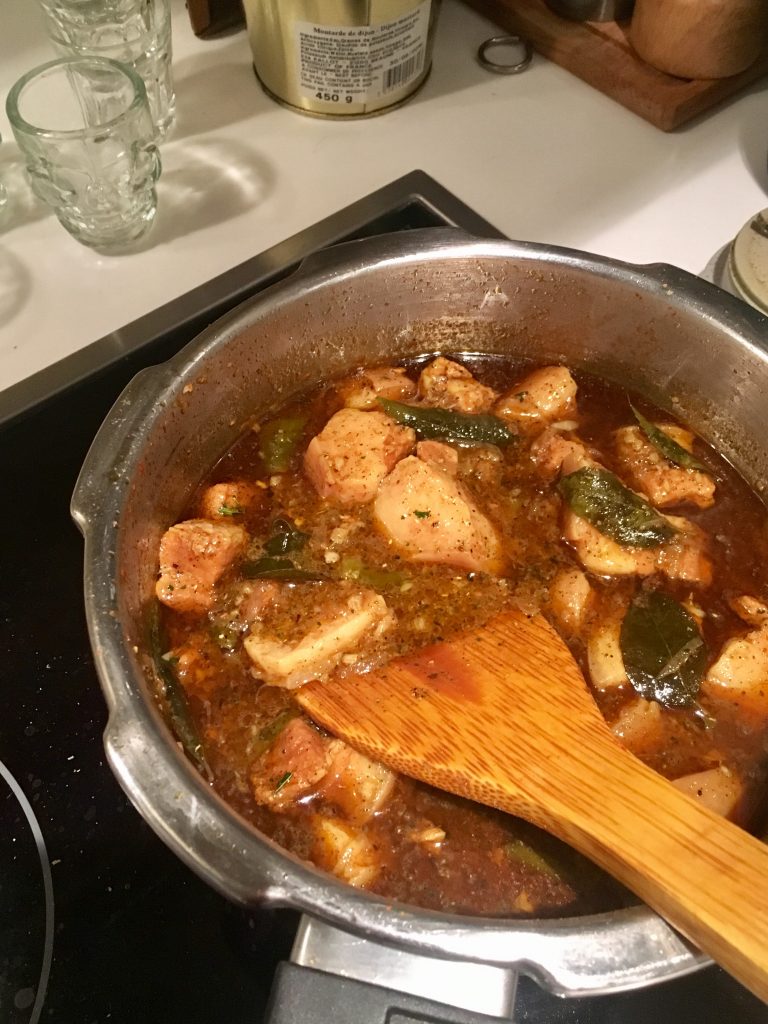 Once the meat was cooked, and the pressure had gone down in the cooker, I tipped in the powdered spices and mixed up the whole thing. I let it simmer for another 15 min and just like that, my Coorgi Pork Curry was done! While the pork tasted different from the one I'd had at Coorg, there was no denying that something special had come together in my pan. I let it rest for 30 min before attacking it. Like all pork curries, this tasted even better the next day.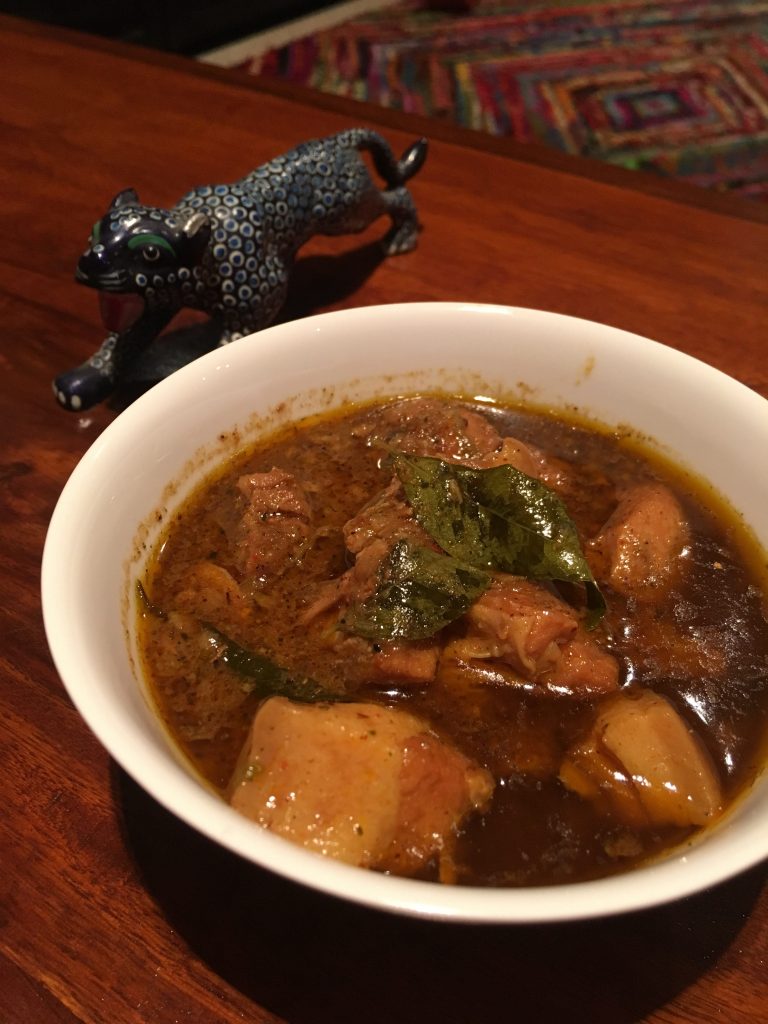 Oh btw, I also shot a video this time. Take a look, and let me know what you think.
Over and out!