My first month in Delhi was stressful & very very cold. I was woefully unprepared for the winter & was beginning to wonder if the frosty tip of my nose would ever forgive me for choosing to relocate to North India in the month of November. Paro was in China at the time & I was figuring out this new place alone. One night after work, I decided to explore one of the markets in Dwarka a bit. I had to make a stop for dinner anyway so pulled over & got a kebab roll. As I was eating, I spotted a crowd milling around outside a little sweet shop on the far side of the market. I finished the roll & went to see what the fuss was all about. Turns out, the crowd had gathered there because the Halwai was bringing out a fresh batch of Gajar Ka Halwa. Without a moment's hesitation I joined the mob.
15 min later, I was eating the most delicious form of carrot I had ever tasted & feeling a whole lot better about my decision to move to #Delhi. Gajar Ka Halwa in North India is really something else. In the winter especially, it's cooked with seasonal red carrots that just take this dish to a whole new level.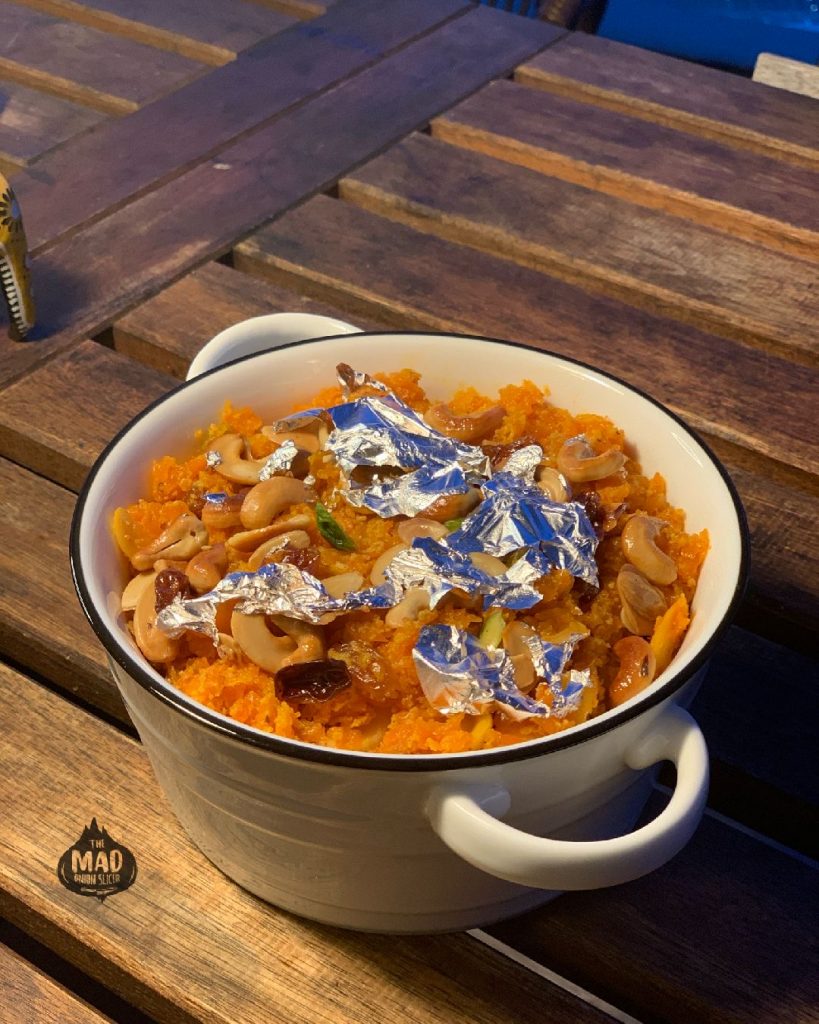 GAJAR KA HALWA #madonionslicer
1. Peel & grate 1 kg carrot
2. In 1/2 a cup of milk, soak raisins, sliced almonds & pistachios. 20 of each.
3. Heat 5 tbsp ghee in a wok & throw in the grated carrot. Cook for 7 min.
4. Add 1 litre of full cream milk. Do I care about your waistline? No, I don't carrot all.
5. Your objective in life is to now cook till ALL the milk has been absorbed by the carrots. Stir occasionally & let it do its thing on medium heat for about 40-45 min.
6. Add 10 tbsp sugar followed by 1 tsp powdered green cardamom & the soaked dry fruit. Mix & cook for another 15 min.
7. Crumble in 3 tbsp of Khoya / Mawa. Khoya is thickened & dried milk that gives desi desserts that unmistakable wallop of richness. Recipe for homemade Khoya is in the comments.
8. Optional: Heat 2 tbsp ghee in a small pan. Add 1 tsp each of sliced almonds, cashews & raisins. Sizzle for 1 min & throw it onto the Halwa.
9. Make it look posh with some Varq (silver leaf). Or just stick a spoon in it & eat from the pot. I won't tell anyone.