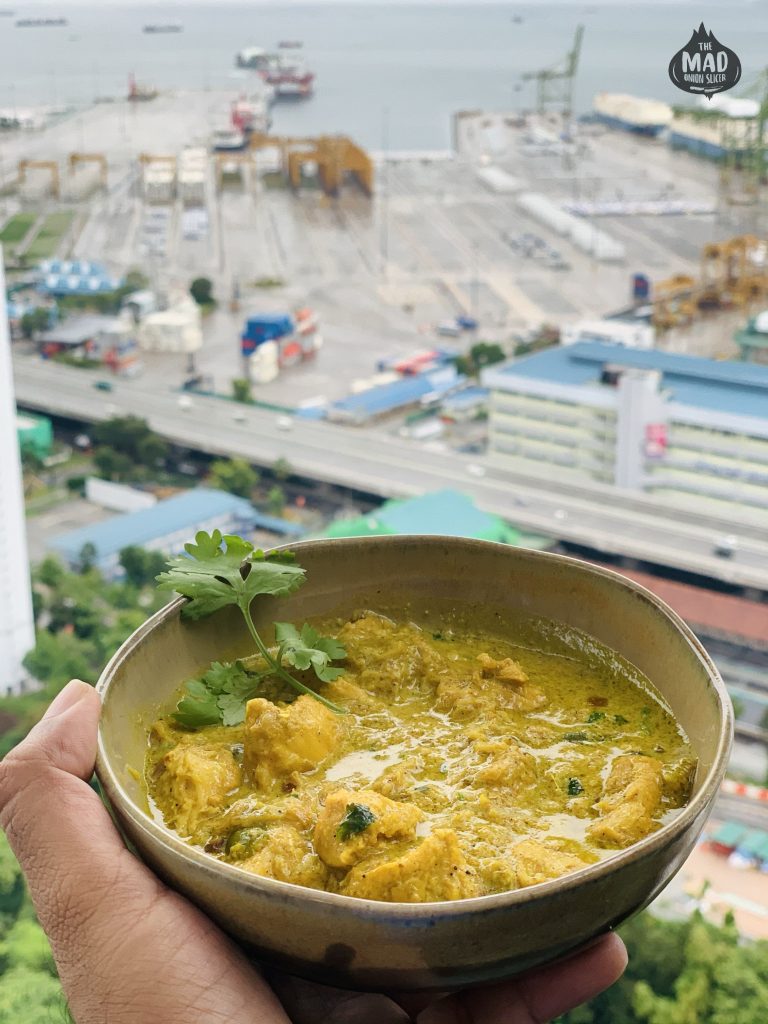 Happy to report that Indira Nagar Chicken – my South Indian style Chicken Korma – is now officially on my Boring Indian Food Workshop menu! I chucked this thing together in my little flat in Bangalore back in 2010, and it's served me well ever since. Here's the recipe:
—
1. Heat oil, add 2 cardamom pods, 1 bay leaf and tiny piece of cinnamon
2. Add a cup of finely chopped onion and cook till golden brown.
3. Add 2 tsp Ginger-Garlic paste, 2 slit green chillies (Hot serranos are great for this) and a splash of water. Cook on high heat. You can reduce the amount of chilli, if you like.
4. Add 1/2 tsp turmeric, 1/2 tsp Garam Masala powder and 2 tsp Coriander powder. Fry this masala well. It's the only damn thing you're doing for this bird.
5. Add 450 gm boneless chicken, salt and mix well. Cook for 5 min on high heat or till the meat starts looking white on the outside.
6. Cover and cook on medium heat for 25 min
7. Open the pan and add half a cup of coconut milk
8. Add 1/2 tsp of freshly ground black pepper, mix and cook covered for another 10 min
9. Open and garnish with some chopped coriander. Or not. It doesn't really matter. Serve with roti / bread / rice / blueberry muffins.
—
Hit me up if you want to learn how to cook this recipe in person. In case you're tuning in late, I run terribly dull cooking classes in my spare time.