Went for this movie called Jail on Saturday night. I liked it, but really think Madhur Bhandarkar could have done a better job of casting. It was an interesting movie and the pace never slowed, but unfortunately, the stars in it just couldn't deliver. Unsurprisingly, Manoj Bajpai was really the only guy who could act in this film. Neil Nitin Mukesh is mediocre at best and Mugdha Godse is useless really. She's good looking but I can't help thinking she looks a little fishy and when I say fishy, I say so very literally. I honestly think the woman looks like a fish. A very good looking fish but a fish all the same.
Long story short – Neil Nitin Mukesh (NNM) gets into trouble for some shit he didn't do (or rather didn't peddle) and gets thrown in the clinker for a while. The movie tries to give you a bird's eye view of  life in jail. Which bird, you say? Jailbird of course! Okay, bad joke outta the way. Lets move on. Eninem (NNM) tried pretty hard to play the part but in the end, he just doesn't have the skills. His expressions were reminiscent of a frequently bullied eight year old. He kept scrunching up his face and going, "Nahin! Main bekusoor hoon! I'm innocent!" but all I could see was "Please don't take my lunch box! I have allergies, I can't eat anything else". Pure BS. You have to see it to know what I'm talking about. Anyway, the movie ended and I was satisfied. Poor Eninem hit us with the one expression he had. Over and over again. In spite of all the fun I've poked at the actors, it still is a pretty decent film. Go and watch it.
Post movie, we decided to go and attack the midnight buffet at Pride of Hyderabad at Hotel Anmol Continental. Went there and found that they had run out of food. This left us with no choice but to hit up an old haunt that goes by the name of Hotel Basra. This place is located in Gowliguda Chaman and (on the sly) serves food till the wee hours of the morning. The Paya Shorba is to die for and the biryani has a very different flavour from the others in the city. Anyway, we headed over to Gowliguda and made our way inside Basra through the back door of the kitchen behind the pump house located in the cellar under the parking lot. Every time I do this, I get the feeling I'm inside one of the pyramids,  looking for Tutankhamen's pet gerbil or something. Vinay and I have been going to Basra for some time now. We found the place when we were in junior college, but because the place is so damn far, we never became regulars as such. We got us a tiny table and ordered some Paya Shorba. We happened to be seated just beside the handi so I managed to get a pic of it. They served up the piping hot shorba and we knocked it back with some hot tandoori roti. Excellent stuff!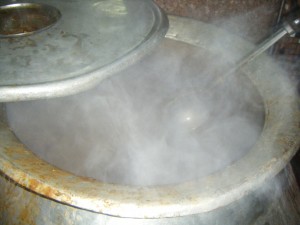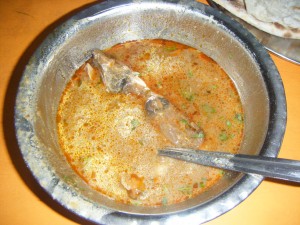 We went for a chicken biryani next with double meat and double masala. It didn't look too fancy on the messy tray but man, did it taste good! The biryani here has a completely different flavour and I think it comes from the way the onions are browned. These guys seem to add some cummin or something to the onion and then pound it. I haven't been able to figure it out and its eating me up. Well technically its the other way round, but you get my drift. Polished it off and headed out the way we entered – worried about falling into an open sump.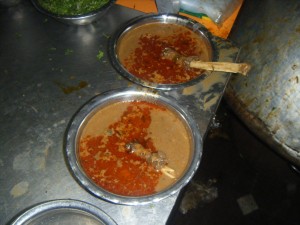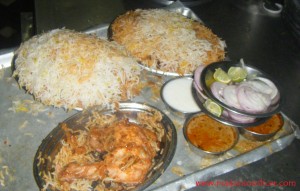 In other news, I've decided to redo the 3 foot aquarium and go for a planted set up this time. Chucked out all the water and temporarily housed the fish in a tub in my bathroom. Got a nice looking piece of driftwood and set up the substrate and covered it with a nice layer of shell free golden river sand. I tried to use the rocks I picked up from my recent trip to the Himalayas in an Iwagumi set up but failed miserably. Randomly placed them for now. I plan to fill up the water and begin the first stage of planting tomorrow. More to come.
Over and out.