Every time I visit Mumbai, something interesting happens to me and my stomach. This Tuesday night's dinner was truly epic. I made my way to Mohammad Ali Road and entered the historic Noor Mohammadi Hotel. Everything about this place screamed non-veg. As I stood there, taking in the sights and the sounds of the place with a beatific grin on my face, I became distinctly aware of a burning sensation near my right knee. I gracefully jumped nineteen inches in the air and upon landing, saw that there was a guy grilling Shaami Kebabs on a giant tawa, just two steps inside the door. Yes. I was standing too close.
As we made our way up to the first floor, I made a mental note to order several of those kebabs once we were seated. Got a table after waiting a few min – the place does fantastic business – and sat down. Noor Mohammadi Hotel is the home of the legendary Chicken Sanju Baba – a gourmet dish created by Munnabhai BHMCT (Bachelor of Hotel Management and Catering Technology) himself. There's an autographed recipe hanging on the wall and everything. The photo came out all crappy so I'm not putting it up, but do take a look at the deadly shaami kebabs below.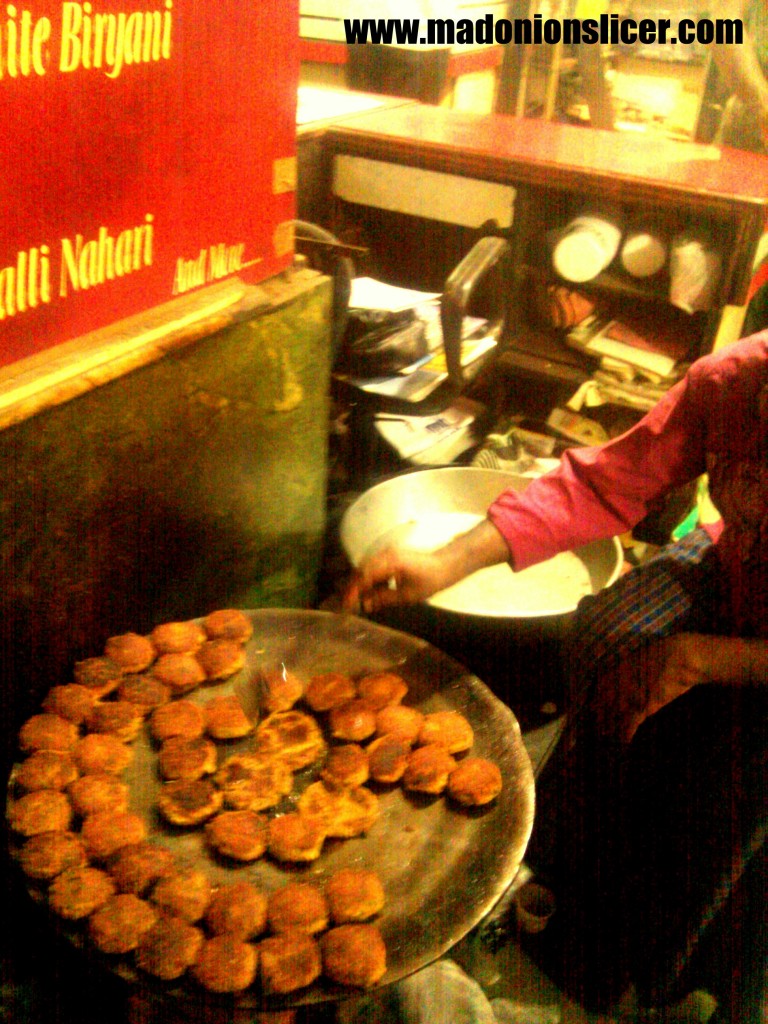 We started off with a round of Murgh Hakimi – a tandoori chicken with a twist. Now I've eaten many variations of the good old TC (no, not Ticket Collector), but when this thing showed up, I knew it was something special. Murgh Hakimi is a Tandoori Chicken cut into pieces, tossed in ghee and more of the marinade and then topped off with some more masalas. The ghee makes it supremely rich and the marinade when cooked, breaks down into a wonderful sauce loaded with flavour from the ghee. Pure heaven, this one. Up next, were some of the aforementioned Shaami Kebabs. They were selling out real fast and we were advised by the waiter to order up quick. We got four to start with and then repeated the order after falling in love with the dish.
The Shaami Kebab here is a refined beef patty lovingly grilled to perfection on a griddle. This was by far the best Shaami I've ever had. I actually considered packing some up to munch on later at night. We ordered one portion of Chicken Sanju Baba and one of Murgh Achaari and a bunch of Tandoori rotis. The Chicken Sanju Baba is heavy on whole spices, so be prepared to keep finding bits of garam masala every now and then. The chicken is tossed in a rough onion tomato masala and packs a good punch, but I didn't think it was all that great. Sort of like Nick Diaz's rabbit punches – effective and all, but not KO material. The Murgh Achaari though, was a masterpiece. It had really strong flavours – mustard and fenugreek (methi) dominated the gravy and made for a perfect combo with the tandoori roti. Very good dish – its not often that one comes across such bold usage of methi seeds in a gravy. A teaspoon too much, and you're left with a bitter curry. Although there was more on the menu that I wanted to sample, we were very full and needed to call it a night. Paid a princely sum of 421 rupees for the whole thing and left.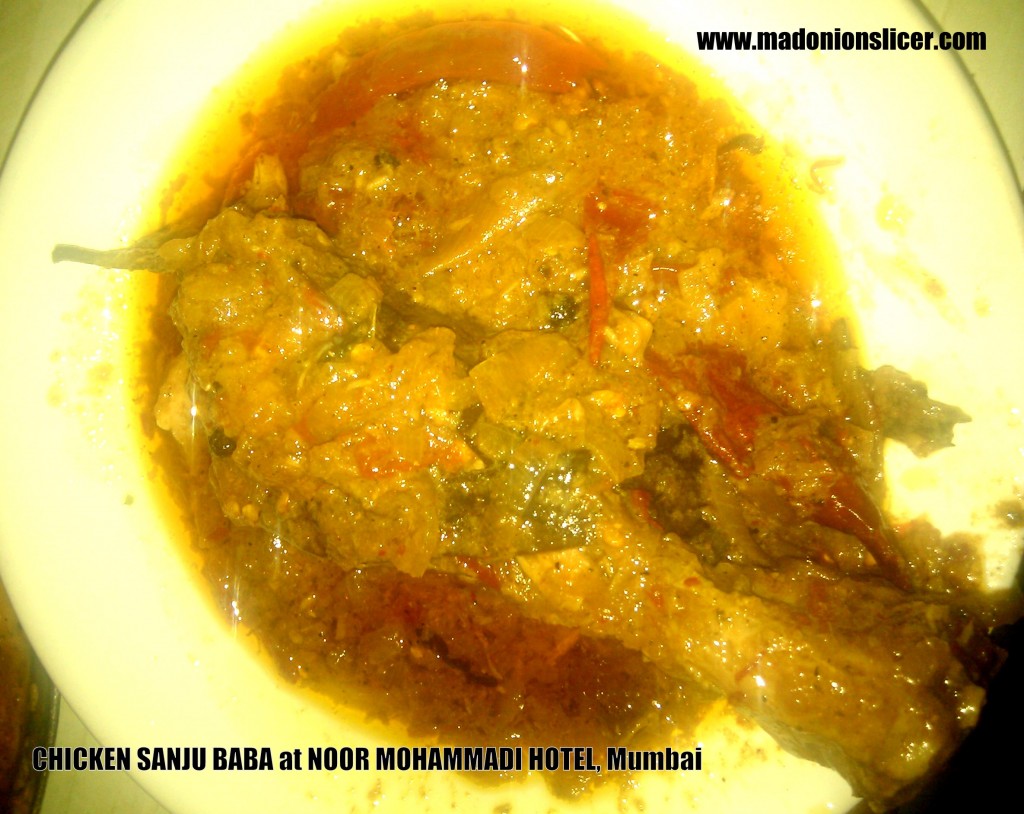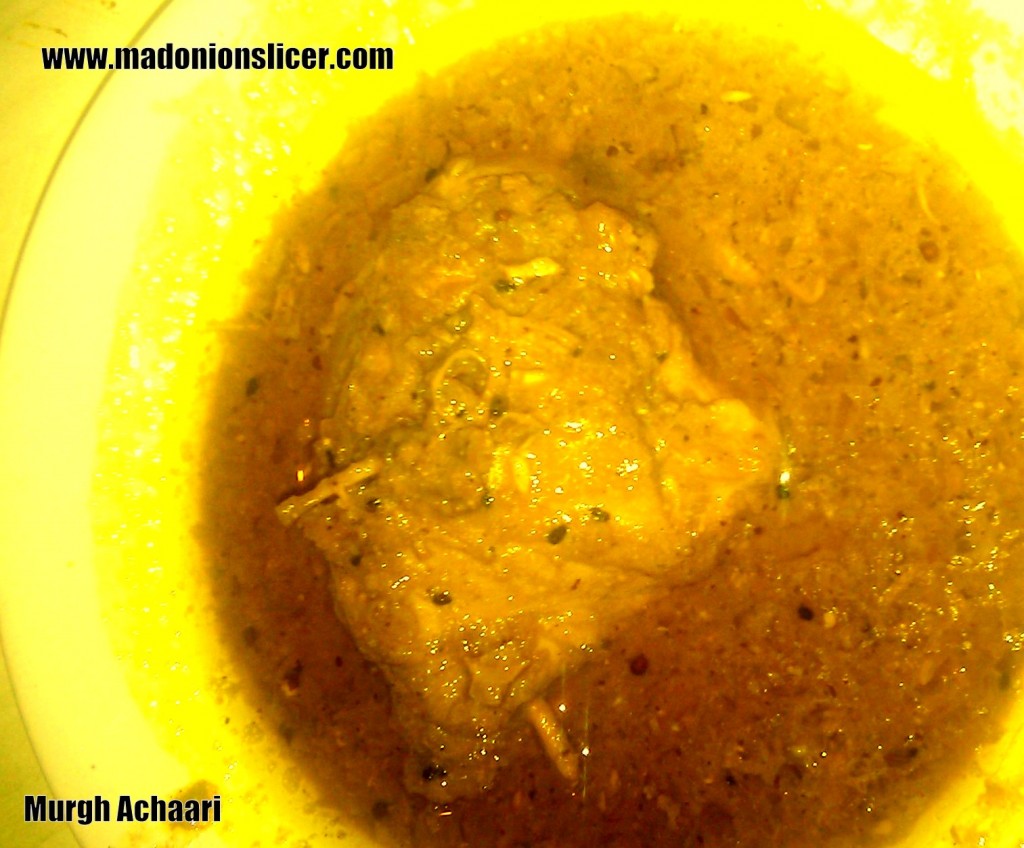 PART 2
I was so taken with Noor Mohammadi Hotel, that I actually went back a few nights later to sample everything else on the menu. Everything about the place again screamed non-veg! No seriously, there were two goats tethered at the entrance. This time round, I got the Nalli Nihari, some sheekh kebabs and the much talked about White Chicken Biryani. The Nalli Nihari was very different from the Nahari you get in Hyderabad. First off, there was no actual Nalli (marrow bone) served up. A bowlful of rich slow cooked thick broth with two large pieces of beef in it, was placed in front of me and one bite in, there was no mistaking the potent flavour of the nalli. What really appealed to me though, was the meat itself. The beef had cooked in the gravy for so long, that it had almost attained the smooth consistency of an avocado. It had a wonderful melt in your mouth feel that is very uncharacteristic of beef. A thousand points right there!
The Sheekh Kebab was very good and went down spectacularly with their mint chutney. I like how the chutney here is coarsely ground and high on lemon with just the right amount of tang. Finally, the White Chicken biryani arrived. Now I can be harsh when it comes to Biryani – no two ways about it. I grew up eating industrial quantities of the stuff in Hyderabad and if you look into my archives, you'll come across many a fond mention of this wonderful dish. Anyway, the WCB (no, not the Workers Compensation Board) had a very pleasant flavour and was the perfect thing to chase down the spicy Nalli Nahari. True to its name, the Arabic masala in this biryani is white, but thankfully not laced with cardamom as most white masalas are. This also appeared to be a dum preparation – cooked in a sealed vessel heated from the top and bottom. No salan or raita is served with the WCB – eat it with a little bit of the mint chutney if you must – but its important that you eat this dry, to let the delicate flavours play around on your palate. The chicken breast I got was slightly tough, but this dish was about the masala and the rice really. I paid 240/- rupees for a meal that I thought deserved more.
I'll wrap up this review by saying – Noor Mohammadi Hotel is one of the best restaurants I've eaten at. I must thank good friend and fellow glutton Sunny Amlani for introducing me to this place. I couldn't help but compare the kebabs to the ones I had at Karim's in Delhi last month. Noor Mohammadi's Shaami kebabs were far far better than Karims, but then again, Karim's Sheekhs were in a league of their own. At the end of the day, what sets Noor Mohammadi apart, is the sheer diversity of flavours they offer – the bold Chicken Achaari, the decadent Nalli Nihari and finally the truly unique White Chicken Biryani. Top that off with the celebrity endorsed Chicken Sanju Baba and this place is gold, people. The ambience ain't much, but if you like good food and haven't eaten here, you're missing something.
Over and out!