Sanjeev Kapoor's restaurant chain has finally reached Hyderabad. The Yellow Chilli is located on Road #12 Banjara Hills, about five minutes from Zafraan Exotica. I went there for dinner last night to  see what all the fuss was about.
Typical of a new restaurant, the staff was bending over backwards trying to make a good impression. The place was reasonably full for a Thursday night. They seated us promptly, presented us with the menu and so began dinner. Its a small place, with around 60 covers at the most. Page one of the menu tells you that the yellow chilli is a chilli exclusive to Meerut, UP – Chef Kapoor's hometown. More about the menu later.
I have mixed feelings about the decor of this place. On one side of the restaurant, they've got a cool spice display built into the wall, but on the other, there's an odd thing that I can only describe as a bunch of artificial yellow chilli trees. Anyway, who cares if the food is good!
While the restaurant specialises in North Indian cuisine, the menu also has a separate section for Hyderabadi food. The menu was a tad disappointing and I found nothing interesting on the card. Very run of the mill fare. We ordered a portion of Shabnam ke Moti – mushrooms stuffed with cheese and finished in a Tandoor and a lemon iced tea to start with. The mushrooms arrived with an overpowering smell of cardamom which kinda killed it for me. The iced tea was average at best. The main course we decided upon was Kheema Hari Mirch Do Pyaza and Indian Tawa Subzi with the usual Naan-Roti. Again, the food turned up in a reasonable amount of time, but was a little disappointing. I personally enjoyed the Kheema, but the Tawa Subzi lacked any real flavour. The masala stuffed bitter gourds promised on the menu were absent as well. 
I was introduced to a Peshawari naan at Blue Fox when I was twelve and fell deeply in love with it. A Naan coated with a rich paste of saffron, butter and nuts and finished in a Tandoor – it was a culinary marvel! I was shattered when the management at Blue Fox changed and they took my beloved bread off the menu. I haven't found another Peshawari naan since. The Yellow Chilli, had a Peshawari naan on the menu so I promptly ordered it. It wasn't anything like the one at Blue Fox, but it was okay – a simple, fresh butter naan topped with chopped pistachios. The desserts looked boring so we decided to skip them. On the whole, this restaurant failed to impress. While the service is  good, the food is mediocre at best. There's simply no way this place can compete with the Sahib Sindhs, Angeethis and Serengetis of Hyderabad. I can understand if The Yellow Chilli is not looking to compete with these other places, but then the prices suggest otherwise. Meal for two – Rs. 1000/- 
I promised I'd talk about the menu, so here it is. It is with sheer confidence that I say that Chef Sanjeev Kapoor has NOT read the beverage menu of this restaurant. The goof ups on this card, are insane. If you're planning to order something on the Yellow Chilli beverage menu any time soon, I'd suggest you carry along this handy guide I've prepared.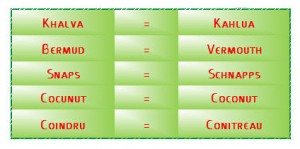 All in all, I'm not sure I'd go back to this place. There are a lot of great Indian restaurants in this city and if these guys really want a share of the pie, The Jaundiced Jalapeno had better step up its act.
Over and out.