I finally found some interesting street food in Bangalore last week. Bangalore is one heck of a place to live in but honestly, its been a little disappointing in terms of roadside food. I knew I was missing something, and had to look a little harder. I stepped out one afternoon and decided to explore Shivaji Nagar a bit. I'd bought my BBQ grill there a few months back and remembered seeing some places of interest along the way.
I drove around a bit and came upon the famous Russel Market and a little further up, the Beef market that I've heard supplies most of Bangalore with high quality red meat. The scene here was reminiscent of the Old City in Hyderabad. I looked up and down the road, took in a few more flashbacks of home and decided to eat at Hotel Al Hilal. There were some guys cooking up a meat on tawas outside and some more dudes grilling meat on skewers, but I was in the mood to sit down and do some damage, so I headed inside Hotel Al Hilal and got a table in the AC section on the first floor.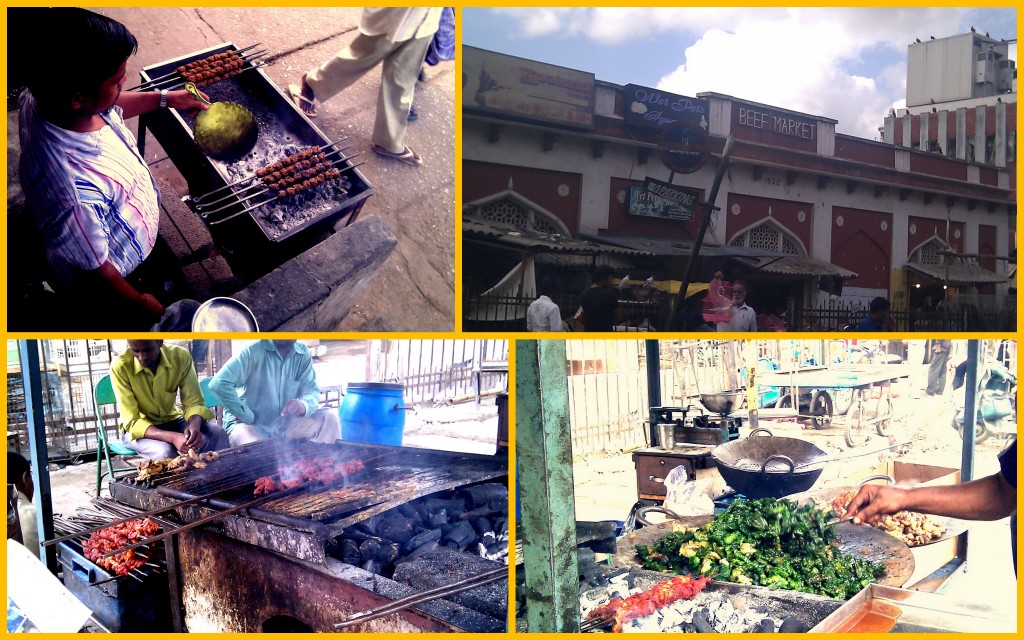 The first thing that caught my eye as I entered the door, was the huge tawa in the center of the room with mutton chops sizzling away in all their glory! One glance, and I knew I had to order this. A sleepy waiter showed up at my table and took an order for — a portion of chops, two rotis, dal fry and a biryani. Surprisingly, I had to wait for almost 15 min for the first bit of food to show up. The first things to arrive were the chops. They had been transferred off the griddle downstairs and finished off in a pan with a little onion and coriander.  They served up the masala separately – almost like a chutney to go on the side. Speaking of chutney, they had a decent green chutney on the table. Mint, coriander, green chilli – that kind of thing.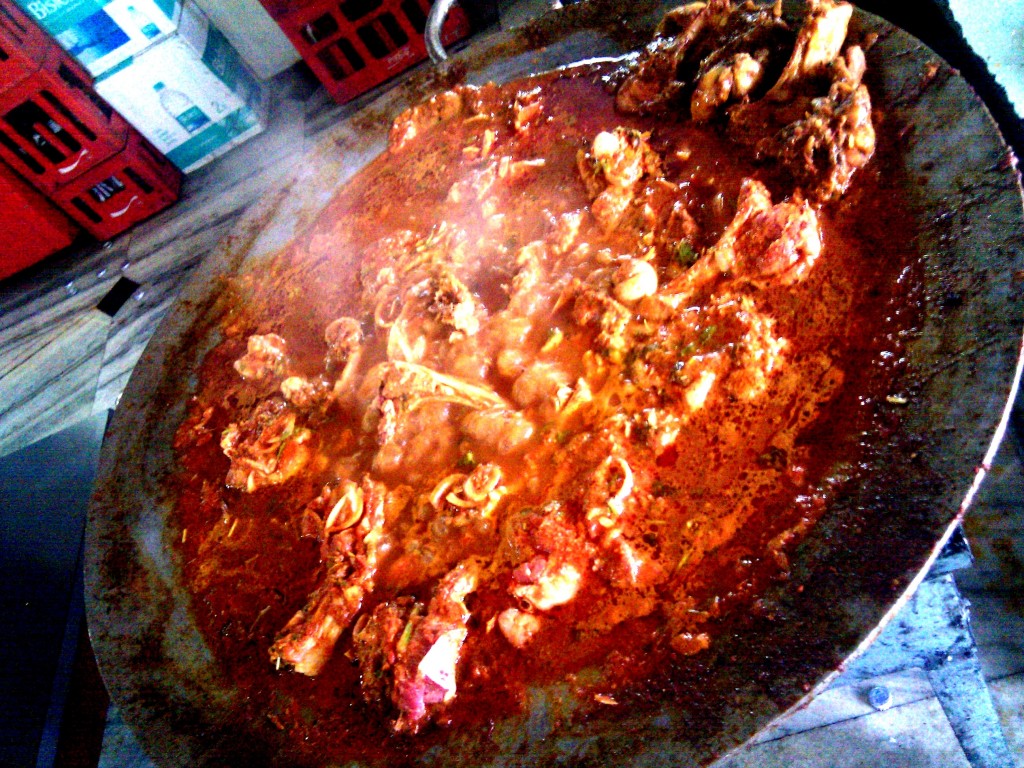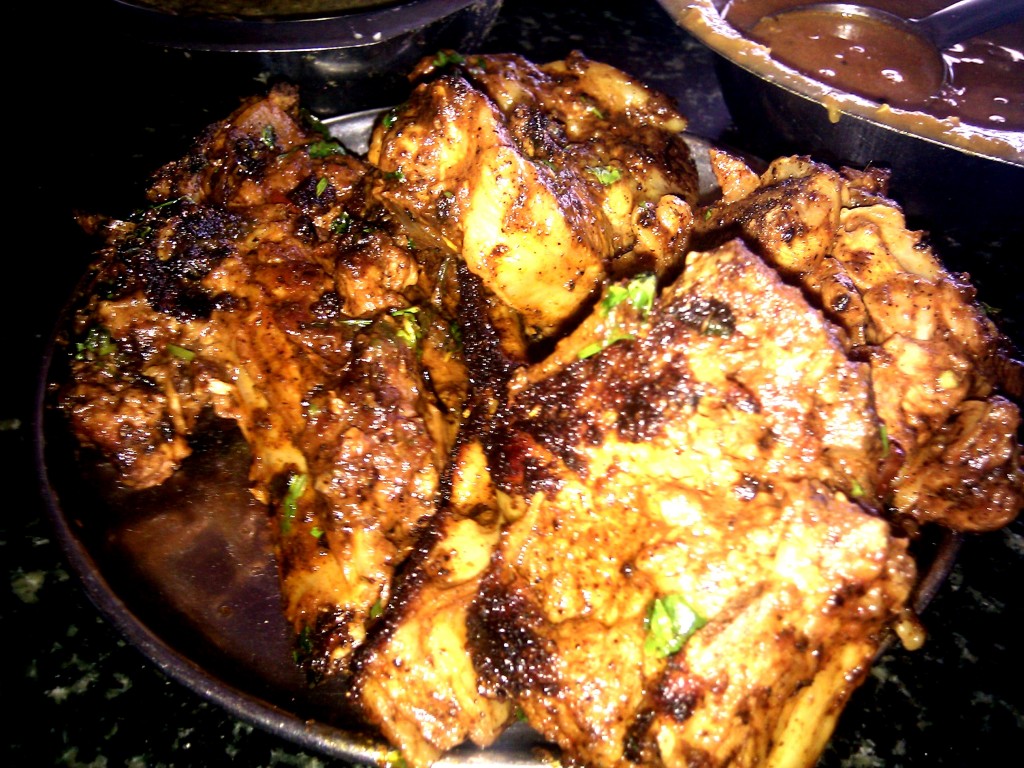 The chops were great. Very well spiced and piping hot. These were beef ribs at their finest. The dal-roti was.. well.. dal-roti. The biryani appeared next. I am cruelly critical when it comes to biryani, but I have to say, this was easily the best I've had in Bangalore since I moved here last year. Not too much to talk about really. Good flavours, generous portions. All around goodness. I paid a little over 300 bucks for the meal and left. I'm glad I came by this place. It showed me a different side of Bangalore.  The only possible grouse I have with them is, that they insisted that what they served up was mutton. It very clearly was beef. The sheer size of the chops was a dead give away. I have no beef with beef, but don't lie to me, man. I know meat.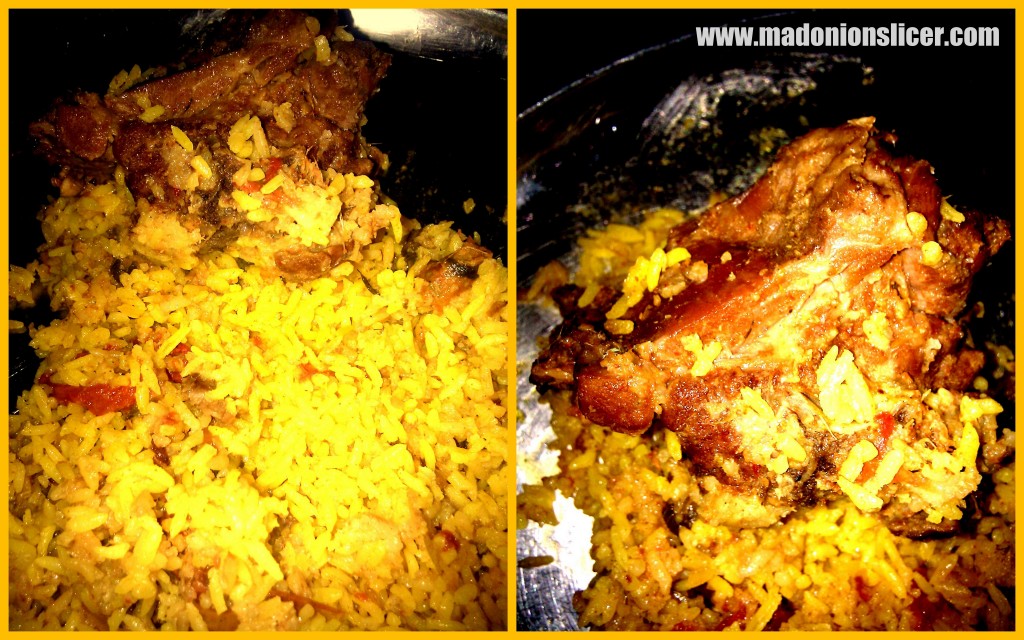 Anyway, like I said earlier, there are plenty of up market restaurants to eat at in Namma Bengaluru, but every once in a while, its nice to rough it out in places like Al Hilal. I'll definitely be back soon. The stalls on the street were just begging for my patronage. On a side note — Holy Halasuru, Batman! It's been a year already?!
Over and out!