My 31st birthday was an interesting one. I threw a party the night before, and had friends over for drinks and dinner. Chivas Regal, Kakori Kebabs and Tequila. Great fun! The party was supposed to spill over into the next day, with cocktails and a giant brunch at Olive. Unfortunately, our ambitious plans went out of the window when Paro had to leave town for a family emergency. No biggie, I thought. I had a semi-baddish hangover anyway. I cancelled brunch, had leftovers from the party and settled down to watch some UFC. Then the phone rang. It was Friendicoes calling to say that the dog I'd dropped off a month earlier was now ready to be discharged.
Rewind –
When I moved to Delhi in October 2012, I'd opened an account at a State Bank in Dwarka because I needed to show the passbook as address proof to buy my car. Convoluted shit. I know. I'd opened this account then, got the job done and never used it again. In Feb 2014, I decided to close the account and get my 5 grand (minimum deposit) back. I'd been putting off this task for a good two years because:
1. Dwarka is 50 f*cking kilometeres from my house
2. I hate standing in queues
3. Dwarka is 50 f*cking kilometeres from my house
So one fine Saturday, Paro and I drove out to Dwarka to get this damn thing over and done with. We packed tinned food, Scrabble and a satellite phone to keep in touch with family.
On the way back, we spotted a badly injured dog at the side of the road. One of his hind legs was completely out of joint and it looked like he was in a lot of pain. I pulled over immediately and tried to get closer to him. He was in terrible shape. The poor guy must have been run over by something. His leg seemed to be badly broken and was clearly infected. I decided to call Friendicoes. They've come to my rescue several times in the past, so they were the obvious choice. I bought a plate of chicken biryani from a roadside vendor and gave it to him, while I made the call. The poor guy was so out of it, even bending down to eat was causing him to wince.
Unfortunately, Friendicoes couldn't help this time. Dwarka was out of the city limits and they couldn't send an ambulance out so far. They referred me to the Sanjay Gandhi Foundation for Animals. I called several times, but couldn't get through. It was starting to get late, and I wasn't sure what to do. Reluctantly, bought the dog another biryani, wished him well and got back into the car. Called the Sanjay Gandhi Trust a few more times, on the way home but nobody picked up.
I couldn't sleep that night. Knowing that I'd left that helpless dog out there in the cold just tore me up inside.
The next morning, I went to the Friendicoes Center in Defence Colony and had a chat with them. I don't blame the guys one bit. They do so much good work, and have so much on their hands. Sending an ambulance all the way to Dwarka just wouldn't have made economic sense, so I asked if they could spare an animal handler for an hour. They agreed. We immediately got in the car and took off for Dwarka. I was really worried. The dog might have wandered off somewhere or worse, died over night. Got to Dwarka and thankfully, we didn't have to search much. He was right where I'd left him the previous day. Hurt and sitting there with his head down.
The handler approached him with a muzzle, but soon found that the dog was absolutely civil. He wasn't going to be difficult to handle. The handler got into the back seat along with the dog and I stepped on the gas. Once back at the Friendicoes Center, I bid the handler adieu and got in line for a consultation. The doctor examined him and concluded that he was over ten years old and had been in at least two bad accidents. An older accident had broken and deformed the dog's leg completely when he was younger. A recent accident had seen a vehicle go over the limb again, further breaking it and infecting it. Basically, a three legged dog had gotten run over twice. Messed up. As they began to clean the wound, the poor old dog began to whimper and cry. There wasn't much I could do, except pat him on the head and try and calm him down. They treated and bandaged the wound quickly but asked me to take him home and allow him to rest.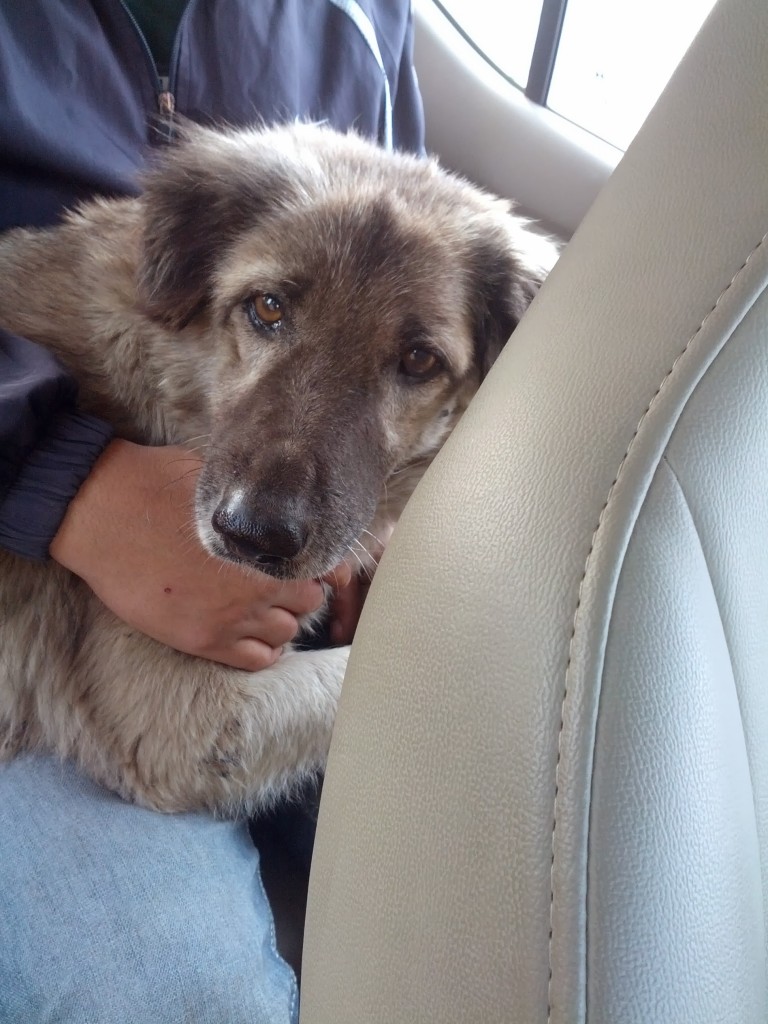 Now this was a problem. I was leaving on a business trip to Australia in two days and had no way of letting him recover in the safety of a home. I could not bring myself to put him back on the streets. I asked Friendicoes if they could put him up for a few weeks, but they weren't sure if they had enough room to house him. They sent someone in to check for space and I went along. I'd never seen what happens behind the walls at Friendicoes, so this was a great experience. The shelter was spotless and it was evident that the animals were being looked after very very well. Cats, dogs, monkeys. Even a goat. Every animal had their own enclosure. Dogs were housed two to each spacious cell and every cell was padded with sacking material and provided with a water bowl. At that point, I was prepared to donate an extra cell to the facility if it meant that my hurt dog could be accommodated. Thankfully, we were able to find an empty cell and I had him admitted. They took down all my details, issued him a patient card and informed me of the visiting hours. I was very impressed.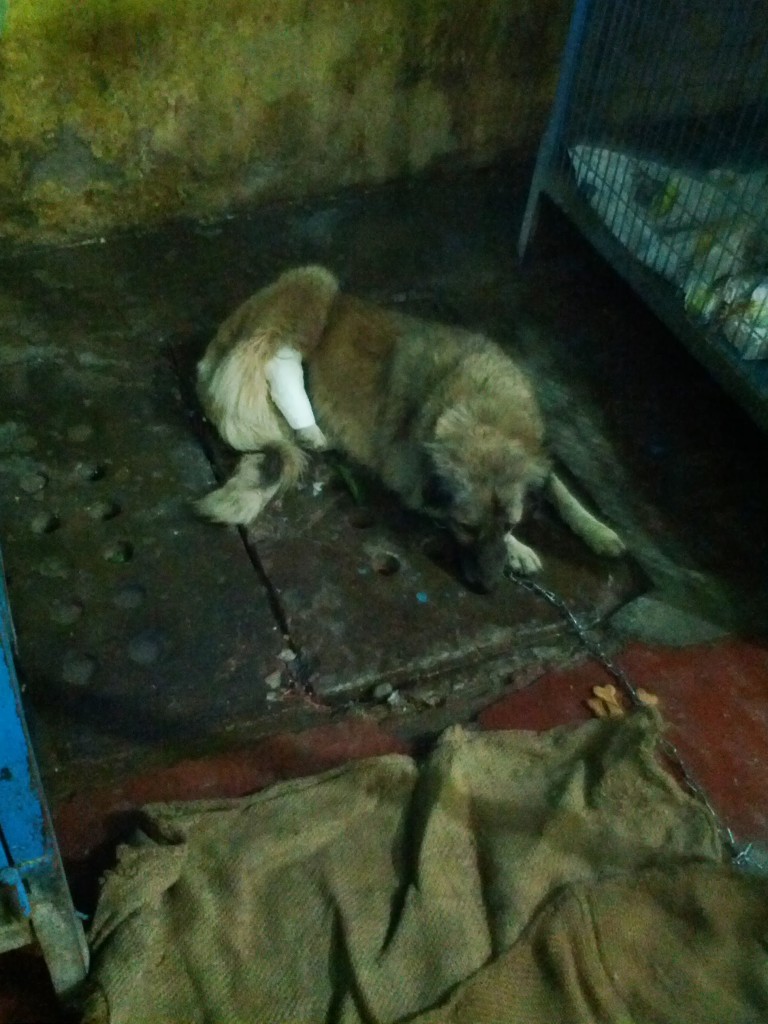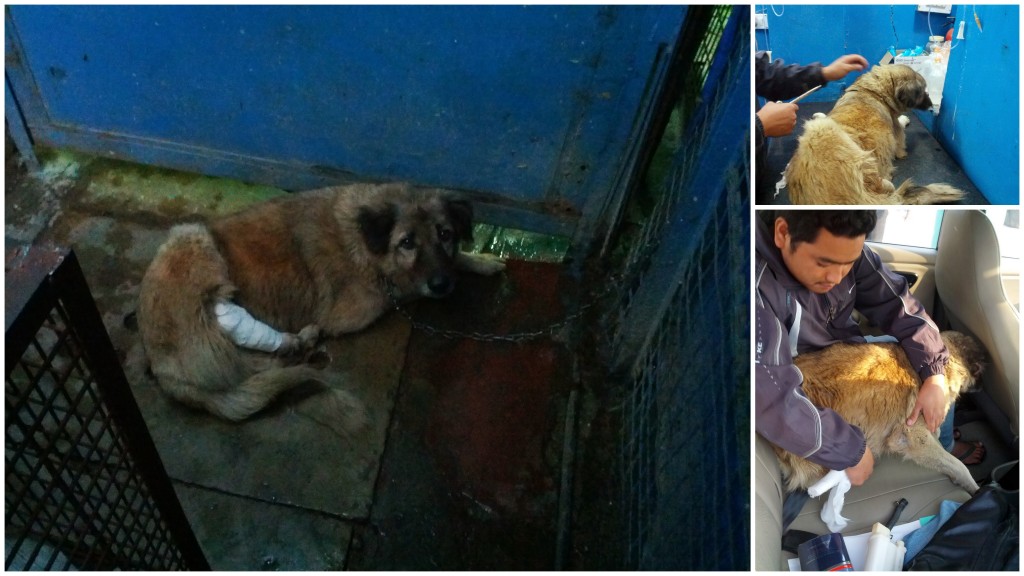 Two days later, just before I left for Australia, I went and visited the dog. He was in less pain, but still looked very sad. Two weeks later, I came back to India with a bad tan and several ornate boomerangs. I went straight to Friendicoes. He still looked listless, but was a little better. He was being looked after and I was so thankful that he'd been taken off the streets during the merciless Delhi winter. Oh, did I mention Friendicoes gives all the dogs sweaters and has room heaters across the entire shelter?
Fast forward two weeks (birthday) –
They called to say he was ready to be discharged. I drove down to the center and to my surprise, saw that they'd amputated the broken limb completely. He was still a three legged dog, but for some reason he looked more complete now. He looked healthy, and keen on leaving the cell. He was no longer dull and listless. They massaged the stump and he showed absolutely no sign of pain. I was really happy. Friendicoes had fixed him! I completed the discharge formalities and took him to the car. There was no handler this time. I put the dog onto the back seat and started towards Dwarka. I kept talking to him so that he wouldn't feel weird sitting alone back there.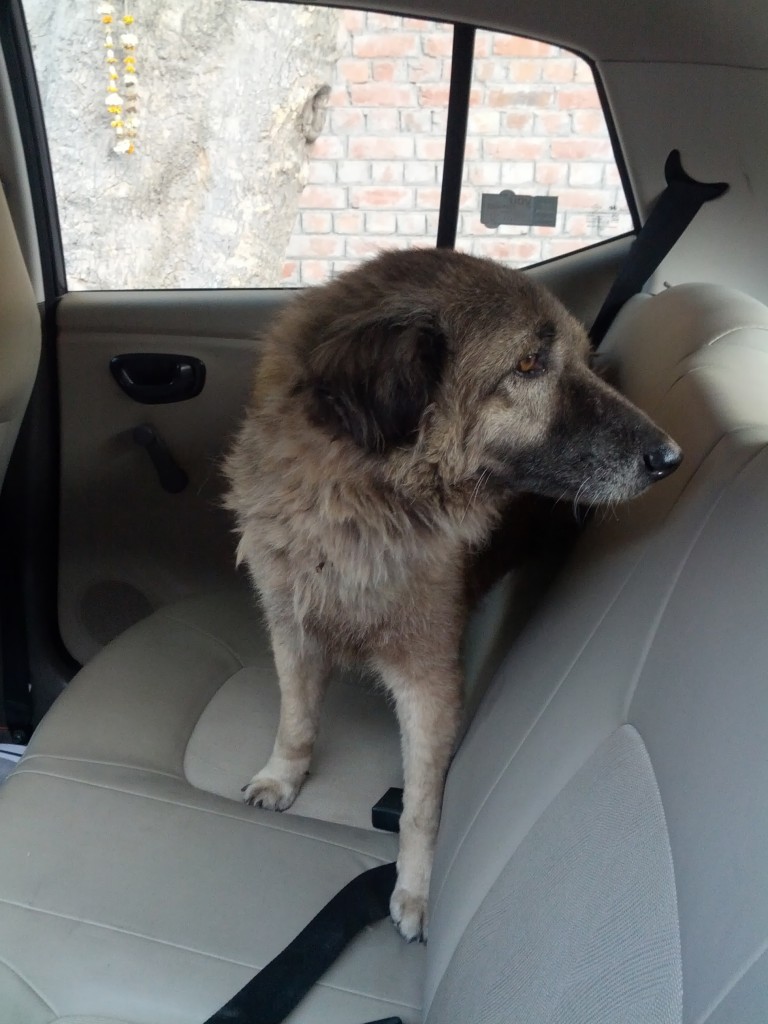 Now it's been a while since I've driven anywhere with a dog. Remember, folks – if you're ever doing this, always crack the window down a bit because animals get carsick. I completely forgot about this, and halfway through our conversation about the latest Android update, my friend threw up. Nobody to blame but me. I hadn't even put a damn sheet down on the seat. Quickly pulled over and sacrificed a box of face tissues to the task. Rolled down all the windows and drove off again.
10 min later, I smelt a terrifying smell. I say terrifying because it crept up from behind me and electrocuted my soul. My eyelashes curled inwards and my nose hair caught fire. My dear friend had taken a shit in the back seat. I caught his eye in the rear view mirror and noted that it was the happiest he'd ever looked. I floored the gas pedal. I went back to same place where I'd found him and stopped the car. The dog looked genuinely excited to be back in familiar surroundings and hopped out of the car. He sniffed around the place a bit and then settled down under a tree.
He seemed to be okay for the moment, so I turned my attention to the car. The paint was beginning to peel. There was a gas station across the road, so I quickly went in and looked for the guy who wipes windshields etc. I knew this was not really his core job, but he was the only person I could think of, on a Sunday evening, who had access to soap and water. I offered him 500 bucks and begged him to help, but in the end he only did it because I told him it was my birthday. It was nasty back there but he cleaned the car as best as he could. I walked to a convenience store and bought some hand sanitizer, air freshener and a bottle of water. All the while, my dog sat there patiently under the tree. This had been a tiring day. As I went up to him to say goodbye, he stood up – three-legged and complete – and wagged his tail. It was the first time I'd seen him do that. 🙂
I left him there with a kilo of boneless chicken – a return gift of sorts, from my malodorous birthday party. I took this picture before I drove away.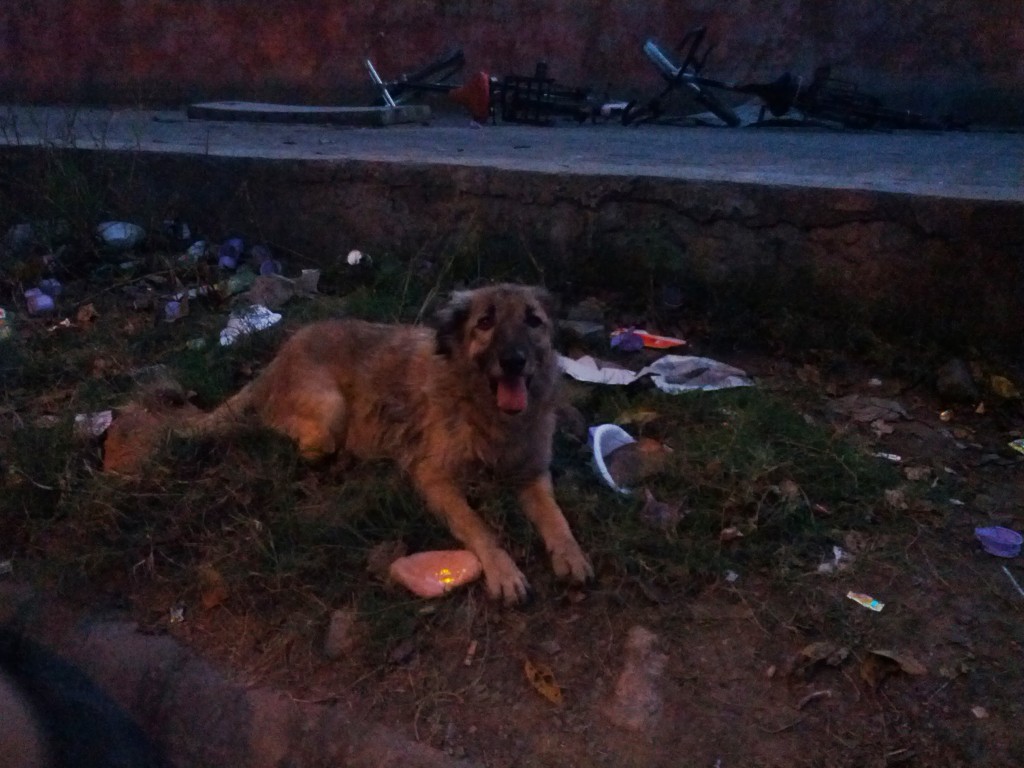 I don't know if I'll ever see him again. I'm relocating soon and Dwarka will be even further away now. Do me a favour and keep an eye out for a beautiful three legged dog if you're ever in Sector 12, Dwarka.
Thank you Friendicoes, for doing what you do. I'll never forget the day I turned 31.
Over and out.