I cooked Pork Vindaloo the other day. Deviating from the classic Goan version a bit, this recipe is all but a family tradition in the rotund + clinically insane Shanker household today.
First, some history:
We started cooking pork at home pretty recently. We'd always stuck to processed stuff like sausages, salami etc. until one fine day, my mother struck up a conversation with a nice old lady at Nainie Pork Shop in Secunderabad. Intrigued by the meat + fat combo that the lady was buying, Mom asked how she planned to cook it. To which, this noble saint of a woman responded with a detailed recipe for Pork Vindaloo. My mother jotted this down, while eight year-old yours truly, slyly tried to push a rolled up bus ticket into the ham slicer.
We headed home, and my mom turned out this fantastic dinner that I remember to this very day. Fast forwarding to last week – I went to Nainie and picked up a kilo of the finest boneless pork in the city. With fat. And rind. The old proprietor Ranjit, cut the meat into neat 1 inch cubes, all the while monitoring my distance from the ham slicer. Really knows how to hold a grudge, that damn Ranjit. Anyway, I packed up the meat, paid the man and took it home.
Recipe begins now:
Wash and set aside 1 kilo boneless pork meat with fat
Grind to a coarse paste:
2 medium sized onions (approximately 200 gm)
1.5 pods of garlic (150 gm or so)
Yup.. pods. You ain't kissin' nobody after lunch, playa.
Dry roast:
50 gm dry red chillies (Get the hottest ones you can find. We're not talking Bhoot Jolokia hot, but just know that Kashmiri Chilli will not do.)
2 tablespoons of cumin seeds
1 tablespoon of mustard seeds
1 tablespoon of coriander seeds
Once the dry spices release their oils, cool them down and grind to a fine paste using malt vinegar instead of water, to adjust consistency.
Heat oil in a pressure cooker. Go easy on the oil, folks. Remember, the pork has more than enough fat on it to aid the cooking process. Once the oil is hot, chuck in the onion-garlic paste. Saute this paste till it begins to change colour. Gradually add malt vinegar as you work the paste around the cooker. Note: The vinegar will arrest the browning of the onions, so don't freak out if they don't go past light brown. Once the onions and garlic are done, add the ground masala and cook till the whole mixture comes together. Keep deglazing the pan with malt vinegar and don't overcook the masala. Remember – it's already been roasted.
Once the masala leaves the sides of the pan, dunk in the meat, add salt, half a teaspoon of Garam Masala powder and mix well. Add just enough water to cover the meat, and close the pressure cooker. Two whistles later, bring the flame down to a simmer and allow the meat to cook for twenty minutes straight. Switch off gas and let the pressure go down in the cooker without disturbing it.
Open cooker, try not to pass out from the heady aroma, and serve up your Pork Vindaloo with steamed white rice.
So that's the recipe, folks. One of my favourite things to eat back home. Every time we cook this, we pig out in every sense of the word. Tip: this curry always tastes better after it's rested for a few hours. The flavors seep into the meat and all sorts of wondrous things happen with the fat.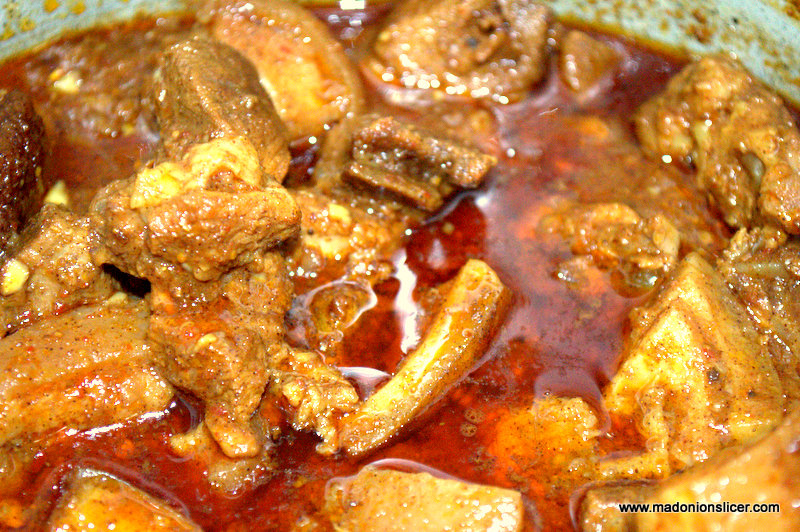 Huge props to my Mom for going after this recipe and changing my life forever. Sumptuous, spicy Pork Vinadaloo has gone a long way in making me the "well-rounded" individual that I am today.
Over and out.