I put together a rather interesting chicken curry on Friday. I say interesting because I started out making Pepper Chicken but changed my mind half way through. It started like this. I woke up late and decided to make lunch for breakfast.  I had a kilo of chicken in the freezer and knew I wanted to do something with it. Just didn't know what. Decided to get started with the usual mise en place and wait for inspiration to strike.
Grabbed four medium sized onions and subjected them to my second favourite cut of vegetable – the fine chop. Please do not have the audacity to ask what my favourite cut is.  I shall be annoyed to say the least. 😛 So anyway, I chopped those onions up real fine and tossed them in the cooker to brown. One thing to note, I added a heaped teaspoon of shahjeera to the oil before chucking in the onions. I browned them gently on a slow fire and went off to play DOA with Deeksha.
After four rounds of getting my virtual arse kicked all over the evil Doatec enterprise inside my Xbox 360, I vowed to fight another day and returned to the kitchen to tend to my nicely browning onions. By now, the Pepper Chicken idea had started coming about and I was toying with the idea of starting to roast and grind the masalas. But then.. a familiar sense of revenge stirred within (the kind of sense of revenge that stirs within one when one's arse has been kicked by one's little sister on one's own Xbox 360 gaming console). I added four tablespoons of ginger garlic paste dissolved in a little water to the mixture and re entered the battle ground.
I got beaten up again but this time, I won a round. Someone rang the bell and Deeksha had to get the door but that had nothing to do with it. I went back to the rasoi ghar and decided to give the masala a little more attention. I gave the onion+GGP mix a quick stir and added the powdered spices – haldi (turmeric), dhania (coriander) and jeera (cummin). Added a little more water and fried up the whole mixture till the oil left the sides of the pan. Waited a little longer for the masala to come together and then added a good three teaspoons of powdered black pepper. I also put in half a teaspoon of garam masala and a handful of slit green chillies. Mixed it all up and tossed in the chicken. I really wanted to add some fresh coriander to the mix so I dived into the fridge.
What I found had long since passed on to the other world so I solemnly observed silence for two minutes and laid it to rest in the garbage bin. Luckily, I found some dried coriander in the spice rack that could serve as a substitute. I generously threw in two handfuls and then some. Still on a high flame, I let the chicken sear a little in the cooker and added salt. I kept the heat on for about seven minutes and kept mixing it to ensure that the masala got into the chicken. Once I was satisfied, I added about three cups of water and slammed the cooker shut. Went off to play DOA again but came back when I realized I'd forgotten to put the bloody weight on the cooker. Put bloody weight on cooker and resumed gameplay.
This time was pretty bad too. Its like Deeksha wanted to punish me or something. She is one vengeful relative, I tell you. At one point, the Xbox even diplayed the letters G R E A T ! across the screen. Seriously! How insulting is that? Isn't that a rotten thing for a console to do? I paid for that piece of junk. Its my Xbox dammit!
Anyway, the chicken sat in the cooker for a good ten minutes after letting off steam and was ready to be opened. I always let the pressure settle down inside a cooker on its own as opposed to opening it under a faucet. I've found that the gravy comes together a lot better that way. Opened the cooker and gave the contents a good stir. Then, I opened two packs of coconut milk and emptied them inside the cooker. Put the cooker back on the stove and let the curry simmer for a bit. When using coconut milk, I avoid working with very high temperatures to prevent curdling, splitting and other unpleasant stuff so once the gravy reached a gentle boil, I took it off the heat.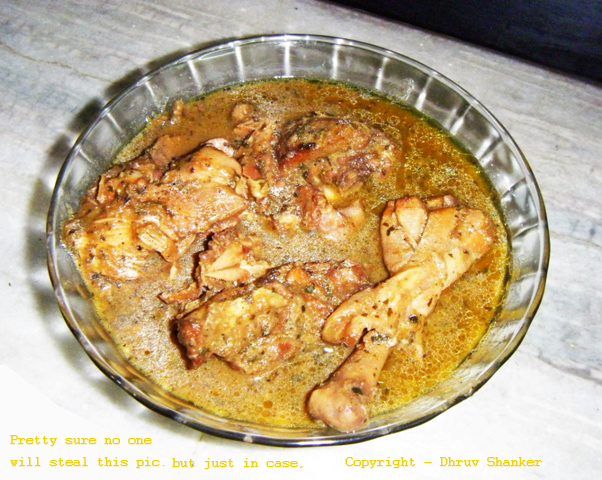 Served it up with rice. The family loved it and Deeksha let me win at DOA for the rest of the afternoon.
Over and out. 😀