Yesterday was fun. I watched an excellent movie and had a superb dinner at a place called Dine Hills, in Banjara Hills.  Since food is the love of my life, I'm gonna go backwards on this one and talk about the dinner first and then get to the movie. Dine Hills was Khadeer's idea. I thought we'd grab some kebabs at the Four Seasons outlet at INOX but post movie, all that changed. Khadeer, Safi and I crammed ourselves into an auto and headed off to Dine Hills. I'm glad it was a spacious auto rickshaw because quite frankly, Khadeer is fat. Anyway, Dine Hills is famous for its Arabian fare and is said to put out an impressive spread on weekends. Unfortunately for us, yesterday was a Friday and we were only able to sample the ATC.
Yeah. ATC as Khadeer put it matter-of-factly, stands for Arabic Tandoori Chicken. Sigh. All these years, I had foolishly thought that ATC stood for Air Traffic Controller.
Anyway, Dine Hills is located bang on the main road, which makes parking a bit of a challenge. Since we were auto bound, it didn't matter but if I want to go back, I'll really need to figure out where to park my elephant. The place is very Irani cafe-ish and the restaurant is up on the first floor. Its nice and spacious and has an old world feel to it. We got us a table fairly easily and proceeded to order a meal of epic proportions. One ATC, one portion of loose prawns, 6 roomali rotis, one spicy egg fried rice and one dal fry. This may not sound like much for three dudes, but like I said earlier, Khadeer is fat.
Now this place takes their authenticity seriously. They actually brought us the food in a thaal. A thaal, ladies and gentlemen, is a gigantic platter that multiple diners can eat out of. The idea could take some getting used to, but come to think of it, the thaal is so big, you have more than enough place really. Anyway, I was totally blown away by the size of the platter. Come to think of it,  it was actually big enough to carry an full sized Air Traffic Controller – radio, binoculars and all. The chicken was good. It was a little less spicy than regular Tandoori chicken, but that was the only discernible difference. The mint chutney they served with it was pure awesomeness though. I'm sick and tired of eating mint chutney that looks and tastes like distemper.*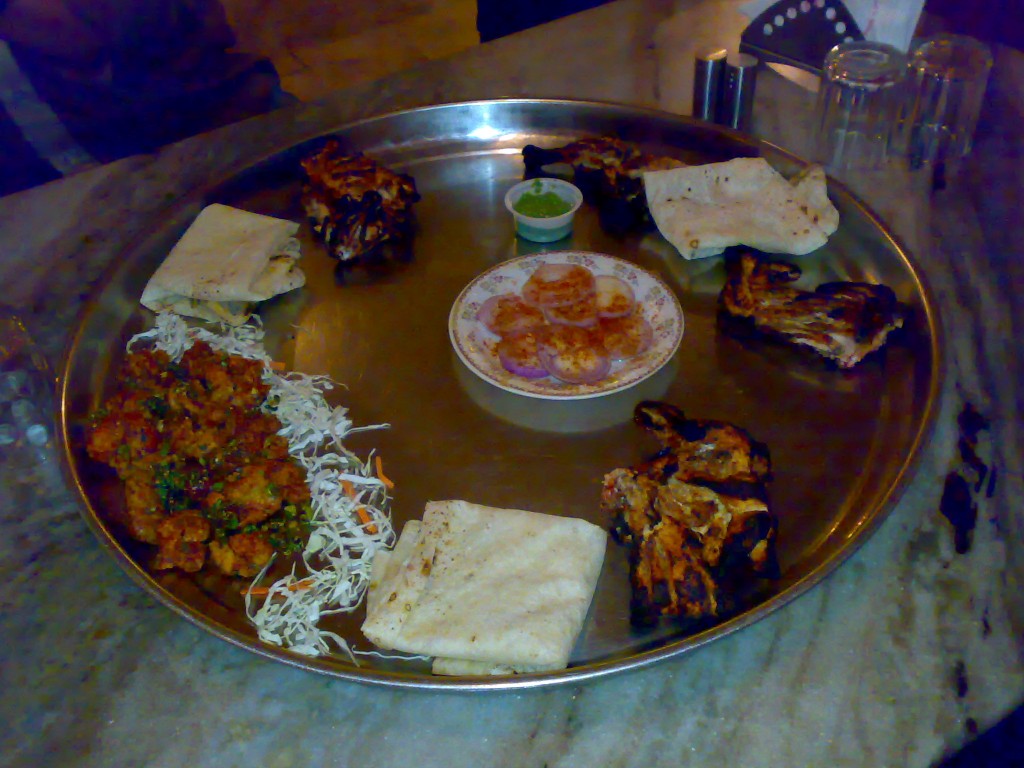 The prawns were a total knockout and we ate them in respectful silence. I was pretty impressed with the spicy egg fried rice too. They had used some kind of red chilli paste that had infused the whole dish with a fantastic flavour and left me asking for more. I polished off the whole thing with some dal fry and a Thums Up and left the restaurant more stuffed than my sister's teddy bear – Misha.
Total damage – Rs.600/- Not bad at all, considering the excellent portion sizes. I can't wait to go back on a weekend and try the Arabic stuff on the menu. A couple of weeks from now perhaps. The movie we watched, was Date Night. A simple lightweight comedy starring Steve Carrell and the immensely talented Tina Fey. I won't go into too many details here. Just watch the movie and yeah, definitely eat at Dine Hills.
*Don't ask me how I know what distemper tastes like.
Over and out 😀