This is something that happened to me back in 2010, but never got the mainstream media love it deserved. It's a longish post, so read it when you have the time.  But do read it. I hardly make any money off Google Adsense these days, and every click counts.
So yeah, internet scammers annoy me. Their pathetic attempts to look legit annoy me even more. What interests me though, is how they're getting more and more innovative in their attempts to get to us. This particular scam-bag (sic), actually used a job site to reach me. Interesting much!
I was playing Chicken Invaders 2 when I received an email from one Mr. Bob Christiano. I paused the game and started to read. I knew it was a scam the moment I saw it, but I gotta say.. this was different. I hadn't won a lottery, Microsoft hadn't decided to award me 55 million dollars and neither had a rich old widow in the Canary Islands died and left me her estate. I had been offered a JOB! Take a look: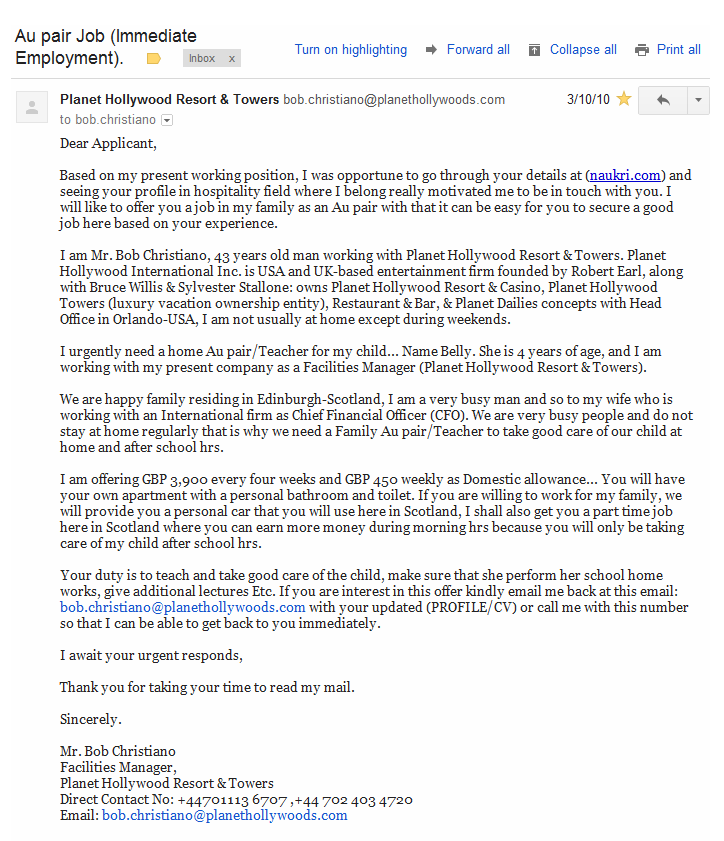 Look after my 4 year old daughter Belly?? WTF? I decided to play along and see just how far this shit would go. I found a phone number in the email and decided to call it. It went to voicemail a few times but I finally got through after a few tries. A guy with a thick accent answered the phone and sounded a bit surprised when I asked for Mr. Christiano, but after I introduced myself and reminded him of the email he'd sent me, he shakily introduced himself to me as Bob. You could make out that this asshole wasn't expecting ANYONE to call him. Anyway, he hurriedly asked me to email him my resume and said that he had to go.
This was where creative inspiration struck. This jackass claimed to work for Planet Hollywood. If he was gonna drop names in his intro, so was I. I drafted the 'resume' below and sent it to him. Take a look: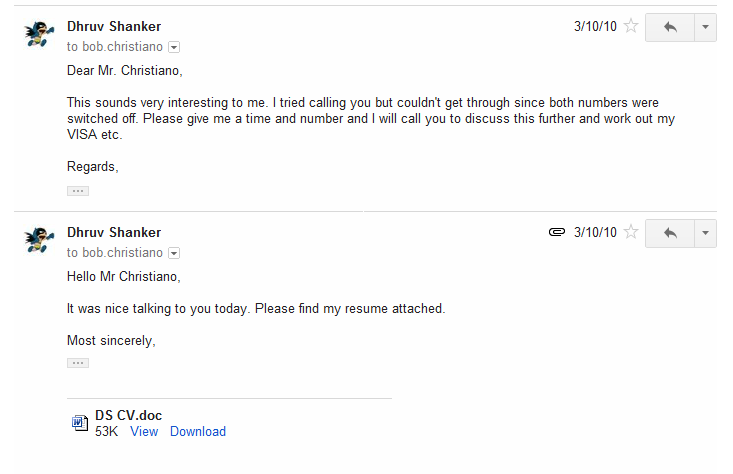 I figured the scammers would read the bullshit in the resume, realize they'd been had and drop the idea. I was mistaken. They reviewed my resume and woo-fuckity-hoo! I made it! They sent me a confirmation email with pictures of the 'family' and everything! Take a look:

Geneva Temple – total bitch eh? Anyway, this was followed up by a five page contract and a certificate of employment. They actually said I'd got the job based on my experience! Unreal! I bet Queen Rania of Jordan gave me a nice recommendation when they contacted her during my background check.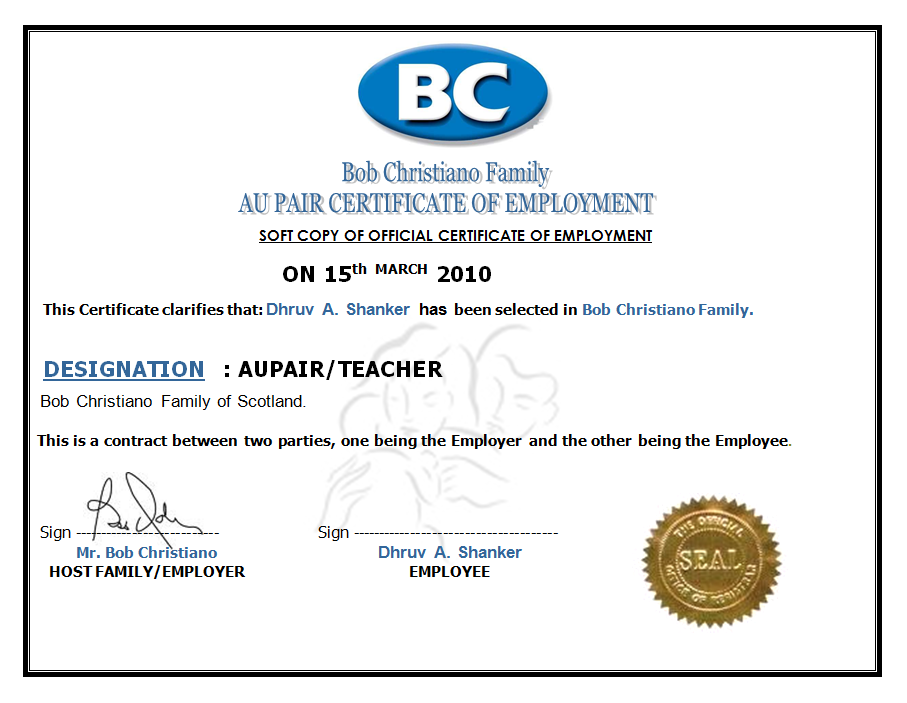 I went through the contract and figured out the scam. They wanted me to contact the 'lawyer' and pay him a processing fee of 500 GBP for all the 'affidavits' and shit certifying me to work in the UK. I replied with the following: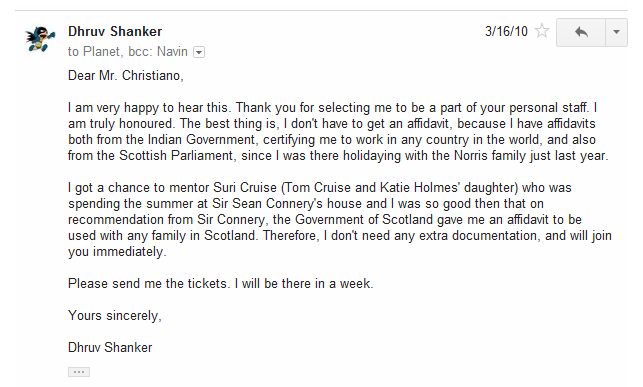 The bastard never replied. He never answered my subsequent calls and both his mobile numbers mysteriously stopped working shortly after. Now I got a good laugh out of this whole thing, but the sad thing is, a lot of people really take this shit seriously. Remember this, folks — email scams are a very real thing. Be careful. If the email sounds too good to be true, it's probably a scam. 99% of these scams originate from Nigeria and a close look at the language used in the emails and on the phone will tell you that these people are not who they claim to be. There are other things you can do, if you want to go totally Nancy Dhruv on their asses. Look up the email addresses they write to you from.
This guy wrote in from bob.christiano@planethollywoods.in. Planet Hollywoods? Seriously? This is a well known company, so you can call their bluff right away, but they sometimes float fake websites and fake company names too. Look up the domain info and you'll see who it's registered to, and where. It wont give you details like his dog's name or his grandmother's favourite colour, but you'll get enough info to know that it's not a legit company. So yeah – look up the domain if you're really that keen. You can use www.whois.net. (Damn, I'm gonna send those guys a truckload of traffic! Hope their servers can handle it.)
That's about it really. Props to Navin for helping me mess with Bobby's C's head. In other news, I've finally moved to a new house in Delhi. I think my refrigerator and I will be very happy there.
Over and out!