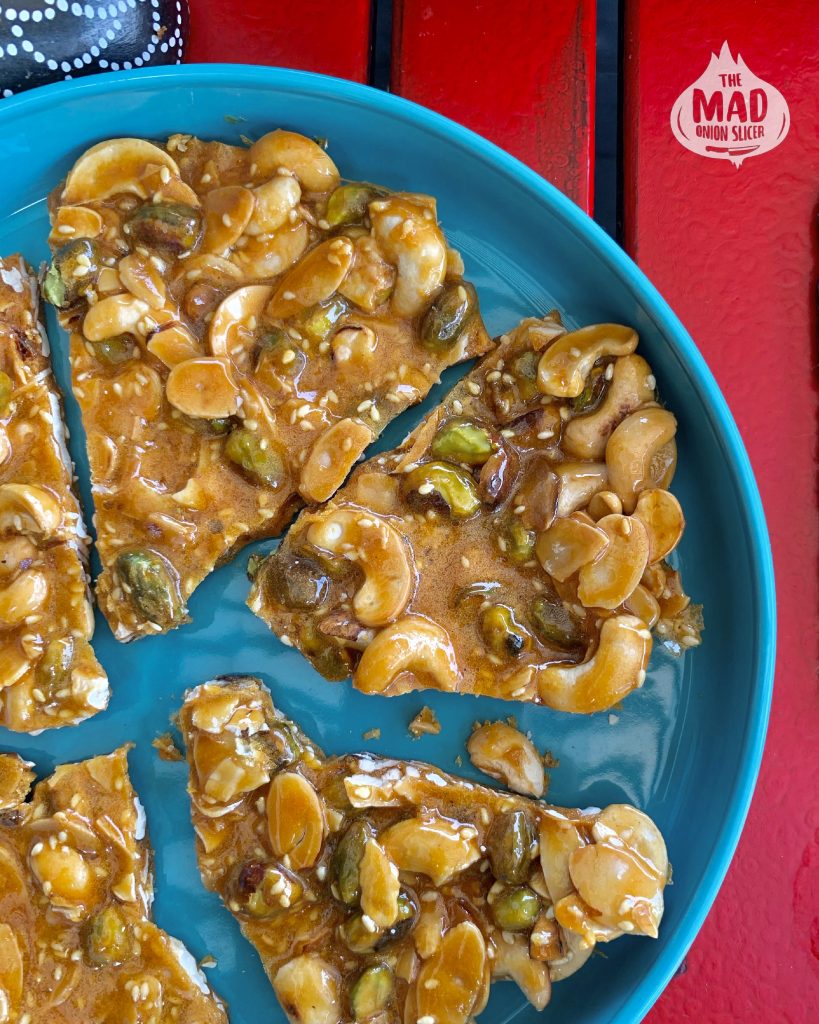 In a pan, toast 1.5 tbsp of white sesame seeds till they start to pop. Take off heat, and set aside
Toast 1 cup of mixed nuts – equal quantities of cashews, pistachios and almonds in a pan for 5 min. Slice the almonds and cashews in half or they'll be a little too chunky.
Now, very very very carefully, make caramel. Molten sugar is like lava. You don't want to touch lava. Ever.
In a heavy bottomed pan, heat 3/4 cup of sugar and 3 tbsp water. If you want to use raw sugar (jaggery), use 1/2 cup jaggery + 1/4 cup regular sugar. White sugar sets harder than raw.
Stir the sugar and water till it melts and starts bubbling
Cook on low heat till the sugar starts changing colour.
As soon as the sugar turns light brown, turn off the heat and add 1/4 tsp baking soda. The soda will make the Chikki brittle.
Mix well and add the sesame and the nuts
The mixture will immediately tighten up but work it with a wooden spoon and transfer to a dish lined with baking paper.
Flatten so you have an evenly shaped slab of Chikki. Allow to cool
You could make knife impressions in the Chikki while it's still warm so it breaks off into squares or whatever but I prefer to snap off irregular sized pieces and eat them like a savage. You do your thing.