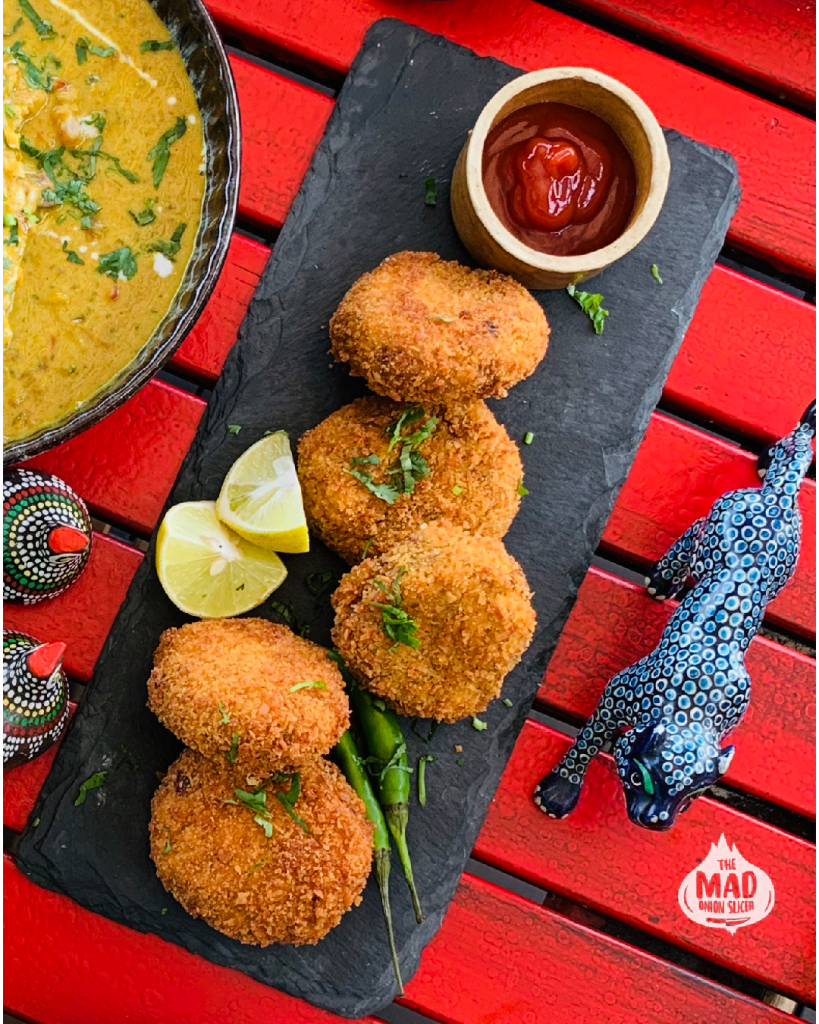 Heat 1 tbsp oil
Throw in 1 tsp mace, 1 black cardamom & 1 bayleaf. Cook for 30 seconds.
Add one chopped onion and cook till brown
Add 1 tbsp Ginger Garlic paste and a splash of water and cook for 1 min on high
Chuck in one chopped tomato and cook the mixture till the tomato stops looking like a tomato
Time to add the powdered spices – 1 tsp each of turmeric, hot chilli powder and Kashmiri chilli powder followed by 1/2 tsp garam masala. Mix and cook till everything looks shiny and you start seeing little bubbles of oil.
Add 500 gm minced lamb, pork or beef. Season with salt and mix well.
Add 2 tbsp chopped coriander stems and cook on high heat till you stop seeing pink bits of mince
Turn down the heat, cover with a lid and cook on medium heat for 30 min
Once the mince is cooked, turn off the heat and allow it to cool
Discard the bayleaf and black cardamom. Add 1/4 cup breadcrumbs, 2 tbsp chopped onion, 3 chopped green chillies and a handful of chopped fresh coriander to the mince. Your mixture should be tight, and hold it's form when shaped in the palm of your hand.
Mix well by hand, and shape the mince into round, oval or unicorn shaped cutlets
Dip in beaten egg, roll in bread crumbs. I like to use Japanese Panko breadcrumbs but any crumbs will do.
Deep fry in HOT oil till golden brown. Should take like 30 seconds tops. Make absolutely sure your oil is hot, okay? If your oil isn't hot enough, the cutlet will soak up oil like a sponge wrapped in tissue paper.
Serve up these crunchy little bombs with ketchup.