This is a dish that brings a smile to my face & takes me back to the time when I was a trainee chef at the Taj Residency (now the Taj Deccan) in Hyderabad. On the corporate ladder, the industrial trainee is roughly two steps lower than the lowest rung. Somewhere near the underside of the anti-slip rubber shoe on the left leg of the ladder sounds accurate. I've been called upon to perform many an odd job, but the strangest one perhaps, was when all the trainees in the hotel were urgently summoned to the flight catering kitchen to execute a super important, time sensitive task. Here's what happened – our hotel used to prepare & dispatch meals for an airline (Jet Airways, I think). We were supposed to send out 1000 plates of Jeera (Cumin) Pulao, but made Peas Pulao instead.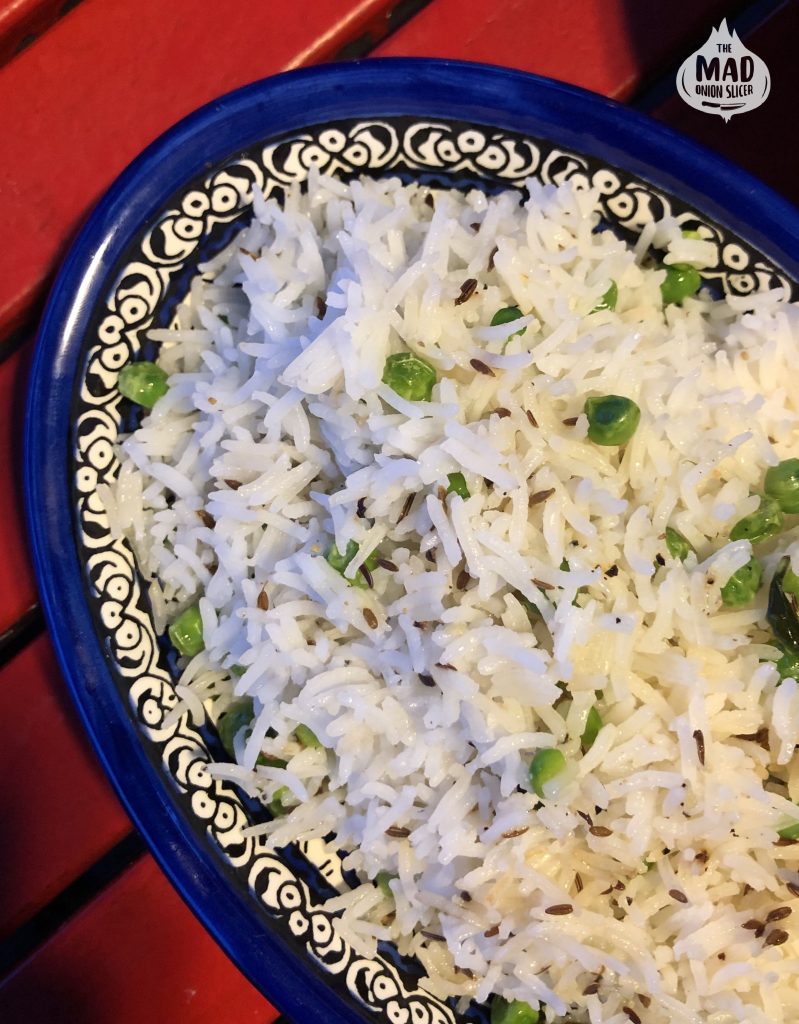 By the time someone noticed, it was too late to make another batch & for reasons unknown to me, the airline was making a massive fuss. Moving into damage control mode, the chefs decided to hustle. They called in all the hands they could find, to manually pick out every goddamn green pea in the batch. We put on gloves & spread the rice out onto massive work benches (Sanitised of course. This is the Taj, dammit), & found every tiny green goblin in the house. It was stressful & hilarious at the same time but we got the job done.
#Recipe below:
No rice cooker drama. Boil 1 cup of washed Basmati rice in 3 cups of H2O for exactly 12 min.
Strain the rice in a colander, run it through cold water for 10 sec, & then let it drip over an empty bowl. Straining rice gets rid of some of the starch & rinsing stops it from cooking further.
Heat 2 tbsp oil in a wok & throw in 1 tbsp of cumin seeds, a sprig of curry leaves & 4 green chillies slit lengthwise
Chuck in two handfuls of frozen / fresh green peas & mix on high heat. The peas should cook in less than 2 min.
Let everything sizzle for a bit & tip in the rice
Season with salt & toss like you're having an epileptic fit
Transfer to a serving bowl & garnish with a tiny bit of freshly ground black pepper
Over and out!