Today was a lazy, lazy Sunday. I ate, slept and watched MMA all day. The one productive thing I did, was make prawn masala for lunch. I dragged my carcass out of bed at 10 in the morning and fed the fish for a good hour or so while playing with my new Google Nexus One phone.  I then settled down to watch UFC 114 and halfway through the Russow – Duffee fight, remembered that I had a kilo of prawns sitting in the fridge. I picked up these tiger prawns on an impulse yesterday. I'd gone to buy some chicken but was in the mood for some seafood as well and was actually looking for some decent King Fish, when I spotted these bad boys over in the corner. The clouds parted, a thrush burst into song, and I had a calling. Prawn Masala was what it sounded like.
This is a fairly simple family recipe and I'm wondering now why we don't make it more often. I paused the Russow – Duffee fight and got started on lunch. I finely chopped two largish onions and six smallish tomatoes. Since largish and smallish are vague-ish words, I've provided specifics later on. I heated four tablespoons of oil in a pan and let some cummin seeds crackle in it for a bit. Threw some curry leaves in and then added the onions. I tossed the whole mixture about and let it do its thing on a slow fire. Took a break and watched Mike Russow knock the chappals off Todd Duffee in Round 3. Excellent comeback by Russow, I must say. The man looks like a piece of sourdough, but he sure can punch.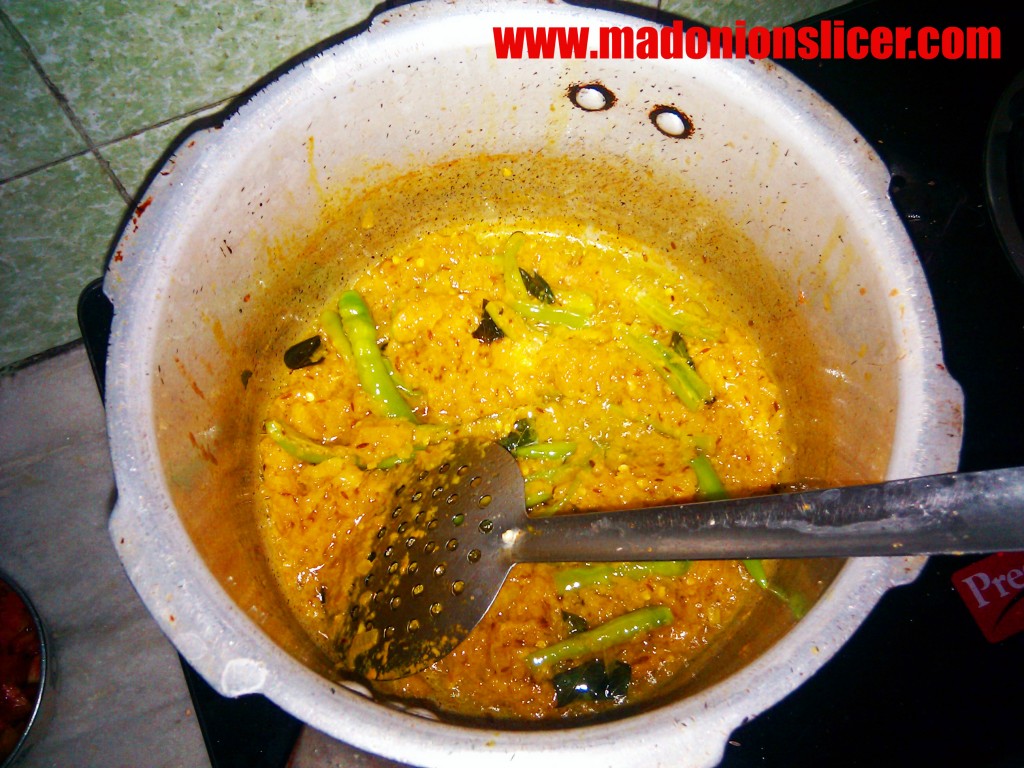 Ten minutes later, I added two and a half tbsp of ginger garlic paste to the pan. One thing to note, is that I didn't let the onions get browned completely. Another three minutes and they'd be brown, but an important part of this recipe is the consistency of the gravy and a lot of this comes from the texture of the onion. I added a little water to arrest the cooking and then tossed in six slit green chillies. Btw, we like our food fierier than the depths of hell, so if your stomach doesn't have a cast iron lining like mine, feel free to minus a few chillies. I let the foundation of my gravy come together in the pan and kept frying it on a high flame. Once I was satisfied, I added the tomatoes.
Mixed it all together and left it to cook on a slow fire. I finished watching the rest of UFC 114 and then came back in fifteen minutes. Needless to say, I kept checking on it periodically. As far as I'm concerned, burnt masalas are sad, sad things. For me, they rank right up there with Simba's father Mufasa dying in The Lion King. 🙁 Anyway, the masala started looking mighty good, and I added a teaspoon of turmeric, two heaped teaspoons of red chilli powder and a pinch of garam masala powder. One cool thing about this gravy is the slight tang it has. The recipe calls for seasoning with salt and a teaspoon of sugar, so I did the honours and and stirred the whole thing with great gusto. I then tipped in the prawns and added a bunch of chopped fresh coriander.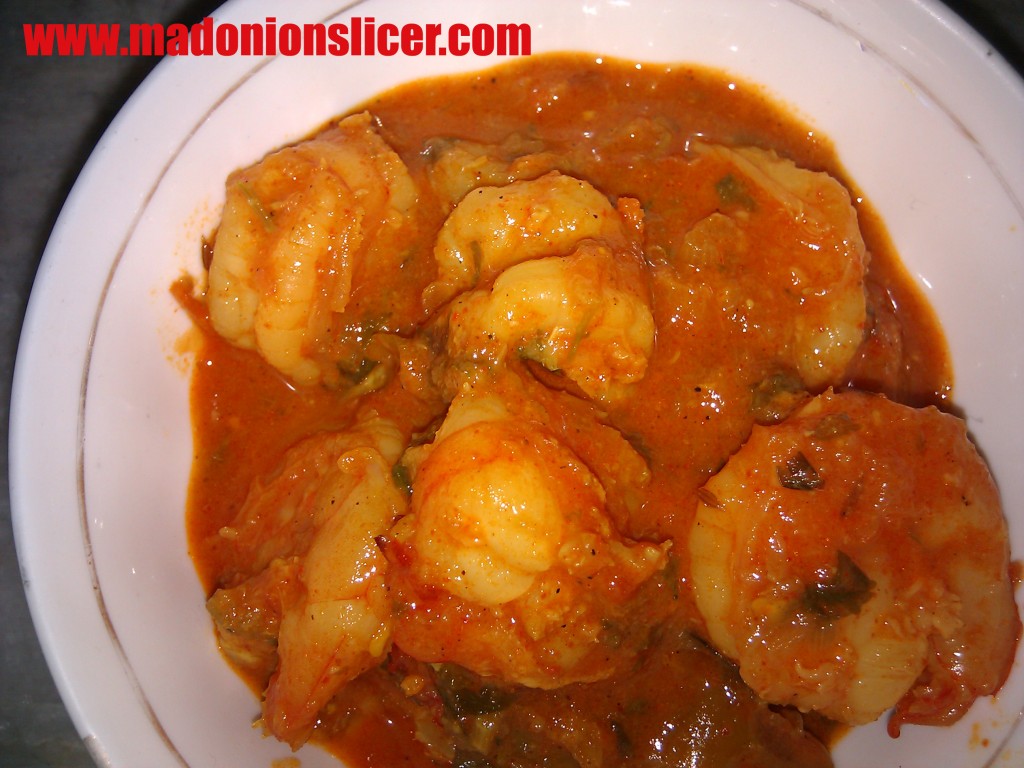 Remember folks, prawns cook damn fast, so keep an eye on them. They also release a lot of water, so don't dilute your masala or you'll end up trying to dry out your gravy once the prawns are cooked. Overcooked prawns get rubbery, so add them only once you're sure the gravy is done. The prawns were done in all of seven minutes and my masala was good to leave the stove. Served it up with steamed rice and a generally good time was had by all. Breakdown of ingredients below:
Prawns – 1 kilo
Onions – 200 gm
Tomatoes – 250 gm
Green Chillies – 6 large
Fresh coriander – 1 large bunch
Ginger-Garlic paste – 75 gm
Turmeric powder – 1 tsp
Red Chilli powder – 2 tsp
Garam Masala powder – 1/2 tsp
Sugar – 1 tsp
Salt – to taste
I retired to my room post lunch and proceeded to watch WEC 48 where Leonard Garcia and Chang Sung Jung (The Korean Zombie) put on one of the greatest fights of all time. Like I said earlier, it's been a lazy day. Reflecting on lunch, I'm wondering now why they call them Tiger Prawns. I mean, isn't the tiger a different animal altogether? Does the concept work vice versa? If they discovered a species of tiger that had a pair of antennae and a shell would it be cool to call the unfortunate mammal a Prawn Tiger?
BTW, all pictures in this blogpost, were taken using my shiny new Nexus One. Over and out 😀