Yesterday was fun. I watched a movie after work and then went and got some serious Hyderabadi food at Mehdipatnam. We watched Prince of Persia – Sands of Time and then headed over to the famous Prince Hotel in Mehdipatnam for dinner. Being a firm believer in chronology, I'll get into the movie review first and then talk about the food a little later.
POPSOT, as I shall refer to the movie from now on, is a full on entertainer. Adapted from one of the most popular video games of all time, this movie delivers what the poster promises. Nothing mind blastingly spectacular, but good fun. I liked Gemma Arterton – the chick who played Princess Tamina. She looked hot, acted well and looked hot again (see below). Jake Gyllenhall unfortunately, is still going to be the man who made out with another man in Brokeback Mountain. Heath Ledger could shake off the cobwebs he picked up in the closet, Jake. You are not Heath Ledger. The real hero in this movie for me, was Alfred Molina who played the role of a quirky sheikh with a penchant for ostriches. He delivered the comic quotient in POPSOT, in healthy and spontaneous doses. Watch the movie for his lines.
Now, Ben Kingsley has an annoying face. I've wanted to put him in an Anaconda choke ever since I first saw him act as Gandhi. Don't get me wrong. It's not like I was pissed that he was playing 'the Father of the Nation' or anything. It's just that he has an annoying face. He was the villain in this film and acted pretty well actually, but I'm sorry, I still want to choke the guy out. Long story short – I liked the movie. I thought they recreated some of the levels from the game like the collapsing sand floor very very well. Worth a watch. Again, Alfred Molina is great. And the Princess is hot.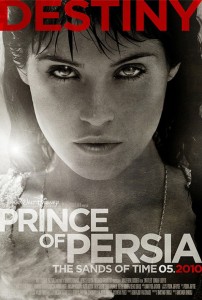 And now..
THE FOOD!
Prince Hotel in Mehdipatnam came highly recommended by good friend Khadeer Sheik. Khadeer is a carefully camouflaged foodie and you'd never be able to guess this if you met the guy. I've learnt to trust his judgement when it comes to grub and shut up and order what he recommends. We made our way to Prince and found the place packed to the rafters. We had to wait for a table but luckily the place's turnover rate is so quick, a table empties every fifteen minutes. We got one in five.
Proceeded to order one portion each of Tala Hua Gosht, Boti kebab and Sheekh kebab. We also got one portion of Mutton Masala and a bunch of Roomali Rotis. Now one thing to remember is, at Prince Hotel, mutton = beef. The Tala hua Gosht is a superb dish that consists of beef cooked in a tandoor and then finished in the pan with a heady masala laced with chilli, onions and curry leaves. The Tala Hua Gosht at Prince was actually better than that at the legendary Alhamdulilah restaurant near Nampally. (I've probably buggered the spelling of Allhamdulilah so if it needs correcting, drop me a line). The Boti kebabs were a little tough and needed some chewing, but the flavours were all there. However, the Alfred Molina of dinner last night, was the Sheekh Kebab. How they got the mince to stay so tender and moist is beyond me. Sheekh kebabs almost everywhere tend to get dry, but this was pure heaven. 11 on 10.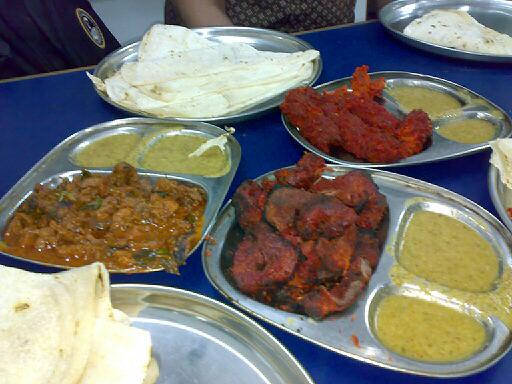 The Mutton masala was just okay. Although the meat was very well cooked, the dish wasn't even close to what I had had at Rumaan a few months back. We polished off the meal with a plate of Bade gosht ki biryani and some very potent Mirchi ka salan. The biryani was great and the rice really deserves a mention. Each grain of Basmati looked like a miniature noodle. Very good stuff. Wrapped the whole thing up with a superb cup of Irani chai which brought back some good old memories of Chicago Cafe in Begumpet. Chicago was the place all my friends would go for a smoke after college. Since I didn't smoke, I used to drink chai and pretty soon, I was hooked. I'll write a detailed post on Irani chai some other time. This one, is done. If you're looking for good beef in Hyderabad, Prince Hotel in Mehdipatnam is the place to go to.
Over and out 😀