The egg puff, along with the samosa and Irani chai forms the holy triumvirate of the classic Hyderabadi cafe. Pronounced kayfe. No French accents here, baap. #JeSuisHyderabadi. The good thing with living in Singapore, is that I now have access to excellent frozen puff pastry at the supermarkets. I can make my own, but have to say that the frozen stuff works just as well as the fresh. Anyway, I picked up a few puff pastry sheets after work today, and came home with bakery on my mind.
Ingredients:
Eggs – 4
Shallots – 6 (sliced)
Ginger-garlic paste – 1 tsp
Red chilli powder – 1/2 tsp
Cumin powder – 1/2 tsp
Oil – 1 tbsp
Salt
Method:
Boil 3 eggs. Immerse in cold water and set aside. Heat oil in a pan and add the sliced shallots and ginger garlic paste. Don't brown the onions. The idea is to keep them soft and provide a base for the egg. Saute the onions for about a minute and then add the powdered spices with a dash of water. Cook till the raw smell leaves the spices and turn off the heat. Add salt to taste.
Defrost a sheet of puff pastry. This should take about 10 minutes. Once defrosted, cut the sheet into 3 inch squares and begin to assemble the puffs. Spoon the onion mixture into the center of each square. Now look for the eggs, and realize that you've forgotten to shell them. Slap forehead. Shell the eggs and cut them in half. Place one halved egg onto each pastry square – yolk side down. Gently press the egg and wrap up the puff pastry parcel.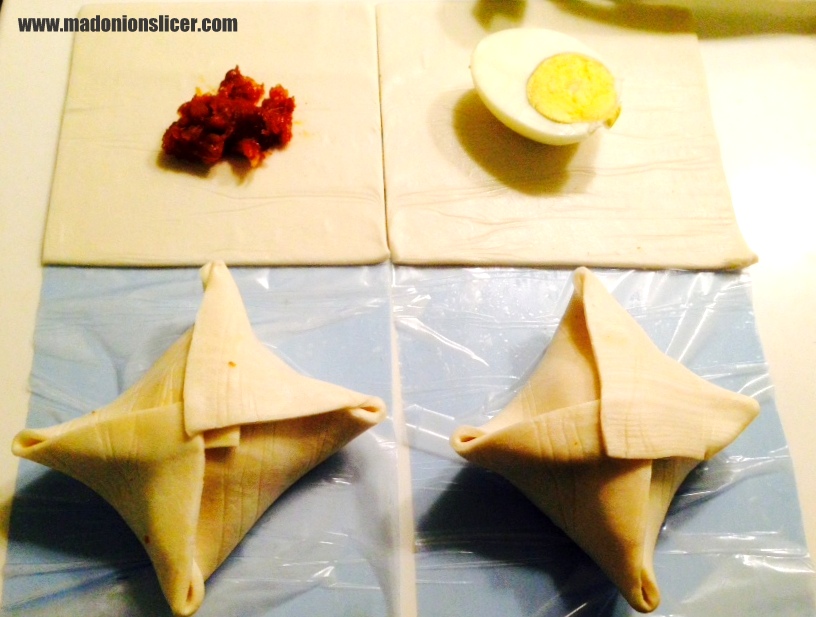 Beat the 4th egg now, and gently brush each puff all over with beaten egg. The egg wash is important. It is what gives the puff it's sheen and beautiful golden colour. Transfer the puffs to a baking tray and chuck them in the oven for 15 minutes at 200 degrees C. Plate up with a splosh of tomato ketchup on the side.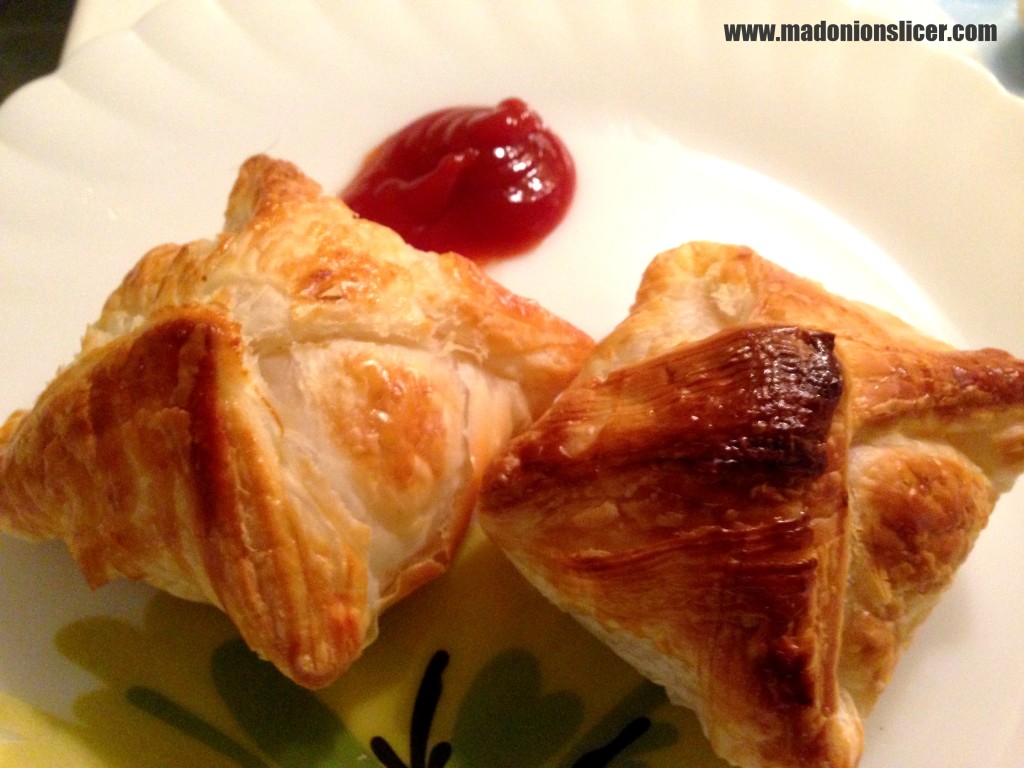 As you can see, this is stupidly simple to do and makes for a wonderful little snack. You can literally put any filling inside the puff and go nuts.
All in all, I'm rather pleased with today's results. My only (slight) regret is that I chose to make egg puffs for dinner on the very same day I bought myself a fitness tracker. Half expected it to buzz halfway through the recipe with an insulting message about how it was disappointed in me and my life choices. If you must know, I've invested in the Jawbone UP24
. Fun fact: if you click that link and actually buy something from there, I'll get a cut of the sale. Give it a shot. It's this affiliate marketing thing I'm learning about. 😛
Over and out!