Found myself in Little India a few days back. I'm not particularly fond of that part of Singapore but since I was there, I popped into Mustafa Centre and did some grocery shopping. Now Mustafa is crowded as hell, but rarely disappoints in the food department. I spotted some nice looking mutton and knew I had to do something interesting with it. I picked up some spinach, some fenugreek and some mint and got the hell out.
Saag Mutton was on my mind. I have an excellent recipe that's quick and easily finished off in pressure cooker; but I was in the mood for something special. I decided to marinate the mutton overnight, and cook it the next day.
The Marinade:
Curd – 3 tablespoons
Red chilli powder – 1 teaspoon
Turmeric – half a teaspoon
Ginger Garlic paste – 2 teaspoons
Slit green chillies – 6
Salt – 1 teaspoon
I added all 750 gm of my mutton to this marinade and banished it to the dark depths of my refrigerator. Behind the olives if you must know.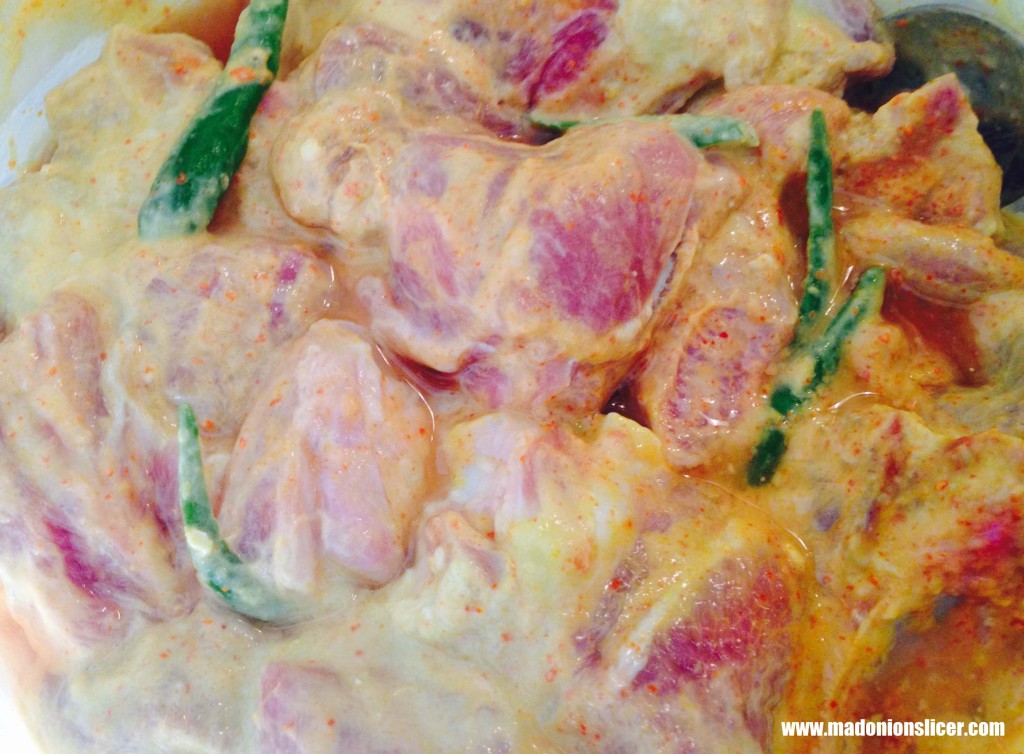 I got home from work a little early the next day, and started on this masterpiece. I fell deeply in love with mustard oil during my time in Delhi. I'd never cooked with it before, and was instantly sold on it once my old cook / housekeeper Pushpa showed me how to use it. Now most of you probably know this, but you're supposed to heat mustard oil till smoking point before using it. I find that it works beautifully with red meat, and is especially good when cooking leafy veg.
The Saag Masala:
I did the smoking thing with the oil, tossed in a teaspoon of cummin seeds and added two finely chopped onions to the pan. I really took my time with this, and browned the onions to perfection over a slow flame. Added the usual suspects in terms of powdered spices – turmeric, red chilli, cumin and coriander. Added a dash of water and mixed well. I then added two finely chopped tomatoes to the pan. Turned up the heat and cooked the hell out of them. Turned the heat down again, and sauteed this masala till it began to leave the sides of the pan.
Next, I added my finely chopped greens. This recipe does not use the blanched spinach puree that is the mainstay of most Saag dishes. This version has a lot more texture, and in my opinion – a lot more personality. Adding fresh leafy greens will release a ton of moisture and leave you wondering what happened to your wonderfully cooked onion-tomato masala. Be patient. Allow the greens to break down slowly and unify with the masala. It's like when Professor X recruited Wolverine to join the Xmen. Wolverson hated everyone and everyone hated Wolverson, but once they all started working as a team, it was pretty f*cking awesome, right?
The Meat –
I smoked some more mustard oil in a heavy bottomed pan and added the following whole spices:
Cloves: 4
Black Cardamoms: 2
Green Cardamoms: 2
Peppercorns: 14 – 15
Cinnamon: half inch stick
Bay leaf: 1
Let the spices splutter in the oil and then added the marinated meat to the pan. Cook on a high flame for at least 7 minutes. The mutton will begin to sear and give off the most heavenly aroma known to man. Seriously folks – I cannot wait for technology that will enable us to transmit smells electronically. Think of a banner ad where the call to action says – 'Click here to Smell'. Pretty awesome for recipe blogs, perfume brands, florists etc. On the flip side though, we'll probably have a ton of people misusing this technology and loading up farts as pop-up ads. Haha.. sorry. Horrible thing to talk about while writing a recipe. Most embarrassed.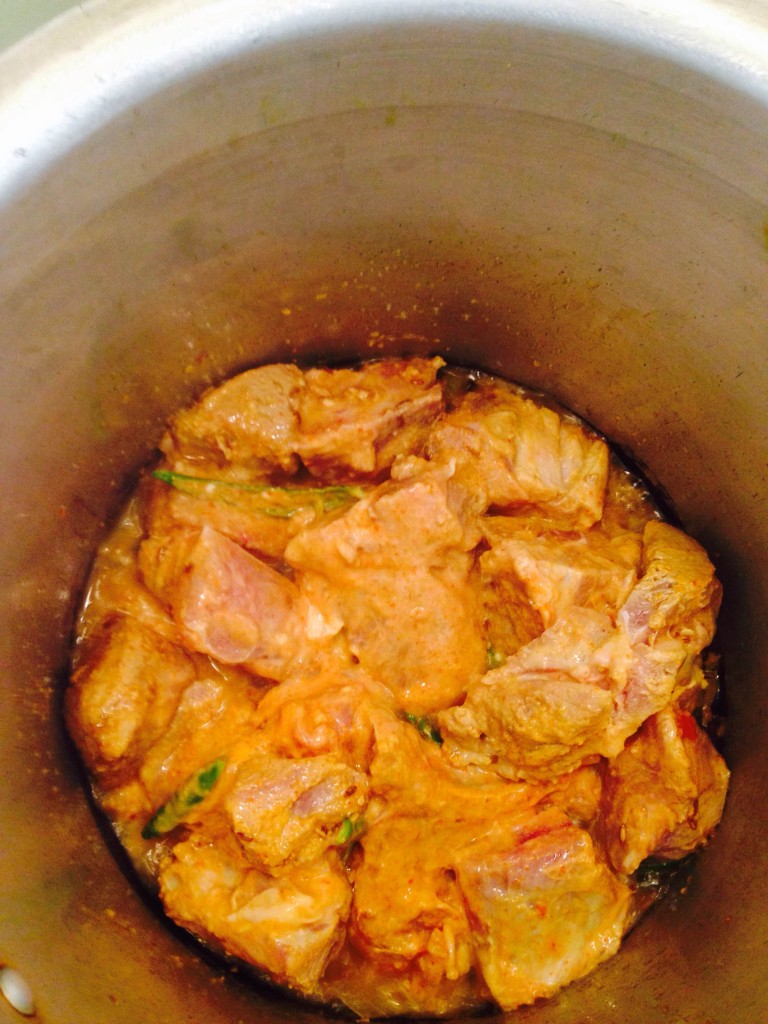 Once the meat was seared well on all sides, I added a dash of water to the pan and covered it. Meanwhile, I finished the Saag off on the side. After about 30 min, the meat was fully cooked and ready to meet the greens. I added the Saag Masala to the mutton and mixed well. Cooked on a slow fire for another 20 minutes to let the flavours infuse, and adjusted salt to taste. If you think your dish is looking watery, keep up the heat, and let it dry off. It is very important that one does not serve up a watery Saag Mutton. One is said to go to straight to hell if one does so. You can stir in a teaspoon of ghee before serving this up, but that's totally optional.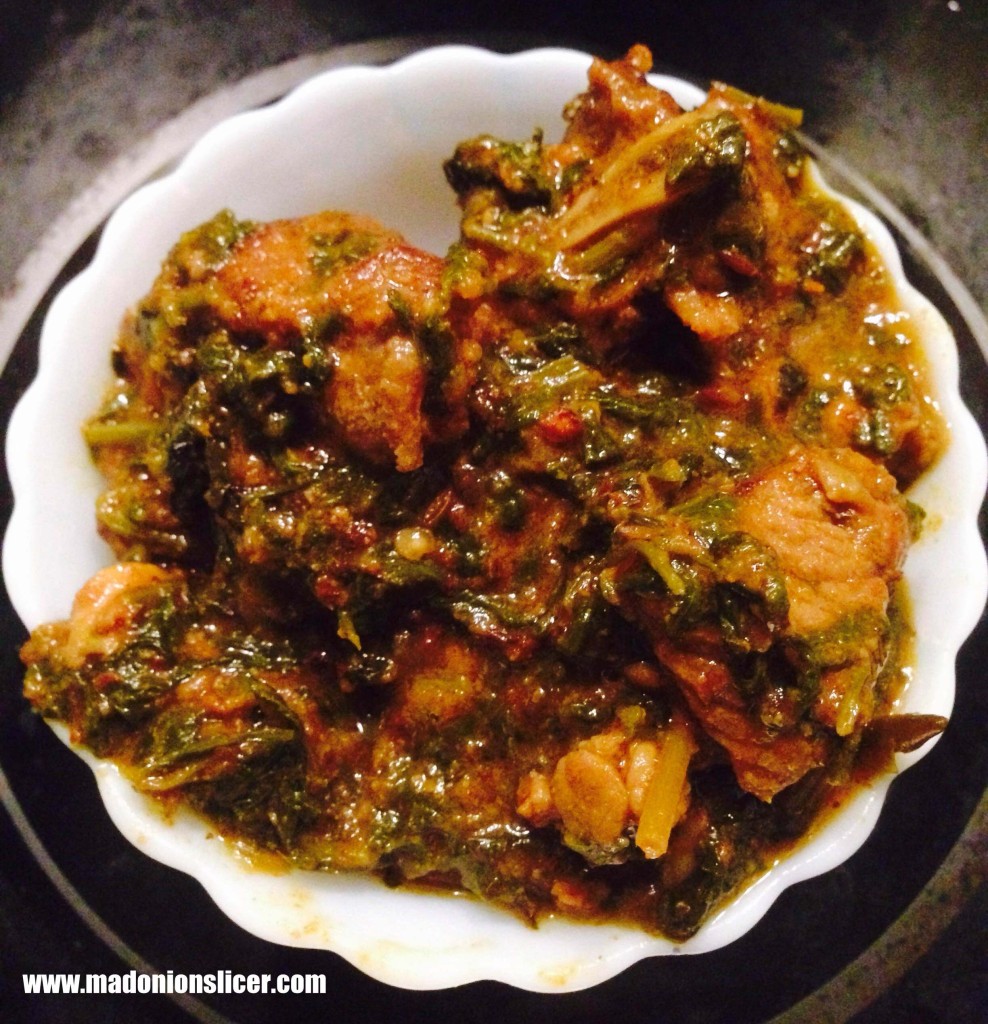 I attacked the Saag Mutton with some rotis, but it went pretty well with rice the next day too. I don't usually cook such elaborate stuff on weekdays, but man this was totally worth it. Give it a shot if you have good mutton on hand and about two and a half hours to spare. And yeah – don't skimp on the mustard oil.
Over and out.