This is a pretty ancient recipe. My great grandfather who lived in a small town called Gonda in Uttar Pradesh, used to cook this, and it's stayed in the family ever since. Now I never met my Great Grandpops, but my Dad used to cook this mutton curry all the time when I was growing up and I absolutely loved it. After being on the move for a few weeks, I was itching to cook something in my own kitchen again. Got my hands on some really good mutton in Little India and simply knew I had to give this recipe a shot.
First things first: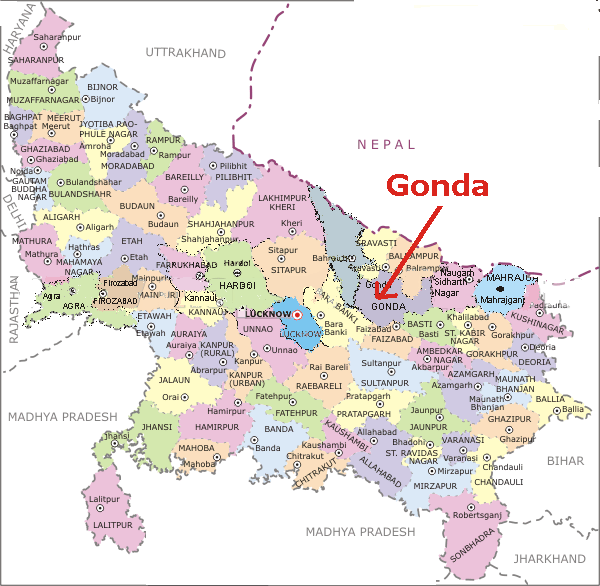 GONDA WALA MEAT
Ingredients:
Mutton – on the bone – 1 kilo
Onions – 6-7, medium sized. approximately 600 gm
Garlic – 2 large pods
Ginger – 1.5 inch
Turmeric – 2 tsp
Mustard Oil – 5 tbsp
Asafetida (Hing) – 3/4 tsp
Spices for the curry paste:
Cumin seeds – 1 tsp
Bayleaves – 3
Coriander seeds – 1 tsp
Black cardamom – 2
Cinnamon – 1 inch
Cloves – 4
Red chilli powder – 1 tsp
Black pepper – 1 tsp freshly ground
Vernier Calipers – 0
Step 1:
In a pressure cooker, heat one tbsp of mustard oil. Toss in two roughly chopped onions, one pod of garlic (peeled), the mutton, 1 tsp turmeric and salt. Pressure cook for three whistles. Remove from heat and allow the pressure to go down in the cooker. Do not forcibly open the cooker under a tap or any such shit, okay. This recipe takes time to make and it's 100% worth it.
Step 2:
Heat 4 tbsp mustard oil. Once smoking, add the asafetida and let it burn. The place will begin to smell strong. Mustard oil + Hing (asafetida) is a powerful combo and the flavour that's imparted to the oil is just magic. Add the bayleaves and let them sizzle about in the oil for a few seconds. Tip in 5 sliced onions and cook on a slow flame. While this is happening, get started on your curry paste.
Toss the dry spices listed at the top into a blender. Also add:
1 pod of garlic
1 inch of ginger
1 onion
Pro Tip: While slicing onions, for Step 2, I like to cut out the root of the onion bulb so I can get a more even slice. It's a good idea to add these bulbs to the blender as well. It gives your masala some extra body, plus you're not wasting any of that precious onion, you spoiled little brat. Blend everything to a paste with a little water.
By the time you finish this entire masala blending process, the sliced onions should have softened up quite a bit. Remember not to brown the hell out of the sliced onions. We want them soft and light brown. Tip in the masala, turn up the heat and cook the mixture well. Toss in the powdered spices: turmeric, red chilli powder, coriander powder and freshly ground black pepper and mix well. From here on, bhuno the masala till it comes together in the pan and the oil separates from the mixture. Let it take its time. Absolutely no need to rush. If you're hungry.. well.. stay hungry. The food will only taste that much better when it's ready.
Once the masala is cooked, add the cooked mutton to the pan, adjust salt and mix till the masala coats the meat evenly. Add as much water as you would like to have curry, and plonk a lid on top. Turn the heat down to low and leave it to took for at least 25 min. Open, garnish with chopped coriander and serve with rotis or steamed rice.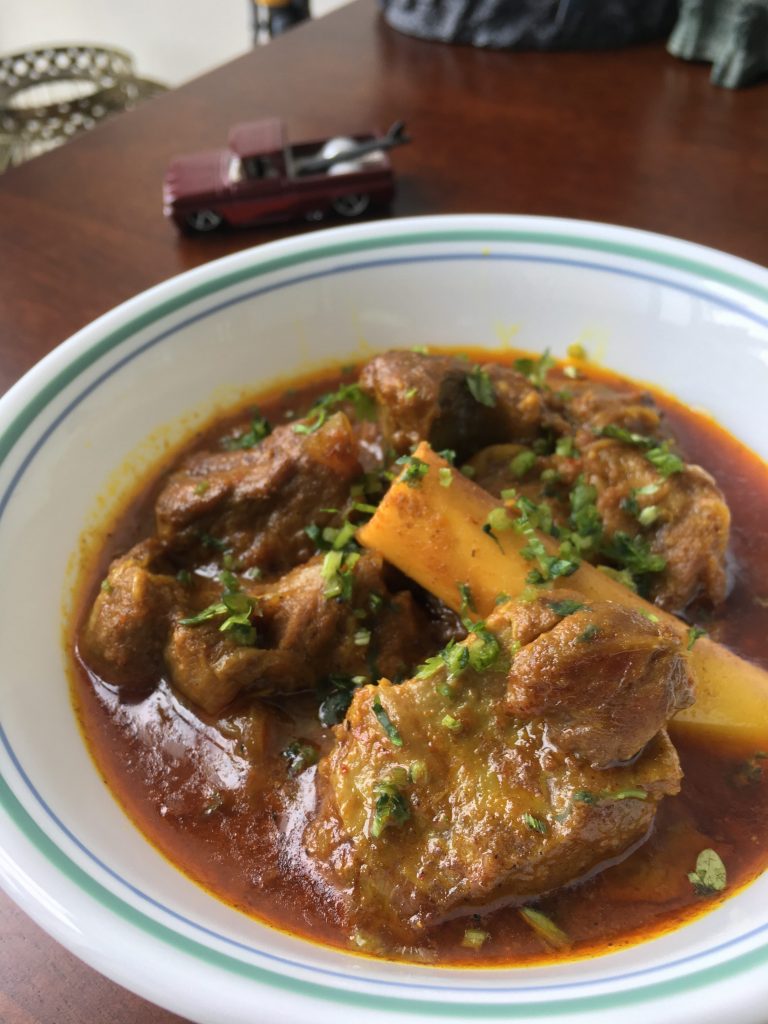 Keys to victory:
Mustard oil, mustard oil, mustard oil
Use great mutton
Patience
We ate this with steamed Basmati rice and were super pleased with the results. The asafetida infused oil is something special and the fact that the recipe uses onions three ways just brings it a little closer to my heart. Safe to say that this one is going to be cooked a LOT more going forward. Give it a go and let me know what you think. If you have questions, feel free to hit me up on Twitter or make a noise on my Facebook page. Yup. That was me subtly plugging my social media (love) handles. If you haven't already, go give the ol' FB page a like, will ya. It's free – www.facebook.com/madonionslicer!
Here's another pic to salivate over.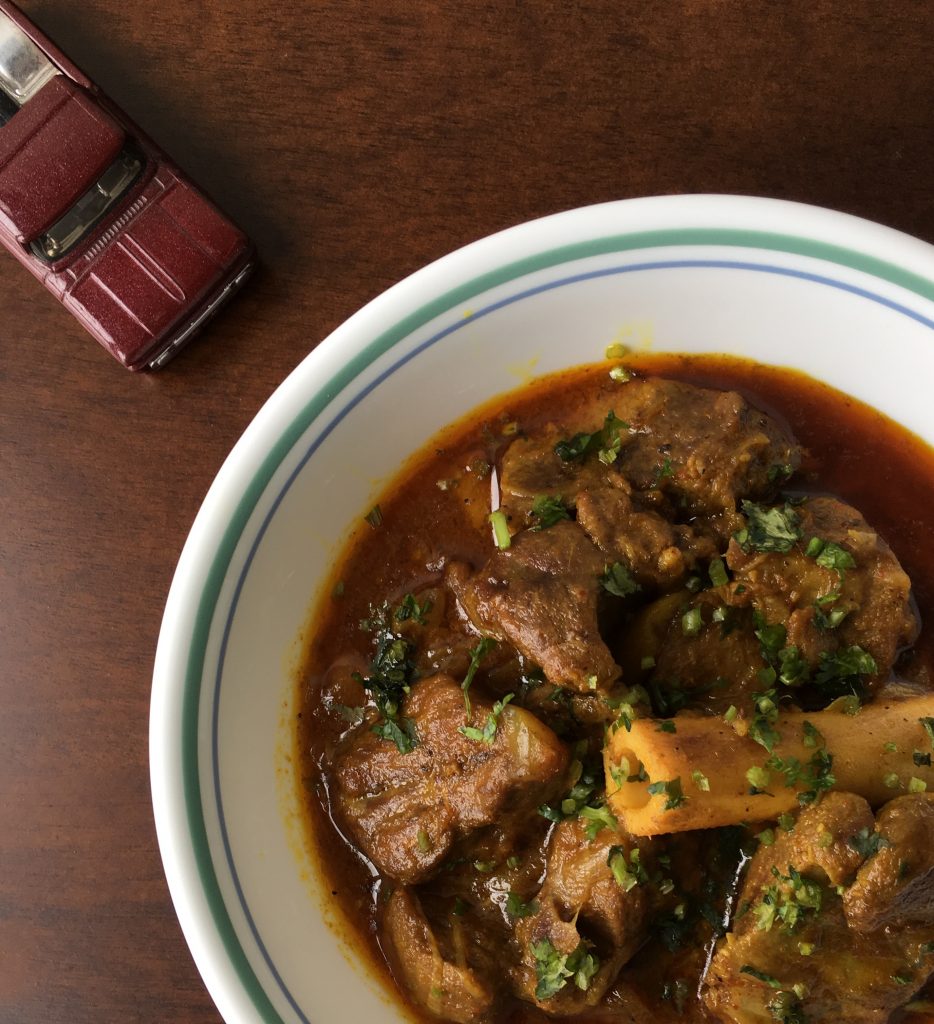 Over and out!