The first sign of actually growing up, is when you stop making a fuss to eat your damn veggies. I eat everything under the sun, but as a chef – I'd say vegetables are more versatile to cook with than meat and should always be a part of a meal. I've always loved Bitter Gourd (Karela in Hindi). I know it can be deathly bitter, but cooked right it really is quite an amazing thing to eat. There are many ways to cook this wonderful vegetable but last night, I think I may have stumbled upon my favourite.
Paro had picked up precisely 312 gm of bitter gourd from Mustafa earlier in the week, and I'd been dreaming about it ever since. Please bring that judgmental eyebrow back to sea level. It is perfectly acceptable to dream about a karela from time to time. Finally decided to cook it for dinner last night and dayum did we have some fun.
Ingredients:
Karela / Small Indian Bitter Gourd – 312 gm
Onion – 150 gm
Spice Rub / Coat:
Besan / Gram flour – 2 tbsp
White sesame seeds – 1 tsp
Amchoor / Dry mango powder – 1/2 tsp
Chaat Masala – 1/2 tsp
Sugar – 1/4 tsp
Garam Masala Powder – 1/2 tsp
Coriander Powder – 1/2 tsp
Cumin Powder – 1/2 tsp
Red Chilli Powder – 1/2 tsp
Turmeric Powder – 1/4 tsp
Talcum Powder – 0 tbsp
Method:
Remove the ends of each bitter gourd and cut lengthwise. De-seed the vegetable and thinly slice, so you get nice long strips that will crisp up well. You can get rid of the seeds, but I personally like the crunch they add to the dish so reserve them for later. Add half a teaspoon of turmeric and salt to the veg, mix up and leave to rest for about 20 min. This will cause the bitter gourd to let out moisture, and lose a fair bit of it's bitterness in the process.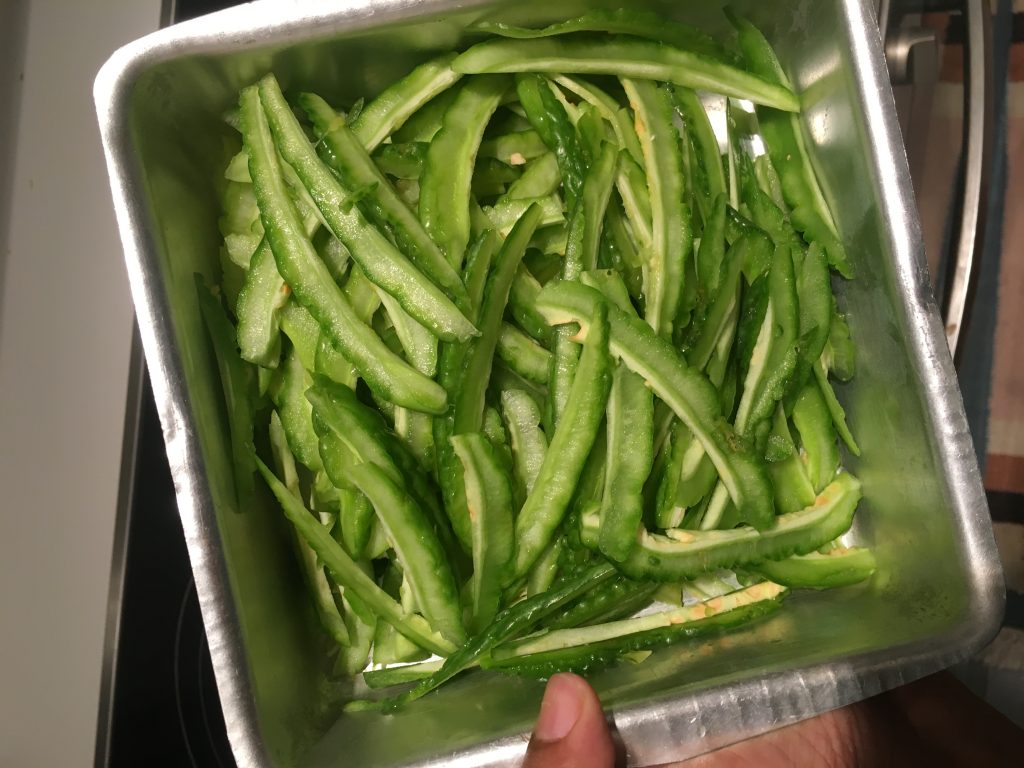 While this is happening, get started on the batter / spice rub / whatever you want to call it. In a bowl, assemble the dry ingredients listed above. Feel free to tweak the quantities to your liking. I like a bit of tang, so added a dash of Kala Namak (Rock Salt) towards the end. Remember to go easy on the salt since you've already salted the veg.
Turn your attention back to the bitter gourd and squeeze out as much water as you can. Spread the slices out onto a large plate and evenly sprinkle the powdered mix on top. Toss gently and see that the mixture coats the sliced bitter gourd well. Heat oil, and shallow fry in batches so the karela stays crisp. It's ready to eat at this stage, but onions take this thing to another dimension altogether. Be patient and brown the sliced onions in the oil that's left in the pan. If you'd like to get a little more crunch, now is a good time to add the seeds we'd taken out of the bitter gourd earlier.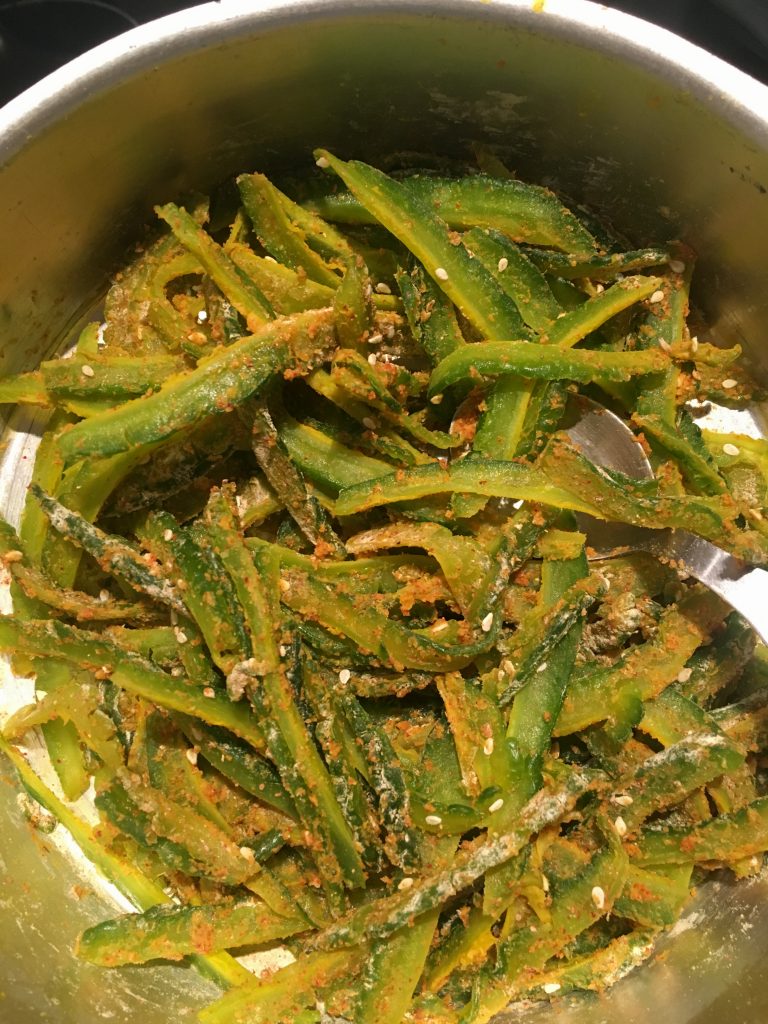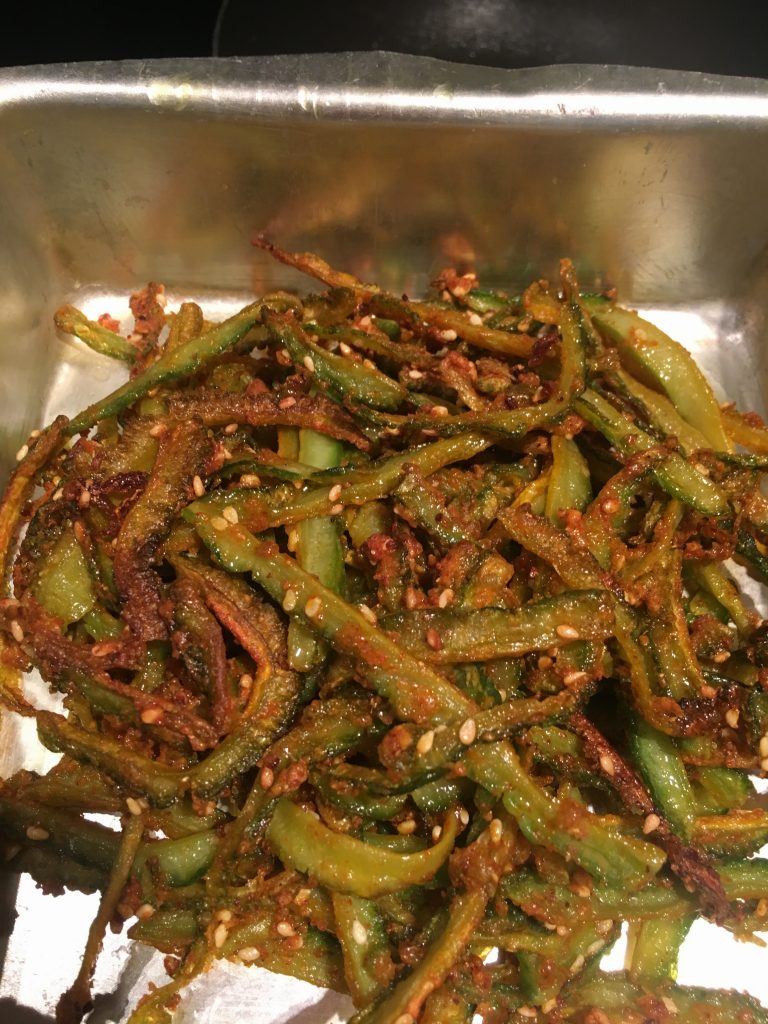 Let the onions turn golden brown, and then tip in the karela. Toss well. Serve hot. You can eat this with rice and daal, rotis or even just as a snack. Credit for this recipe goes to one Ms. Neela Awasthi Kumar who'd posted this on Facebook about a year back. Total legend.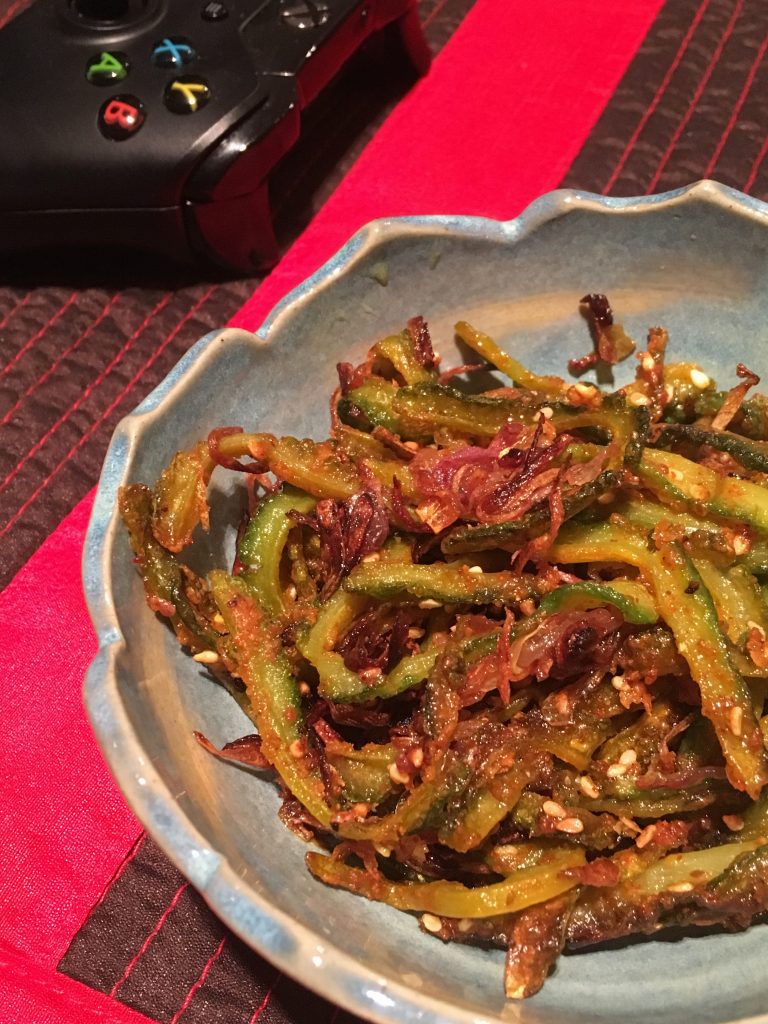 In completely unrelated news, my sister and I shot a video to go along with my recipe for Murgh Al Shafa. It features a lot of bad puns and absolutely rubbish camera work. Do not watch if you're allergic to nuts.
Over and out!