Made some pretty awesome Shami Kebabs the other day. I have no idea why some people spell it – Shammi Kebab. Shami is a kebab and Shammi was a Kapoor, dammit.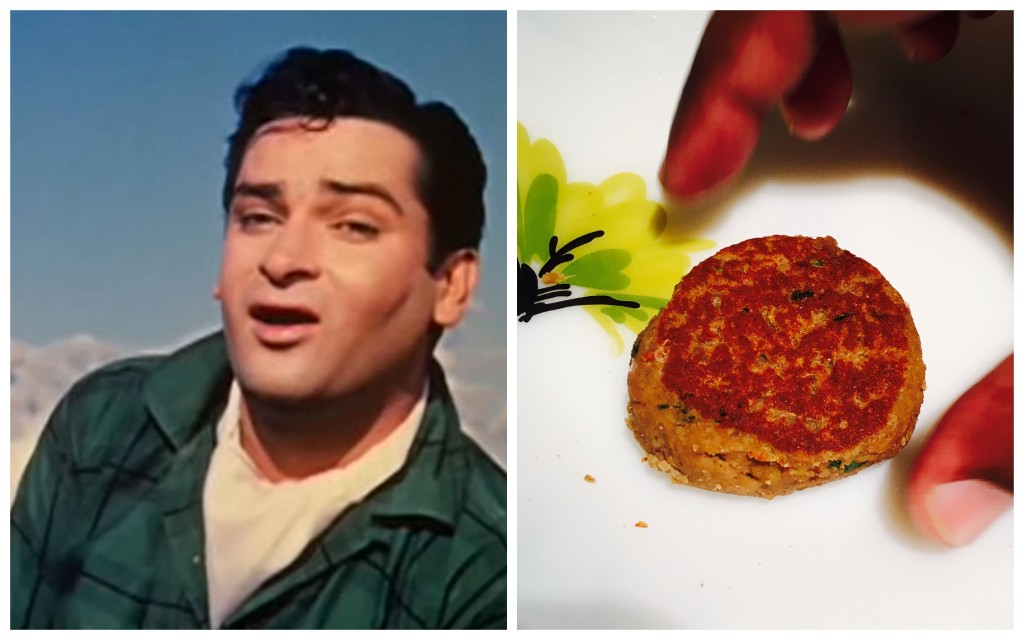 This is a Lucknowi dish and since I'm half Lucknowi, this should have actually happened on my blog a long long time back. On the other hand I'm also half Hyderabadi so posting this 10 years late sounds just about right. Moving on – we had Impromptu Mallu Movie (IMM) night on Wednesday. Paro and Melvin wanted to watch Premam, and since the movie had subtitles and I'd just opened a nice bottle of Jim Beam, I was more than happy to watch. I'd started on the kebabs earlier in the day so the timing of the entire IMM event, was perfect.
Ingredients:
Phase 1
Beef mince – 500 gm
Chana dal (split Bengal gram) – 100 gm
Garlic – 10 cloves
Ginger – 1.5 inch chopped
Cloves – 5
Black cardamom – 2
Cinnamon – 1/2 inch stick
Dry red chilli – 3
Garam Masala powder – 1 tsp
Onion – 1 medium sized, chopped
Fanta – 0 bottles
—
Phase 2
Onion – 1 medium sized, finely chopped
Green chilli – 3, finely chopped
Fresh coriander – 1 bunch, finely chopped
Eggs – 2
—
Phase 3
Ghee – for frying
Wash and soak the Chana dal / Bengal gram in hot water for 30 min. The dal will begin to soften and generally become more agreeable. Chop up your onion, ginger and chilli and plonk a cooker on the stove. Add all the ingredients to the cooker, with one cup of water. The water that the dal has been soaking in, will do too. Just don't add anything more than half a cup. The mince will let out more than enough water to cook in.
Pressure cook for 15 minutes, or wait for it to let out two whistles. Once done, open the cooker and put it back on the stove on high heat. You now want to completely dry the mince mixture inside. This is a huge part of getting your Shami kebabs right. Wait for all the liquid to evaporate, then remove from heat and cool the mince completely. It helps to put this under a fan if you're in a hurry.
Once cool, go on a hunting trip and find those black cardamoms and as many cloves as you can. I simply hate finding whole garam masala in my kebabs, so this step is simply not negotiable. It might sound tedious folks, but it only takes one measly cardamom seed to bring down your glorious empire of flavour. It's okay if you leave a few cloves in there, but the cardamoms must go. Once located, evict from premises swiftly.
Chuck everything into a blender and grind to a paste. Work the paste with a spatula often and make sure the whole mixture is smooth. Transfer to a bowl and add the second lot of ingredients – onion, green chilli, coriander and beaten eggs. Mix well. If you think your mixture is looking too soft, add half a cup of bread crumbs and mix well. You want the whole mixture to come together in your bowl and turn into workable piece of art. Check salt now – you wont be able to adjust anything after this. Refrigerate for 15 minutes. This just helps the mixture condense a bit and become easier to shape.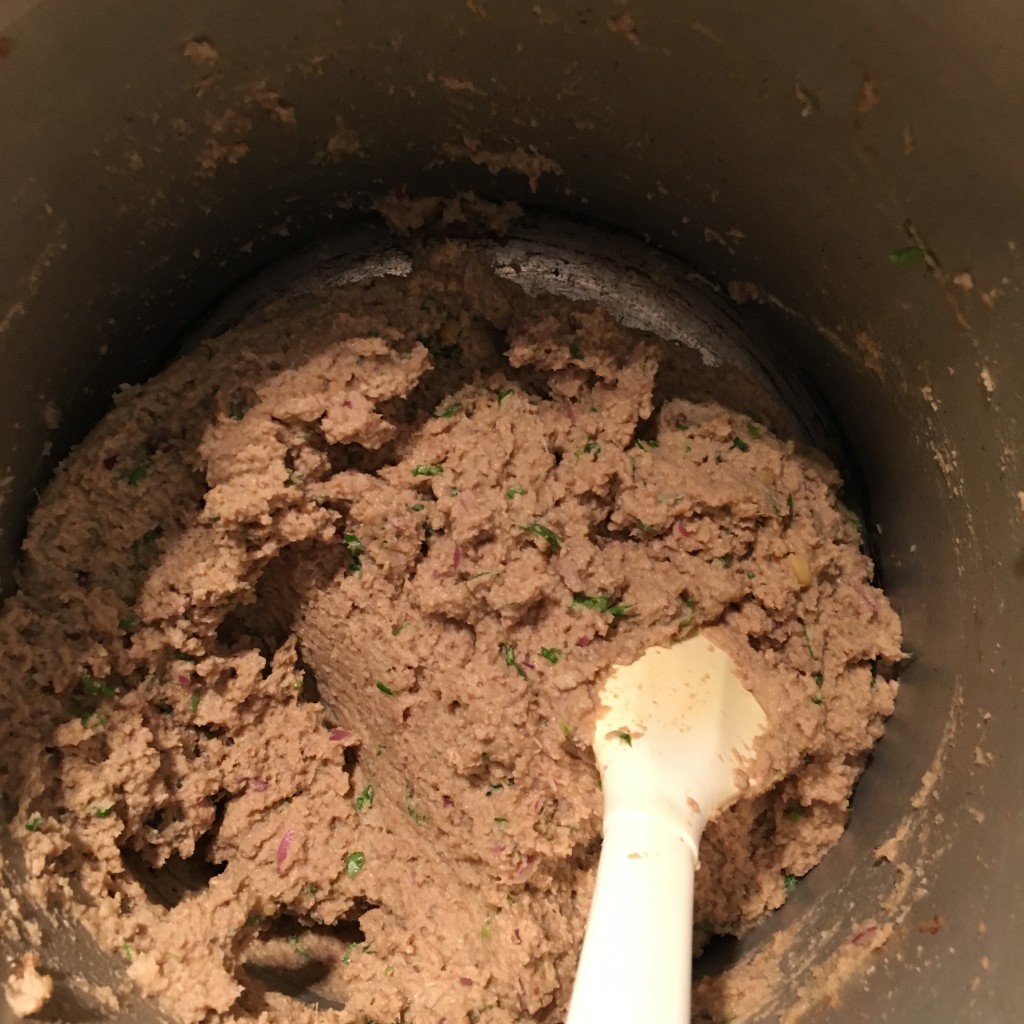 Heat up a thick skillet or frying pan. A massive part of this recipe is patience. I don't care how hungry you are. You need to respect the Shami and give it it's time. 20 minutes for a single batch is not out of the question. Once your pan is hot, grease the pan with a tiny amount of ghee. Shape the mixture into little round patties and gently transfer them to the pan. Turn the heat down to medium and then migrate to another country. Shamis are delicate things, so do NOT handle them too much. Let them gently brown to perfection and firm up as they cook. Carefully flip after 10 min, and dot with a minuscule amount of ghee. I'm not being calorie conscious here. The dish simply doesn't need any more ghee, so go easy. You'll get a nice little kebab that's not in the least bit greasy.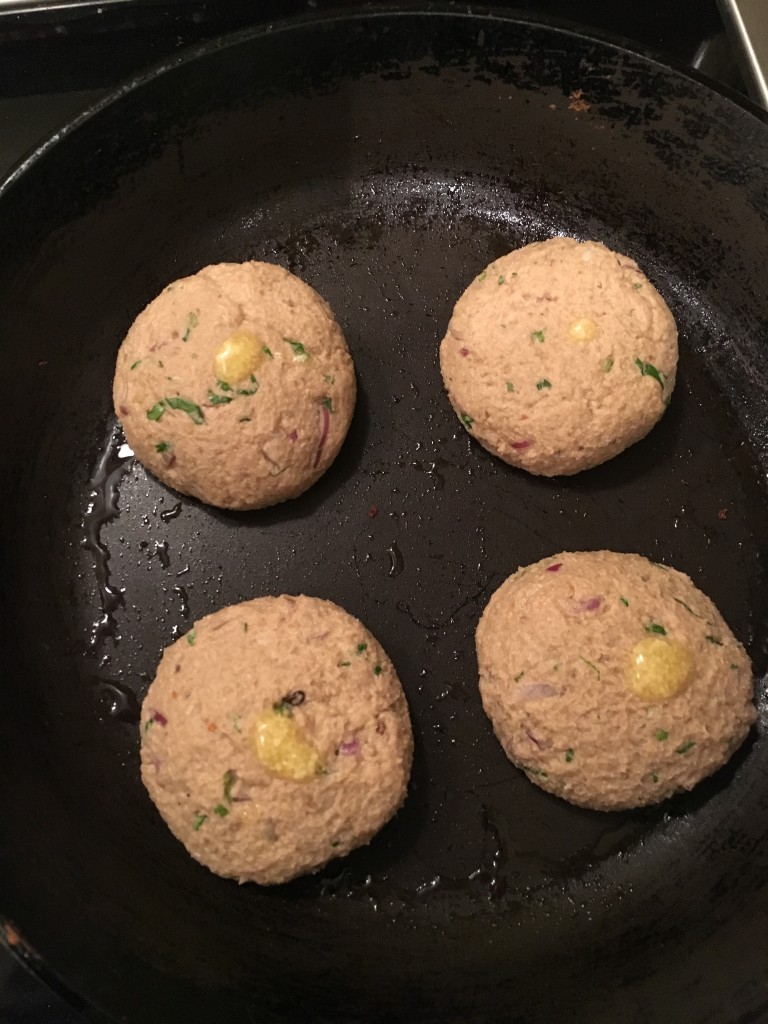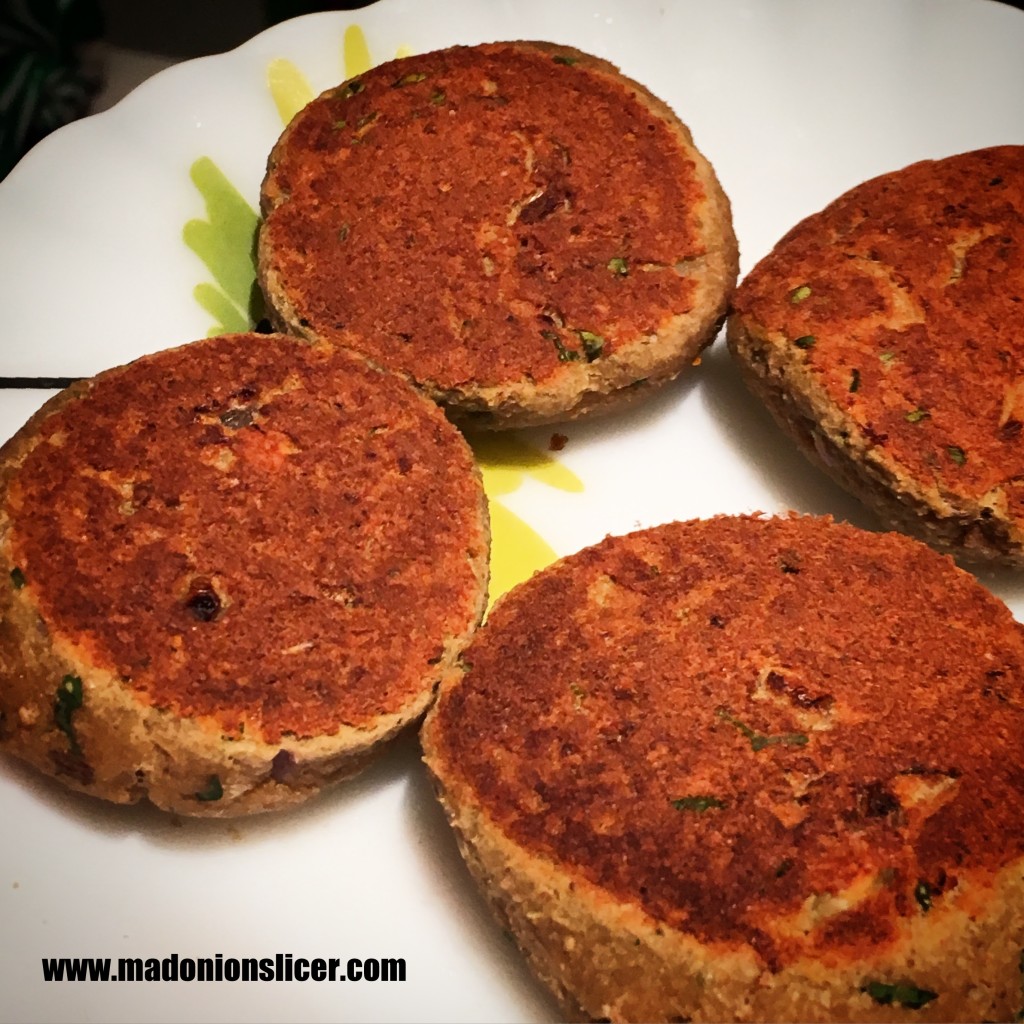 The kebabs went down beautifully with the Bourbon and the movie, and everyone was generally very happy. Premam was a good movie – it's interesting how you notice so many more things about a movie when you don't know the language. All the Malayalam movies that Paro has shown me so far, have been a visual treat. Beautifully shot, with so much attention to detail. Really impressive.
Do give these kebabs a shot. The mix keeps well in the fridge for at least a week, and you can make the very same thing with chicken and mutton. The vegetarian version with Kathal (raw jackfruit) is pretty damn awesome too, but I'll talk about that some other time.
Here's a Shammi Kapoor number from the swingin' 60's to round things off. I will wear a jacket like that when I go to receive my Nobel Prize for Kebabs Cooked With Extreme Patience.
Over and out.