This here, is dear friend Karishma Gupte's recipe for prawn biryani, or as Paro likes to call it – Porn Biryani. No explanation provided. Paro just does things like this sometimes. The more civil name is Kolambi chi Khichdi and it truly is a beauty of a dish. Don't be fooled by the simplicity of the ingredients, folks. This thing is loaded with flavour and will leave you begging for more.
Ingredients:
Prawns – 1 kilo – shelled and deveined
Basmati rice – 3 cups
Coconut Cream – 1 cup
Onions – 2 large, finely chopped
Tomatoes – 2 large, finely chopped
Green Chillies – 6, slit lengthwise
Fresh coriander – 1/2 cup, finely chopped
Garlic – 5 cloves, crushed. (The recipe calls for Garlic Powder, but I didn't have any)
Red Chili powder – 2 tsp
Turmeric powder – 2 tsp
Garam Masala powder – 2 tsp
Peanut Oil – 1/2 cup
Salt – to taste
The first step of this recipe is the most important one, and is what truly sets it apart from other biryanis. Put the pot on the stove but don't turn on the heat. Add oil to the pot, and toss in the slit green chillies and garlic while the oil is still cold. Turn the heat on to medium and patiently wait for the garlic to start sputtering. Once the garlic makes sufficient protestations, add the onions to the pot.
Starting with cold oil makes a massive difference here. The oil slowly gets infused with the flavours of the garlic and the chilli, and you actually already have something pretty damn special in the pan even before the onions go in.
Continue to cook on medium heat for a good 10 min, or until the onions are golden brown. Resist the urge to go full mental and bhuno the hell out of the onions. Once golden, add chopped tomato and turn up the heat. Cook on a high flame for about 5 minutes and let the tomatoes break down completely. Add chilli powder, turmeric and garam masala and continue to cook the mixture for another 2-3 minutes.
Add prawns, and stir till they start curling up and changing colour. Add a little bit of salt at this stage – just enough to season the prawns. Remember you will be salting the rice later. The prawns will start letting out moisture, and you should start hearing a totally awesome sizzle right about now. Now add the washed rice, coconut cream, chopped coriander and two cups of water. Stir and mix well.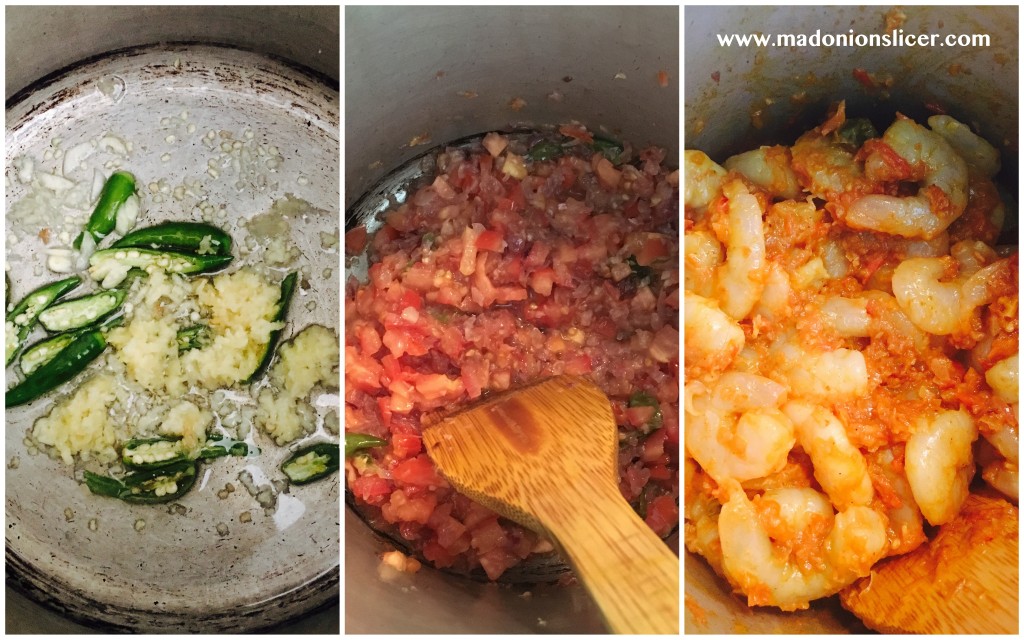 Turn the heat down to medium and cover with a lid. Stir occasionally, ensuring that the prawns aren't bobbing around at the top like a rubber duckies in a bathtub. Keep adding water as needed till all the rice is cooked. It's worth noting that this is a slightly sticky biryani, and the rice isn't expected to be loose and characterless. Garnish with more chopped coriander and serve hot with papad.
Now, onto the Baingan Raita. Or as I have christened it – Bangin' Raita. Goes with Porn Biryani no? Thanks.
Ingredients:
Aubergine / Baingan : 01 large (roughly the size of an Old Monk half bottle)
Thick yoghurt: 200 ml
Onion – one small, finely chopped
Green chilli – one, chopped
Salt
Tempering:
Curry leaves: a handful
Mustard seeds: 1 tsp
Cabbage: 0
Roast the baingan. As much as I love to roast baingans over an over an open flame, I have a damn induction stove here, so need to do this in an oven. I simply made slits on the aubergine, drizzled it with a tiny bit of oil, plonked it onto a piece of foil and stuck it in the oven for 30 min. I flipped it over once, but that's about it.
Once your aubergine has cooled, peel it, and mash it up into a bowl. Add finely chopped onion, green chilli, salt and curd. Mix well and heat up some oil for the tadka. Once the oil is hot, toss in the mustard seeds. Allow them to splutter and then fling in the curry leaves. A little more spluttering, and it's ready to transfer it onto the raita. Mix well and serve. Kari said it should be nice and thick, so I used some of this fantastic Famers' Union Greek Yoghurt that has the consistency of cement. Paro felt that I'd overdone it a bit, so we diluted it slightly till we got the consistency right.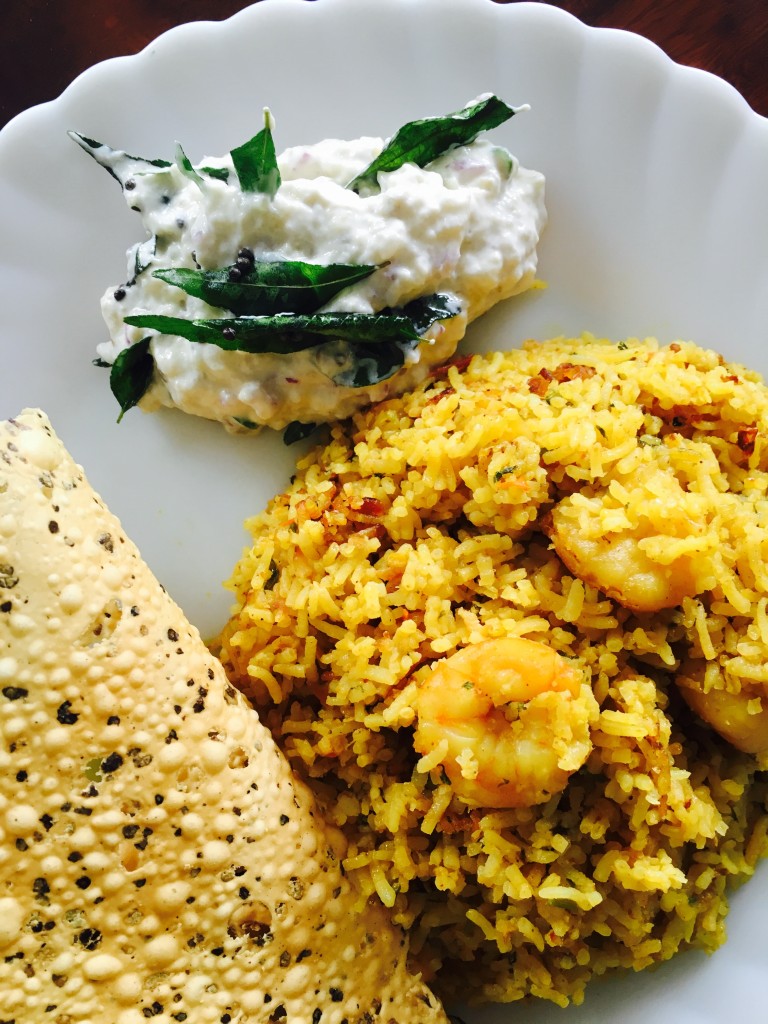 The results were great. Paro was thrilled to pieces, and I too was very happy with what we'd turned out. This one's a keeper, guys. Give it a try and let me know what you think. Kari Gupte – you're an absolute legend for introducing this recipe to our kitchen. One more picture for no reason at all: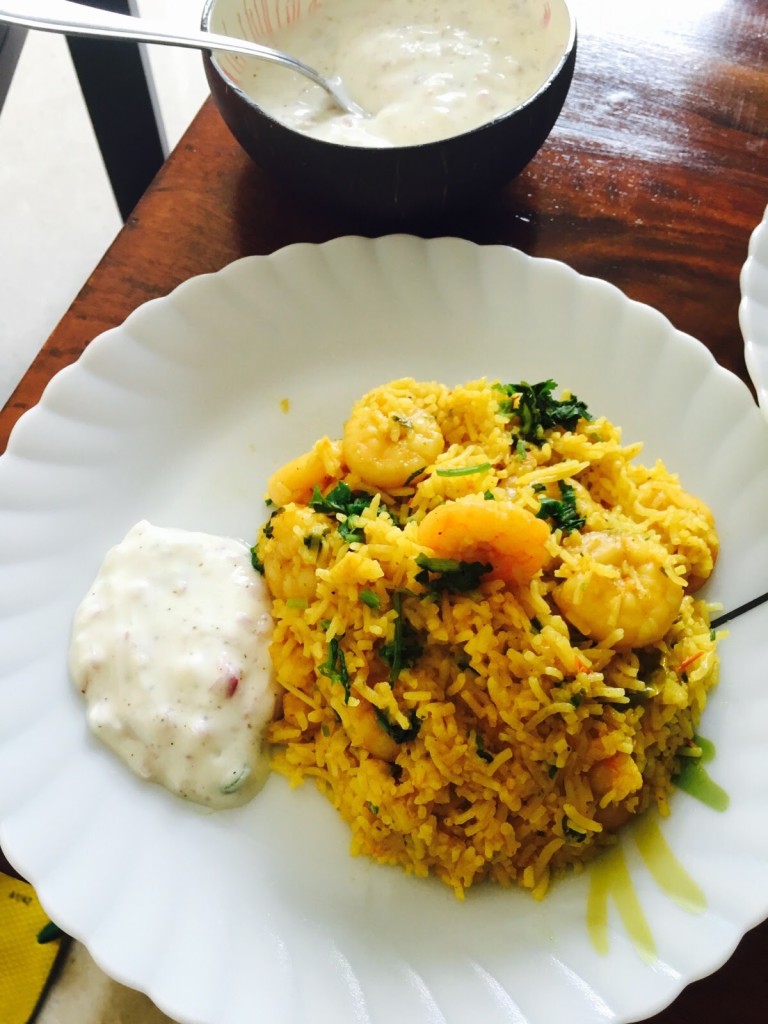 Over and out.