Today was a fun Sunday. I woke up late and watched UFC 181 till 2 in the afternoon. The fights were absolutely brilliant. Anthony Pettis proved that he is indeed the greatest lightweight fighter in the world by submitting Gilbert f*cking Melendez! Robbie Lawler won a hard fight against Johnny Hendricks and became the new welterweight champ. Controversial decision, but in the end it was nice to see an old school Miletich fighter sitting at the top of the heap again. Lawler's comeback story has been simply wonderful to witness.
Anyway, enough about the fights. The real highlight of the day was this White Kadhai Chicken I cooked for a potluck dinner at a friend's place. I'd been sitting on this wonderful Pakistani recipe for a while now, but simply hadn't gotten around to making it. What sets this recipe apart, is the sequence in which the ingredients are added. Read on –
Ingredients:
1.5 kg chicken (thighs and drumsticks, no skin)
1 cup thick curd (I used some excellent Greek yogurt)
4 tbsp heavy cream
3/4 cup oil
2 medium sized onions
2 tbsp ginger garlic paste
12 green chillies
2 inches of ginger (julienned)
3 tsp cumin powder
1 tsp black pepper powder
1/2 tsp garam masala powder
1 bunch of fresh coriander (chopped fine)
Method:
Heat a generous amount of oil in a large heavy bottomed pan. Calm down. I know this is a recipe for Kadhai Chicken, but I have no kadhai here in Singapore okay. Jeez. So anyway, heat up the oil and then dunk in all the chicken. It will be noisy, and the chicken will begin to sear and change colour. Work the pan often to ensure that your chicken doesn't burn or stick to the pan. Should take 4 min tops.
While the chicken is searing:
Grind onions and 8 of the aforementioned green chillies to a paste.
Grind fresh ginger and garlic to a paste.
Grind body to cheap Bollywood number. Suggestions here.
You know that the chicken has had enough quality time with the oil, once the colour changes to white. At this point, add the onion + green chilli paste and ginger garlic paste to the pan and mix well. Continue to cook on a high flame, and let the mixture do it's thing. After 5 minutes, add a cup of thick curd. It is super important that you whip the curd to a creamy consistency. If you don't do this, your gravy will turn out grainy and look lousy. I channeled my inner Emmanuel Sir (cruel PT master from high school) and beat the hell out of that cup of curd. Even made it run around the back field twice for good measure. Anyway, add the smooth yogurt to your pan and mix well. Lower the flame and cover the pan with a well fitting lid. Allow the chicken to cook in the moisture that the curd lets out.
Take a look after about 10 min. Your chicken should now be cooked and you should start drying off the liquid in the pan. At this stage, add salt, black pepper powder and cumin powder and mix well. Remember folks – salt is essential and everything but if added too early, it gets in the way of flavours entering meat. Once your powders are mixed in, toss in 4 chopped green chillies and the julienned ginger. Add garam masala powder, chopped coriander and the juice of half a lemon and mix well. Cover the pan again and simmer for 5 min. Stir in the cream and mix well. Simmer for 2 minutes and switch off the heat. Garnish with a little more chopped coriander and try not to dive in headfirst.
As you can see, this is an incredibly simple recipe that just needs attention more than anything else.
It's just a kadhai standing in front of a dude. Asking him to stir it.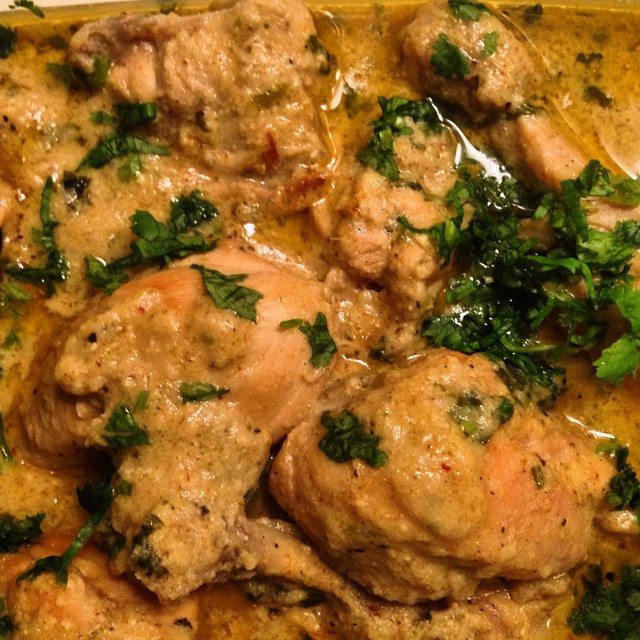 The chicken was a hit at the party and I was rather pleased with my efforts. Fun was had and a few single malts later, I'm now here writing this blogpost as Monday creeps up on me. Should sleep or that forehead vs keyboard thing will happen again in office and IT will be pissed.
Over and out.