The new paycheck came in, and celebrations were in order. We headed over to UB city and made a bee line for quite easily, one of the swankiest restaurants I've seen in India. Shiro is known for its oriental fare – Japanese specifically – and getting a table wasn't easy. The place was packed and we hadn't made a reservation, so we put our names on the list and took a walk around. We briefly considered eating at one of the other restaurants in UB city. Everything looked interesting but to be honest, once I'd had a look inside Shiro, I simply had to go back.
We returned to Shiro in about half an hour and although they were still full, my impeccable impression of a starved Somalian puppy earned us a quiet little table. Pleased with my efforts, I settled down and took a good look around. First off, the decor of this place is bloody spectacular. It looks #epic to say the very least. They've got giant Oriental statues around the place and a huge alabaster head suspended from the ceiling thats visible from outside the building. Believe me when I say huge. Brigadier Big Head could startle the monkey crap out of King Kong on his best day. The roof is somewhere far off in the sky – a good 40 feet high if you ask me. (Side note: I wonder how they clean for cobwebs.) Super cool multi-level seating and more exotic stuff hanging from the walls help complete the experience.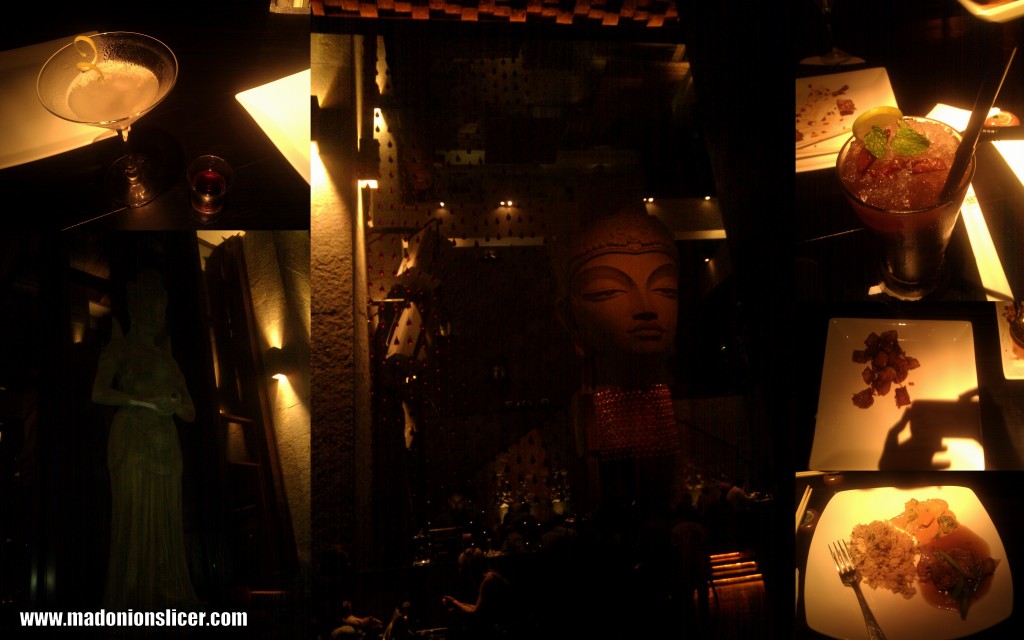 They've got a great menu. We took our time going over both – the food and the liquor menus. Briefly considered ordering a bottle of Sake, but in the end, the cocktails appealed to us a little more. Over the course of the evening, we downed three different kinds of Grey Goose Martinis (Lemon, Green Apple and Apple-Cinnamon), some Jagermeister, a Demerara Fig Mojito and finally Iced Tequila. I was in two minds about ordering Sushi. When I eat sushi, I really like to concentrate on the food and let each bit of flavour sink in. I also prefer not to drink while eating sushi because I've found that alcohol interferes with the simple tastes that sushi brings to the table. We opted for a fairly simple vegetarian starter – Korean chilli potatoes – that went down beautifully with the first round of drinks.
Service was a little slow, but we were having such an awesome time it didn't really matter. We ordered our main course a few drinks later and when it arrived, it totally rocked my solar system. We got a portion of Hibachi rice with Shiitake mushrooms to go with Mixed oriental vegetables in Peanut sauce and Wok Fried beef with Asparagus. The Hibachi rice was nice and sticky and was loaded with flavour from the mushrooms. Pure genius! Although I am a devout carnivore, I must admit that the Veg in Peanut sauce ran away with the award that night. The sauce was finished beautifully and the smoothness of the peanut gave it a wonderful body. The nuts added a generous weight to the sauce but in the end, the dish that was presented was not heavy but voluptuous and simply melted in my mouth. I won't talk any more about it. I just re-read what I wrote and it sounds mildly pornographic.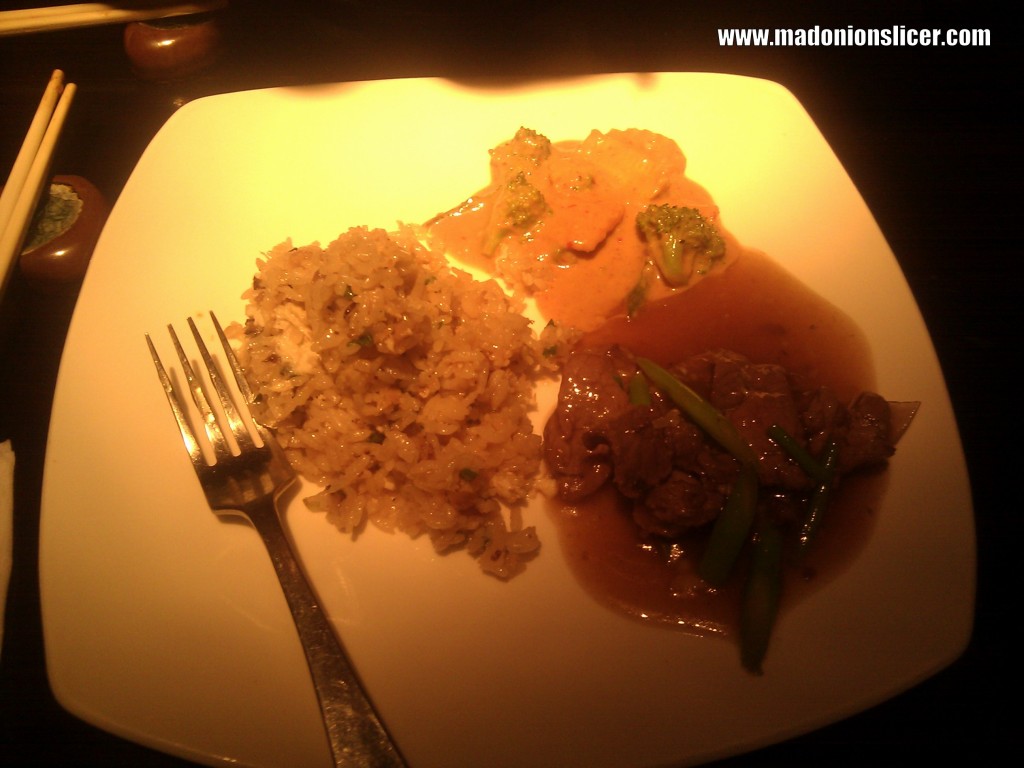 The beef was excellent too. The flavour of the asparagus deftly cut though that of the beef and made for an excellent combination with the Hibachi rice. Extremely pleased with my selection, I patted myself on the back and dropped my chopstick behind the sofa. Glanced around shiftily and after making sure no one noticed, finished the rest of my meal with a fork. We were simply too full to order dessert. A taxidermist wouldn't have been able to stuff me any more. Dinner at Shiro wasn't cheap, but it was well worth it. We had an excellent time and the food was superb. Meal for two – Rs. 5200/- All in all, an excellent restaurant. I'm going to go back and try the sushi one of these days.
Over and out. 😀