I managed to catch the final Haleem of the season last night – and what a Haleem it was! There's a fantastic video a little later on and you'll love it if you're a Hyderabadi. I'd missed out on Shah Ghouse last year and with the move to Bangalore, things were looking pretty bleak for me this year too. I was sick and tired of hearing about how great it was. People even sent me emails and tweets this year telling what I was missing.
I had a fifth standard flashback and started feeling like that one kid in school whose parents didn't let him watch Jurassic Park because it was too violent. I made a solemn vow to myself and hopped onto the next bus out of Bangalore. Plans were made and Brighty, Navin and I decided to hit the Shah Ghouse outlet in Tolichowki. The traffic started slowing down as we neared Yousuf Tekri and I instantly knew that this was something big. The entire population of Andhra Pradesh was milling around outside SG, stuffing their respective faces with the culinary miracle, that is Haleem.
There were people everywhere. Cars had double parked well into the middle of the road and there were waiters running all over the place taking orders at a frantic pace. Waiter number 74 (seriously, he had a name tag and everything) took our order and we got our haleem in two minutes. I was in heaven after the first bite. Shah Ghouse used some seriously rich ingredients and turned out quite possibly the best Haleem I have ever eaten. The sheer amount of meat in each plate was astounding. Excellent consistency with just the right amount of spices. I was very happy indeed.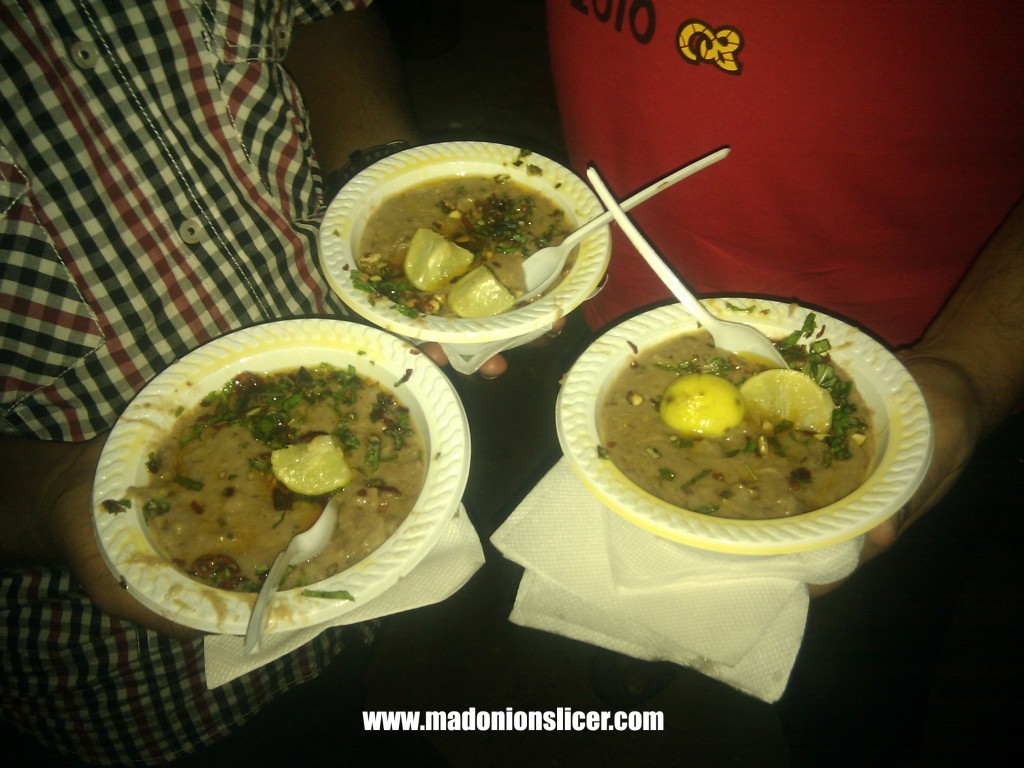 A whole bunch of supplementary businesses have popped up in and around SG. There are stalls selling Khubaani ka Meetha , Kaddu ka Kheer and Persian tea. The only thing we tried was the tea. It was a spicy weak chai that was mildly interesting. More engaging though, was the banner they had strung across the counter.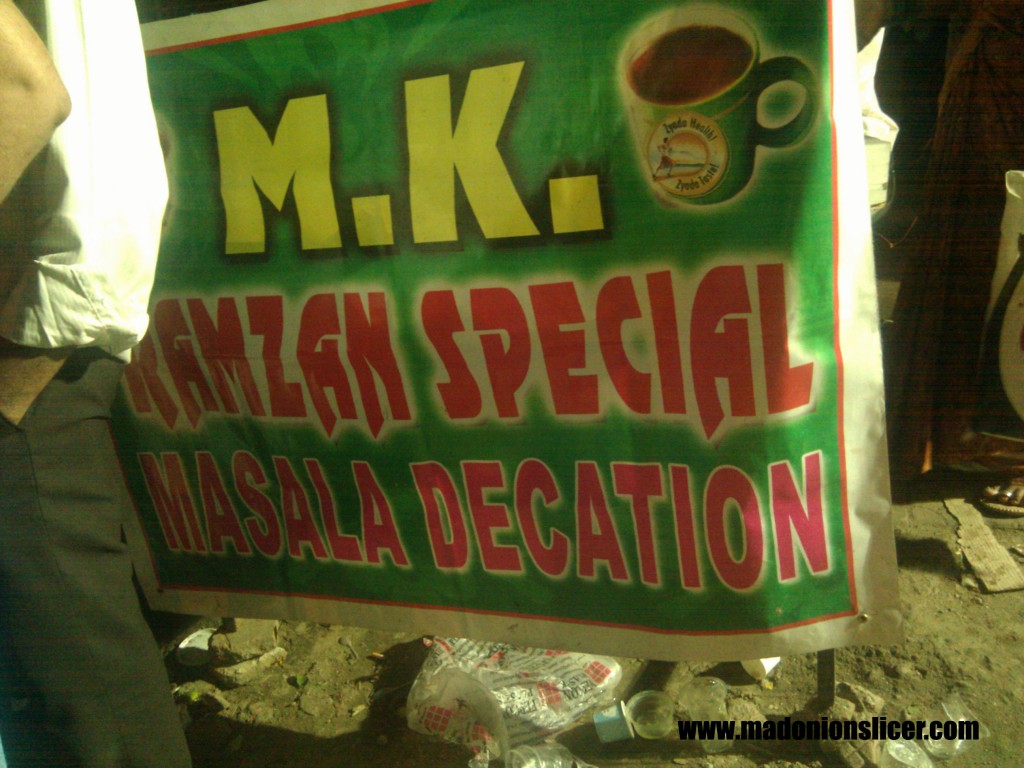 I'll put you out of your misery. Decation = Decoction. Last year, Shah Ghouse gave every one a run for their money. This year, they knocked out all the competition in early 90's Tyson-esque fashion. They successfully whipped the crowd up into a frenzy over their Haleem and they delivered at break-neck speeds. Take a look at this video I managed to capture last night. I've seen my share of Haleem joints over the years, but last night was truly epic. You gotta love the supply chain they set up. It's fantastic to see how popular Shah Ghouse's Haleem has become. I'll say this much, folks. Believe the hype!
SG should have totally been on the Haleem Highlight reel I did last year. If you're in Hyderabad during Ramzan, make it a point to eat at Shah Ghouse. If you don't, you're missing something.
Over and out! 😀


Things required to get this joke:
> Knowledge of Hindi
> Polluted mind – 01 no.

Every day?
Really??
Jeez.
Over and out!