I got this recipe from a 65-year-old Uber driver who loved Chilli Crab & adrenaline with an equal passion. I remember nervously taking notes on my phone with this friendly but completely insane man shouting the recipe out to me while flying his Hyundai down the AYE like a goddamn meteor on steroids. It's super simple & works beautifully with tiger prawns, crawfish & tofu too.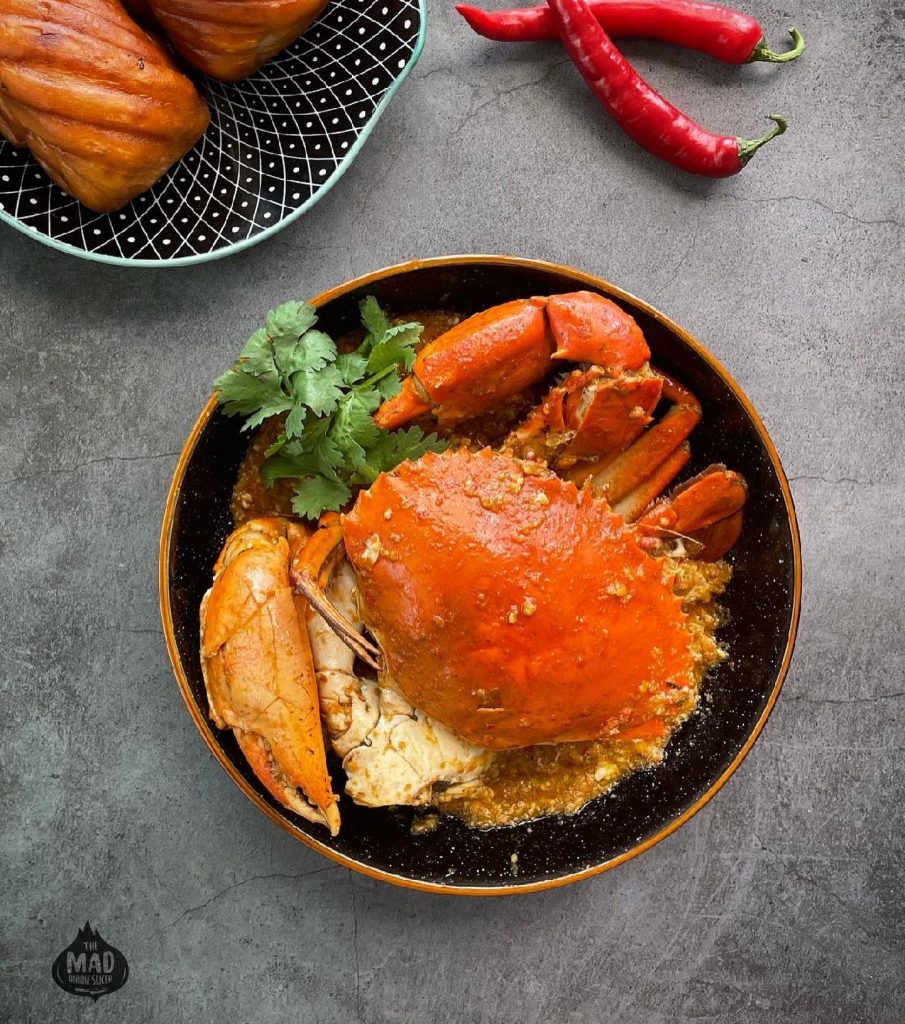 If you're in the US and looking to buy these ingredients online, here's a link to my Amazon list: https://www.amazon.com/shop/madonionslicer?listId=3RM2BOIQKC7UM

RECIPE:

1) Using a chopper, make a rough paste of 8 big red chillies, 3 birds eye chillies, 5 cloves of garlic & 1/2 inch ginger.
2) In a wok, heat 3/4 cup vegetable oil & add the paste. Fry on medium heat till the whole rempah (mixture) looks shiny. About 10 mins or so.
3) Now hit it with 1 tbsp Taucu (salted soybean paste), 1 cup of finely chopped tomato & 1/2 tsp Belacan (shrimp paste—optional, but very good to have). Fry the living daylights out of everything.
4) Add 3 tbsp tomato ketchup, 1 tsp tamarind paste, salt & white pepper & cook for 3 mins.
5) Now introduce 2 medium-sized crabs (cleaned & cut in half).
6) Mix well, coating the crab nicely. If you want to be fancy, save the top shell for presentation.
7) Turn down the heat, cover the wok & let the crab cook for 10 mins. During this time, all the goodness from the crab will enter the sauce & vice-versa.
8) Open, and using a pair of tongs, take the crabs out of the wok & set them aside.
9) Add 1 tsp corn starch dissolved in 3/4 cup water to the wok & stir gently. The whole thing will come together like magic.
10) Pour in one lightly beaten egg, check seasoning & return the crab to the wok.
11) Give everything a gentle stir. You should have little uneven bits of egg running through the sauce, which will cook in no time at all.
12) Garnish with coriander & serve with Mantou buns or rice.

NOTES:
1) If you're making this with tofu, cut it into large cubes & fry until golden brown & slightly crusty on the outside.
2) The chillies are super important. You HAVE to use a combo of hot & mild fresh chillies to get enough sauce going.
3) You can substitute Taucu with Miso, but it is important to have something in the sauce that gives you that nice big slap of umami.