I had two very distinct dining experiences this weekend. One was a South Indian thali lunch at a place called Nadhini Deluxe on St. Mark's Road and the other was a full on Continental dinner at Zoe Resto Lounge in Indira Nagar.
Must talk about Zoe, first. The place is tucked away inside Indira Nagar but has caught my eye a few times now. We settled down to grab some dinner on Saturday night and I must say, we made a fine choice. They have an exhaustive continental menu and almost everything on the card sounds interesting. We ordered the Zoe special soup to kick things off. The menu offered no description so I had to figure out what went into it myself. From what I could tell, this was a potent blend of coriander and tomato polished off with some cream. Headily laced with black pepper and onion – I could tell why they were boasting about this baby. I liked the way they served it up too – like two separate soups combined in a single bowl. I would have liked to show you what it looked like, but esuriance got the better of me and I forgot to take a picture.
For the main course – Nidhi ordered a Cheese and Spinach steak and I got a Zoe Lover's Mixed Grill. Both dishes appeared in a reasonable amount of time and when the stuff reached, I noted that the Cheese steak was presented really well. It did look a little like a dessert initially, but it was evident that a lot of effort had gone into the plate presentation. My Mixed Grill was great. It arrived, sizzling away to glory and had a solid mix of beef, prawns, calamari and fish cooked in an Espagnole (brown) sauce and served atop a bed of herbed rice. I went through it with great gusto while Nidhi went about her steak appreciatively without stupidly burning her thumb on the sizzler dish like I did. I thoroughly enjoyed the grill – all good, except for the slightly slutty name. Sid joined us a little later and got a Spaghetti Bolognaise that turned out a little too cheesy but all in all, we all left Zoe's happy.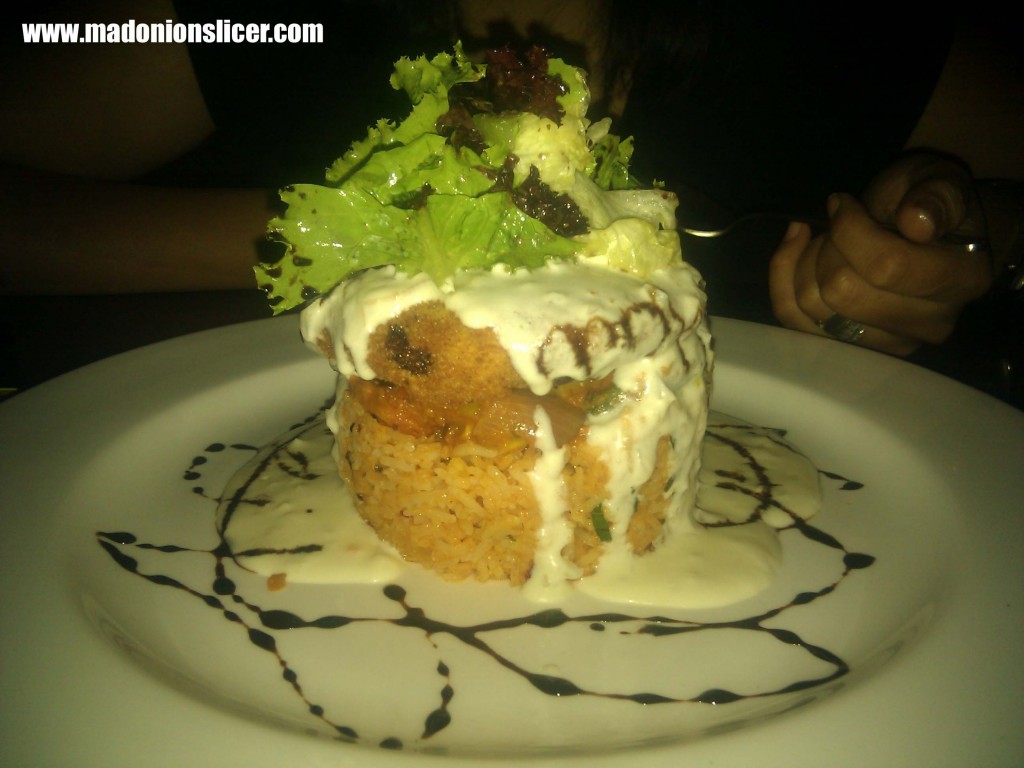 I forgot to mention dessert! We also got a dark chocolate fantasy or something. I can't remember what it was called, but it was really good chocolate cake served up with vanilla ice cream. The tab came to around 300 bucks ahead and was worth it IMO. Happiness came.
And now onto Nandhini Deluxe –
Nandhini was packed. Its a 140 – 150 cover restaurant and from the looks of it, it does really really well. Their South Indian fare is what brings people in, and their thali came highly recommended. I was lucky enough to get a table in five minutes, but I could see at least twenty people hanging around in the lobby, doing random things like thinking about penguins while they waited for a table. We ordered the thali and a portion of Guntur Chilly chicken. In keeping with tradition, the thali was served up on a banana leaf. There was a wide array of condiments at the table and I had a great time with the kandi-podi and hot rice plus ghee. I couldn't resist the ghee. It is a vital part of the South Indian thali and not wanting to disrespect South India, I took two generous helpings. Sigh. Plus one to the Dhruv Shanker double chin collection. Sambar, rasam, papad and one curry followed. It was decent stuff but nothing spectacular to be honest. Everything tasted good and I had no complaints, but like I said, nothing that made me go OMFG, this stuff is awesome!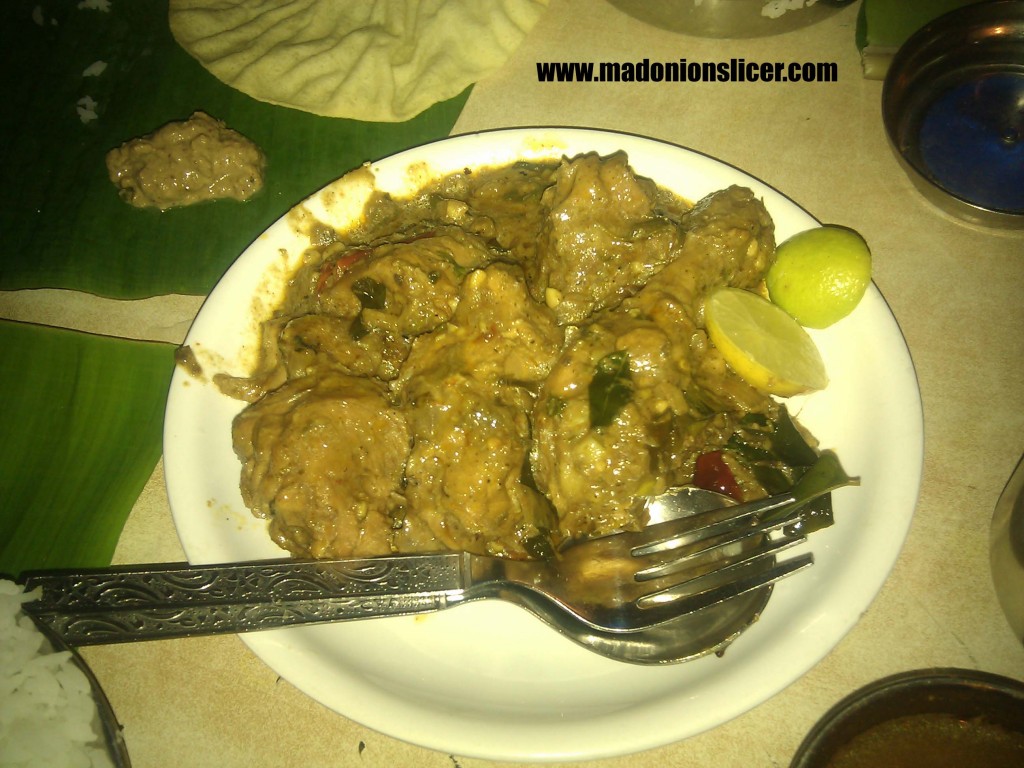 Now, onto the GCC. Lucidly put, the Guntur Chilly Chicken was like my 86 kilogram classmate Subir Shroff's valiant attempt at pole vaulting in the 9th standard. It fell wayyyy off the mark, looked sad and made me laugh a little. Now I've worked in a commercial kitchen and been through three years of catering school, alright. I've seen and made gravies of many colours – red, green, yellow, white, brown and even pink, but this was the first time I'd ever encountered a gray gravy. The chicken was served up languishing sadly in a puddle of cement, garnished with a dry red chilly and wedge of lime. Very grave gravy. I ate a piece and gave up. However, I did have a hugely filling vegetarian meal at Nandhini and leave pleasantly satisfied. Would I go back? Maybe. Would I order the Guntur Chilly Chicken again? Not unless I wanted to use the gray-vy to repair a f*cking door step or something.
In other news, I've been watching Master Chef Australia on Star World. Its a good show and it been keeping me quite entertained. The contestants are an interesting lot and some of them can really cook. There was this one jackass though – Jake Bujayer, who injured himself on the show. He somehow managed to cut himself three times and so seriously, that the loser ended up all bandaged and in crutches. No sympathy here. Crutches, fool! Its a bloody cooking show not The Ultimate Fighter! Heck I've seen guys on The Ultimate Fighter show who've gone through three rounds of hell, lost and looked better. Anyway, apart from this goofy idiot, the rest of the cooks look okay. I'm curious to see who wins. That does it for now, peeps.
Over and out! 😀