Rant alert! If you've come here looking for my mellifluous way with words, chances are, you won't find it today.  Airtel pissed me off yesterday. Badly. I've been an Airtel customer for over six years now. I have multiple mobile connections, a land line and a broadband connection. With the recent move to Bangalore, I've had to get a whole bunch of new stuff – one of these, being a new DTH connection. I love my TV with a passion, so this is kind of a big deal for me. A few days back, I read up online and came upon mixed reviews. Some folks said they were good, some said they were slow. Unfortunately, nobody said that they were fucking morons who thought with their kidneys.
Anyway, one hour of internet research later I succumbed to Kareena Kapoor's sexy pout and put in a request on the Airtel website. I gave them my cell number and my email address and a little pop-up box told me that someone would get in touch shortly. I waited four hours and nothing happened, so I repeated the process. I assumed that I'd receive a confirmation SMS or something, but no such luck. It was like I'd posted a letter inside a commode. I got onto their Helpline and jumped through all the IVR hoops. Half an hour later, someone told me that they'd transfer me to the right department and then promptly hung up on me.  This was when I started to get slightly ticked off.
I called back after an hour.  Pressed fucking two for English and all that and got through to a rep who promised to personally route my call this time to the "concerned department". Now I've worked at a call center, okay. How in the blue hell does a person personally route a call? Its not like a glass of Fanta that you can personally serve to me instead of sending me to the vending machine, man. I didn't quite get the concept, but decided to hold on and be routed. As a young and tired hotelier, I once fell asleep with a piece of chewing gum in my mouth. I'd started chewing it on my way home after dinner and somehow dozed off without getting rid of it. When I woke up, the piece of gum was devoid of any flavour and reminiscent of a rubber insole. That, ladies and gentlemen, is what the Airtel tune has become today. The damn things has been remixed so many times, it doesn't even sound like the original anymore. Sure, it was a big Boom(er) when it came out but today, its no Big Fun. (50 points if you got the bubble gum jokes.)
I put up with the goddamn tune for another twenty minutes and was rewarded for my efforts by being kicked off the line again! Now I was mad. I dashed off an email to the address on the site and hoped that they'd get in touch. They're mighty responsive when you do this shit with their mobile customer care. No such luck here. Robocop sent me a note to say they'd got my mail, but that was it.
Seven thirty in the evening, I see another blurb on their website saying that Airtel postpaid customers get a further discount on the DTH connection. I filled out yet another form and said a little prayer. It must have worked, because I got a call within an hour. The dude on the phone gave me a quick overview of the connection, promised that it would be set up in a maximum of 48 hours and then transferred me to an IVR payment gateway. I paid using my credit card and was duly congratulated. I was supposed to receive a confirmation SMS and email shortly. Installation in 48 hours – he promised again and hung up.
I didn't hear a damn thing after that. Thursday came and went. No call, no email, no SMS. I finally called the Helpline again yesterday, and was told that it would get done in 72 working hours from now. I lost it. I asked them why the fucktard on the phone committed to 48 hours, but they had no answer. I decided to wait another day and let it happen when it happened but then, I received an SMS. An SMS confirming that my connection would be set up in 8 days from now at around noon. I wanted to kill something with a tablespoon. Shaking with rage, I slowly put the cutlery down and called the bastards. Did the IVR shindig and finally asked to cancel my order.
Shortly after, I called TataSky and placed a new order. Installation is happening as I type this. Sure, their reception might get a little hazy during the rains, but at least they know how to treat a customer. Since this morning, Airtel Sales has responded to the initial two attempts that I had made on their website. It is clear that this entire DTH set-up has been outsourced to a crass, crude company. The people who called were rude, classless and unworthy of using a telephone – let alone selling something on it. I know that getting my money back is going be like wrestling KingKong and an alligator  under water, but I'm up for it. I'm supposed to get a call from Airtel DTH tomorrow. Wish me luck!
For putting up with this rant, dear readers, I give you a free Airtel DTH wallpaper!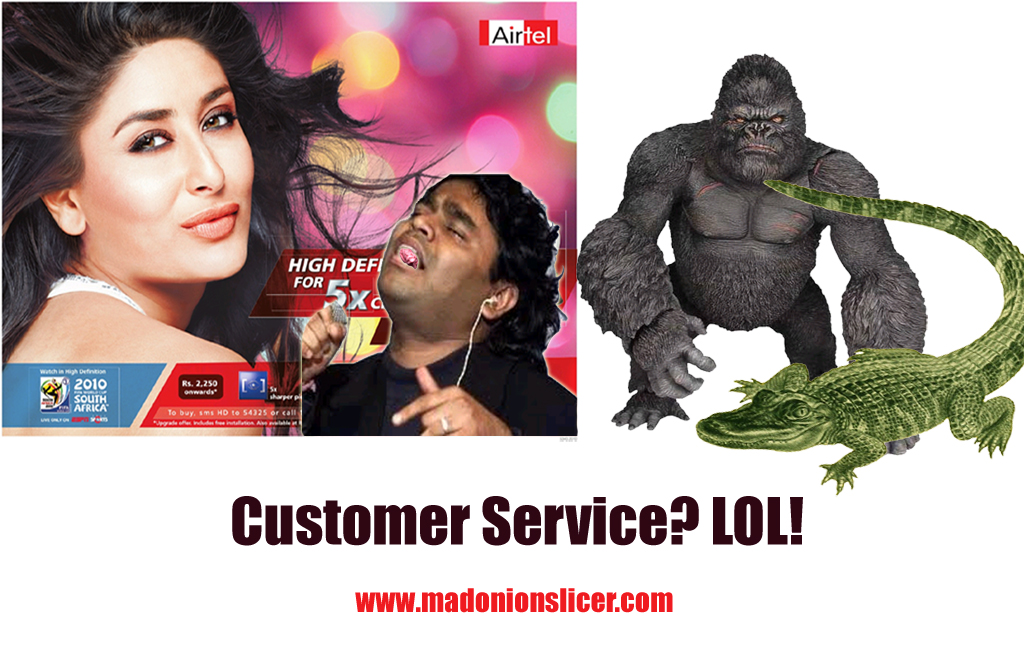 Over and out!