The first meal I cooked in my new kitchen was very simple, but hugely satisfying. I normally wouldn't blog about something quite so basic, but considering the fact that this was an awesome meal that came about in less than half an hour, I thought the recipe might interest a few. I went over to the local supermarket and got a box of Barilla mini penne rigate and some other stuff.
Mini penne is, well.. small penne. Side note: Mini Penne actually sounds like something/someone James Bond would do in Karnataka. I picked up two sauces from the Agnesi range – Pesto alla Calabrese and Pesto alla Genovese and a pack of Keels' chicken sausages. I'm quite a fan of Keels sausages. Al Kabeer's mutton cocktail sausages are okay, but Keels kicks a significantly higher amount of ass. Incidentally, don't buy any of that Venky's crap – the sausage tastes like an Apsara Plasto eraser boiled in salt water. As far as making sausage goes, I think Keels has nailed it. (100 points if you get the bilingual pun.) 😀
I got home and boiled the pasta with some salt and a tablespoon of oil. While that was happening, I chopped up the sausages and tossed them about in my frying pan. Btw, I've got an awesome new frying pan. Just the right weight and size. Makes me want to play tennis in the evenings. I wanted the sausages to get nicely browned, so I kept the heat high. Added some salt but didn't add any garlic or flavouring to the pan like I usually do. I was looking to get the meat well caramelized on the outside and was going to add a pinch of sugar, when I thought of something better. I threw in a large peg of Old Monk dark rum. I celebrated a mini Diwali in the pan as the flames leapt to the ceiling and I lost part of my left eyebrow. The sausages however, were instantly infused with a wonderful new flavour.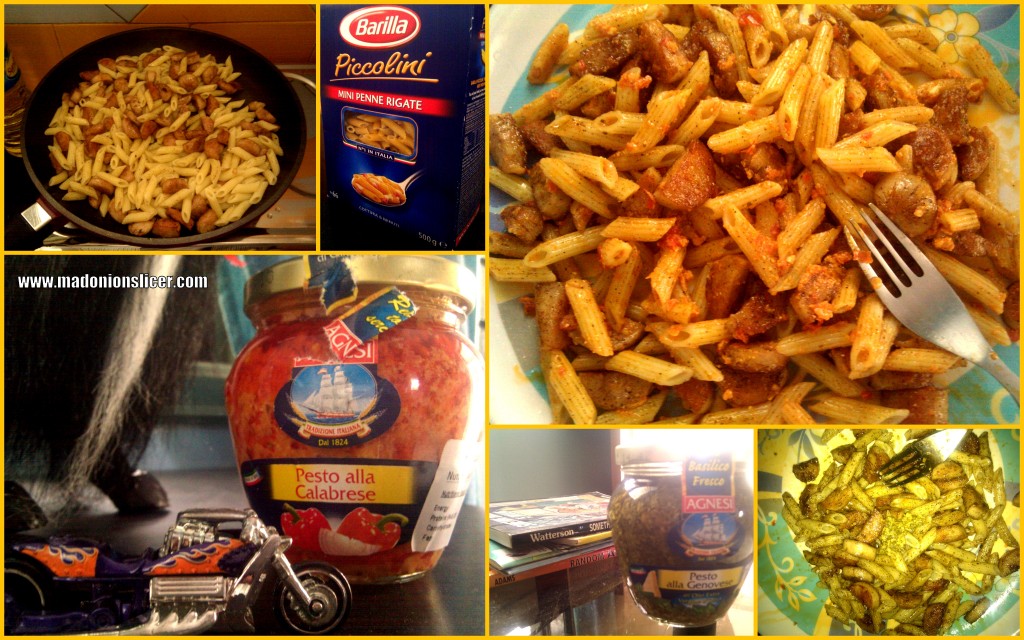 I drained off my penne and chucked it into the pan and gave the whole thing a right royal tossing about. Seasoned it again with salt and pepper and divided it into two portions – one for each sauce. Stirred the sauce into each portion, mixed evenly and plated up. The Pesto Calabrese was an interesting blend of goat cheese and red pepper and was a pretty fancy sauce to come out of a bottle really. The Pesto Genovese of course is one of my favourites – basil, pine nuts and magic. I liked both the pastas immensely, but I think the Genovese won by a whisker. If you like your pasta a little on the wet side, feel free to add half a cup of milk to the pan and let it simmer a bit. Like I said, folks. Nothing too fancy, but less than half an hour's work. Sure, I had a killer day at the office yesterday, but dinner made up for it big time.
When you're adding the Old Monk, make sure you do it on a high flame. This, unlike a wine reduction is a searing flambe that aims at giving the meat a nice semi crisp texture along with a punch of flavour.
Over and out!