Once in a while, people who come for a class with me, leave things behind. Sometimes it's a USB cable. Sometimes it's a kickass recipe for Peanut Chutney. I've been running my Boring Indian Food Workshop™? for like a year & a half now. One of the most fun things about my side gig, is the sheer number of interesting folks I meet week after week. I've hosted budding chefs, private chefs, pilots, investment bankers, a professional ballet instructor & even a juvenile corrections officer! Diverse, fascinating folks – united in their love for food.
While I do see some newbies, a lot of the people who come to my workshops are already great cooks, simply looking to add a few pages to their own recipe books. Bindu @vijjibin was one such person – an amazing cook who found me via Instagram & then came in to learn how to make Gongura Chicken. We cooked up a storm over 3 hrs & at the end of the class, she left me with something really special – her amazing recipe for Kurnool style Peanut Chutney. Here it is, in all it's glory: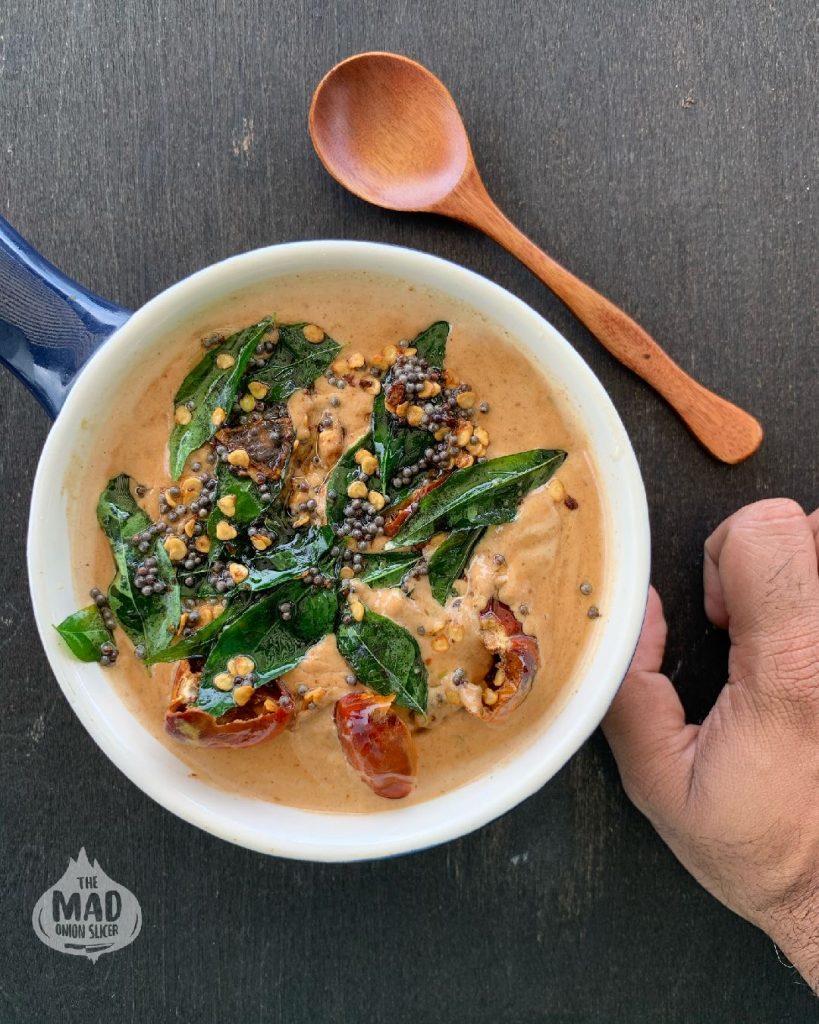 Recipe for BINDU'S PEANUT CHUTNEY
In a pan, roast 1 cup of peanuts on low heat for 15 min. You can leave the skins on if you like. Doesn't matter.
Cool & transfer peanuts to a powerful blender. Grind the roasted peanuts till they release oil. Be patient & keep blending till oil appears. Do NOT add any water. You're essentially making peanut butter at this stage. Once ground to a paste, forget about the peanuts for a bit.
Heat 5 tbsp vegetable oil in a pan & throw in 1 cup of sliced onions. Cook till soft then add 1 cup chopped tomatoes.
Add 4 green chillies, salt & cook till everything is soft. About 7 min.
Cool the mixture & transfer to the same blender in which the peanut paste is hanging out.
Add a splash of water, juice from half a lime & blend everything together. Transfer to a bowl.
Tempering: Heat 2 tsp oil, throw in 1 tsp mustard seeds, 2 dry red chillies & some curry leaves. Let everything splutter & transfer onto the chutney.
Mix & serve with idlis. Or dosas. Or vanilla ice cream.
Over and out!