Heat 2 tbsp vegetable / canola / sunflower oil
Throw in a bayleaf and 1/2 tsp cumin seeds (optional)
Add 1 cup chopped onion and cook till brown
Add 1 tbsp ginger-garlic paste and 3 tbsp water. Cook for 1 min.
Chuck in a cup of chopped tomato. Canned tomato works. At a pinch, ketchup works too.
Cook the mixture till the tomatoes break down. Should take 5-7 min on high heat
Add 1/2 tsp each of turmeric, red chilli & garam masala
Mix well and fry till the whole mixture looks shiny
Add 300 gm chicken to the pot. Add salt and mix well.
Throw in a handful of chopped coriander / cilantro
Add half a cup of water, put a lid on the pot and cook for 15 min on medium heat. If you're using chicken with bones, cook for 25 min.
Check seasoning, transfer to a bowl and garnish with a little more chopped coriander
Serve with rice, bread or Tiramisu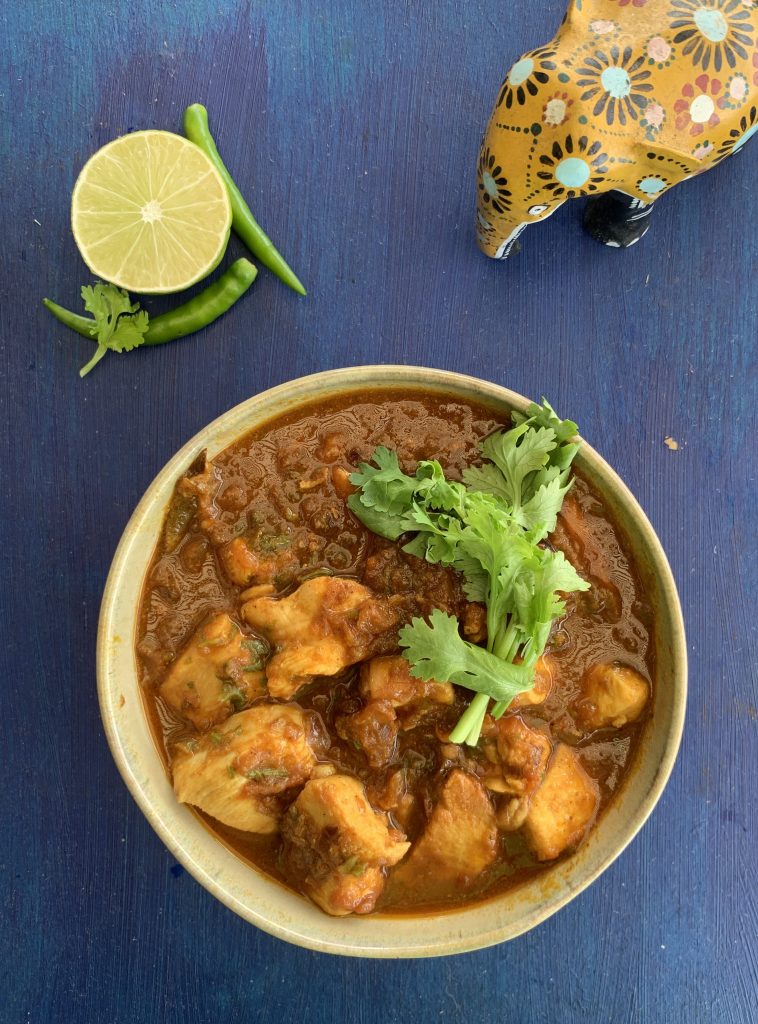 NOTES:
If your curry turns out too hot, fix it by adding half a cup of coconut milk
The same recipe works well with ground beef, pork and veggies like beans & potatoes
Experiment with different spices like cumin and ground coriander
Please don't tell my mother I said you could use ketchup. She will disown me.