Baghara Baingan is a Hyderabadi classic. My mum has been cooking it for years, but I somehow never got around to making it myself. Gave it a shot a few days ago, and was pretty happy with the results. Paro said it was the best Baghara Baingan she'd ever eaten in her life. My head swelled with pride, and with a cranium that is now roughly the size of Ganymede – Jupiter's largest moon, I began to write this thing down.
Ingredients:
Brinjal / Eggplant / Baby Aubergine (medium size): 500 gm
Masala Paste:
Peanuts: 1 Cup (skinned)
Desiccated Coconut : 5 tbsp
Sesame Seeds: 5 tbsp
Onion: 1, chopped
Coriander Seeds: 1 ½ tsp
Cumin Seeds: 1 tsp
——-
Tempering:
Nigella Seeds (Kalonji) : ¼ tsp
Cumin Seeds : 1 tsp
Fenugreek Seeds: 1/2 tsp
Mustard Seeds: 1 tsp
——-
Ginger Garlic Paste: 1 tbsp
Turmeric Powder: ½ tsp
Red Chilli Powder: 2 tsp
Curry Leaves: 2 sprigs, like 20 leaves or whatever
Chopped Coriander : ½ bunch
Green Chillies : 4-5 slit lengthwise
DDR RAM (8 GB stick): 0
Method:
Get the masala going. Roast the coconut, peanuts, sesame seeds, cumin, coriander seeds on medium heat for 10 min. Once done, add a teaspoon of oil to the pan and saute the chopped onion till golden brown. Blend everything to a fine paste.
Prep the brinjals. Wash and cut into four, making damn sure not to slice all the way through. The idea is to open the veg enough to let the masala get in, but still have the stem holding the thing together. Add 3 tbsp oil to a wok / kadhai and fry the brinjals till they are half cooked. It will be noisy and spluttery so be careful. I wore an old welder's mask that the contractor had left behind after fitting us a new window grill. You can do the same. Take the brinjals out and leave them to rest.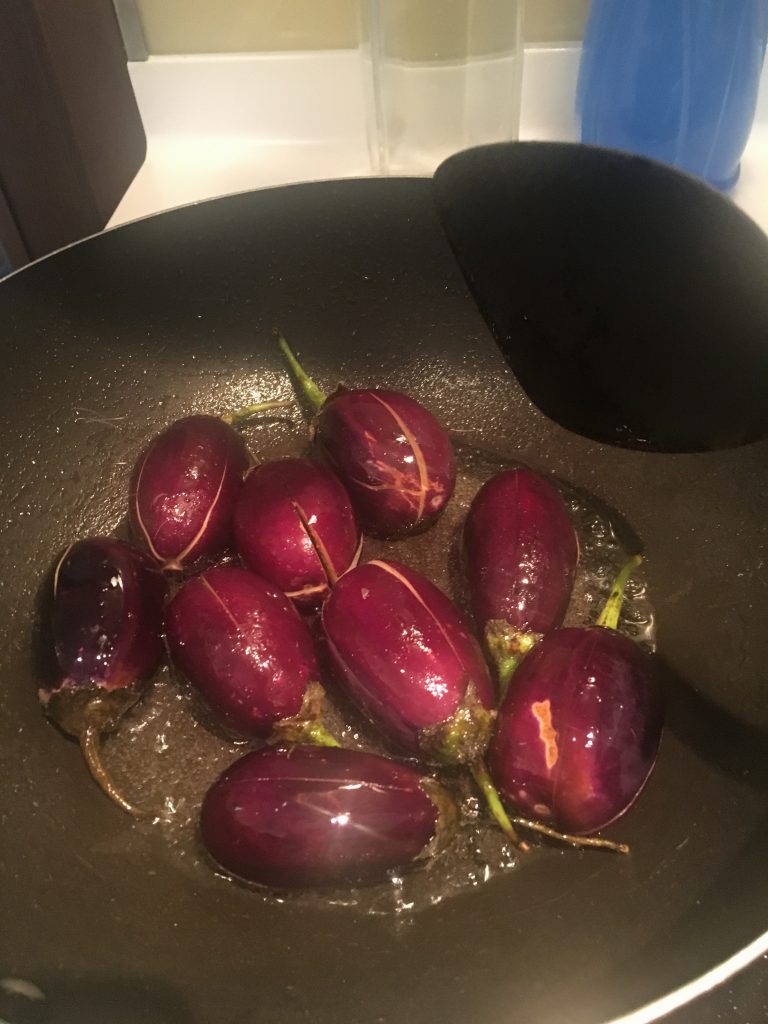 To the remaining oil in the pan, add cumin, fenugreek, nigella and mustard seeds and let them splutter.
Add ginger garlic paste, turmeric powder and add the masala paste you made earlier. Cook well, add salt and red chilli powder and keep working the masala till it leaves the sides of the pan and you begin to see a nice sheen. Add tamarind pulp and cook for 10 min on medium flame. Add the half-fried brinjals, curry leaves, coriander and green chillies. Simmer for five minutes, then turn off the heat.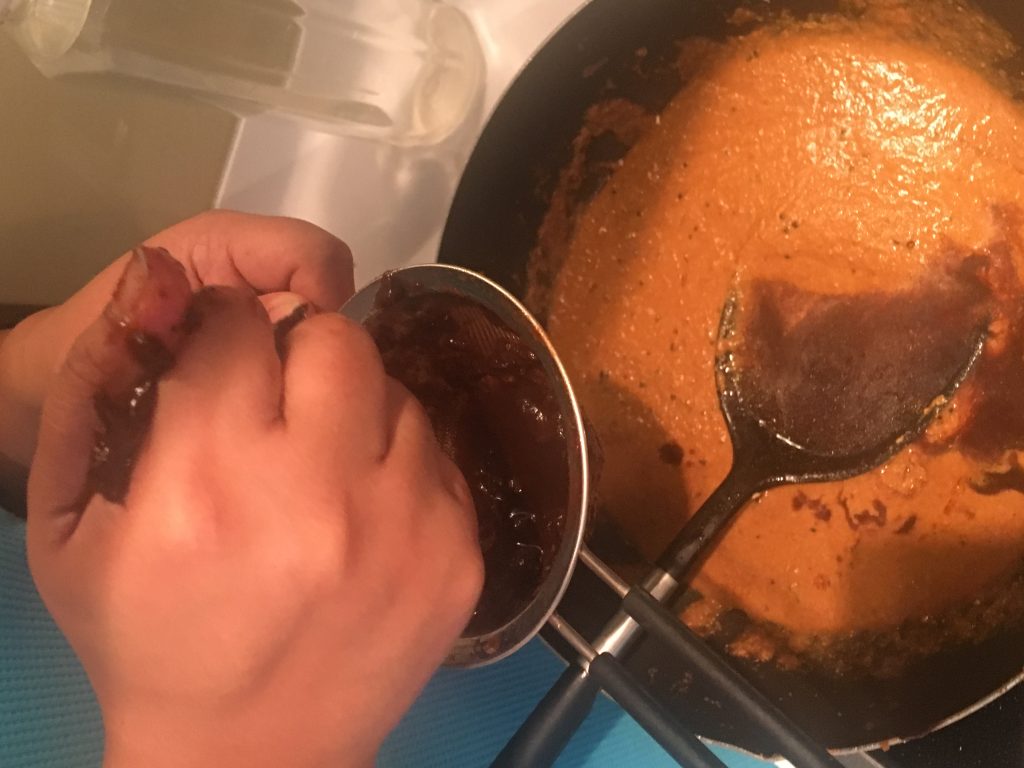 Plonk a lid on top and let the dish rest for about an hour so that flavours seep into the brinjal. Serve with rice or chapatis.This is a pretty great dish that sees the sourness of the tamarind perfectly counter the richness of the peanuts and sesame. There's a lot going on, but it's totally worth the effort. You can make variations of this using big green chilles or capsicum or even tomatoes. Great fun.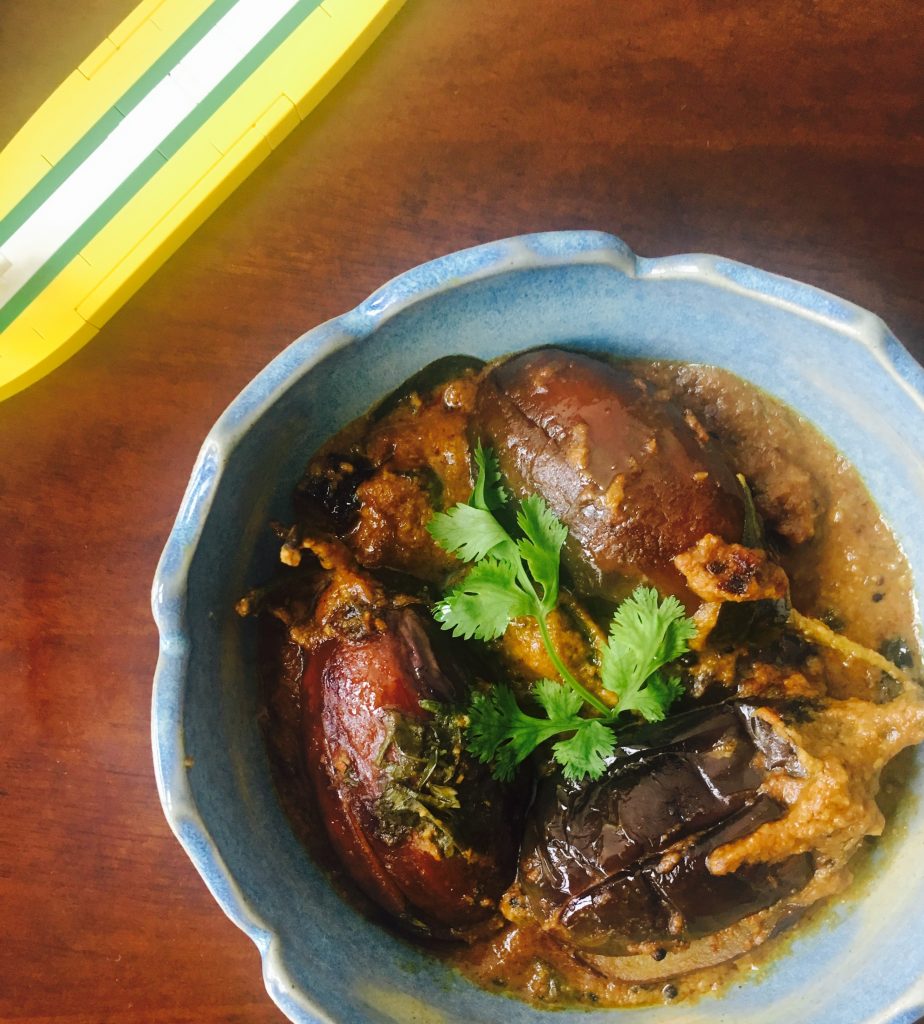 The tempering is great too – with the fenugreek, cumin and nigella seeds all adding strong flavours to the dish. Speaking of Nigella – I wasted like half a kilo of kalonji trying to grow my own culinary goddess in a potted plant last month. Turns out it totally doesn't work like that. If you're trying this, maybe get hold of a DNA sample or something. Just don't do anything that's against the Law, son.
Over and out.