Heat 3 tbsp oil and throw in 1 small piece of cinnamon, and 1 bay leaf
Add a cup of finely chopped onion and cook till light brown. You can do this on high heat, but be careful not to burn them, okay?
Add 2 heaped teaspoons of fresh ginger & garlic paste + 2 tbsp water. Mix well & cook for 2 min
Chuck in a cup of fresh / canned chopped tomatoes. You can use tomato paste or puree too, but use a little less because they tend to be a little more concentrated. In an emergency, you can use ketchup too.
Fry the onion – tomato mixture till the tomatoes completely break down & everything looks shiny.
Any time you feel like things are starting to burn, add a tiny bit of water & scrape the bottom of your pot.
Once your onion-tomato mixture is cooked, add the following powdered spices – 1/2 tsp each of turmeric, red chilli & Garam Masala powder. Add salt, 2 tbsp water & cook for 3 min, making sure the spices don't burn.
Add 1/2 a cup each of chopped cauliflower, green beans & carrots. You can add potato, tofu or pretty much any vegetable you like at this stage.
Throw in a handul of chopped coriander – stems & all. Mix well, ensuring that the masala coats the veggies nicely
Add half a cup of water, plonk a lid on the pot & cook on medium heat for 10 min. Open your pot at the 5 min mark to check that the veggies are cooking. Keep an eye on them and don't let them overcook, okay? There's nothing worse than an overcooked cauliflower.
Once the veggies are cooked, add a little more chopped coriander, a squeeze of lime and serve.
NOTES: Add 2 tbsp cashewnut paste to the tomatoes if you'd like a richer, more velvety curry
You can add ground coriander at Step 7 too, and get a different flavour profile
Please don't tell my mother that I said you could use ketchup.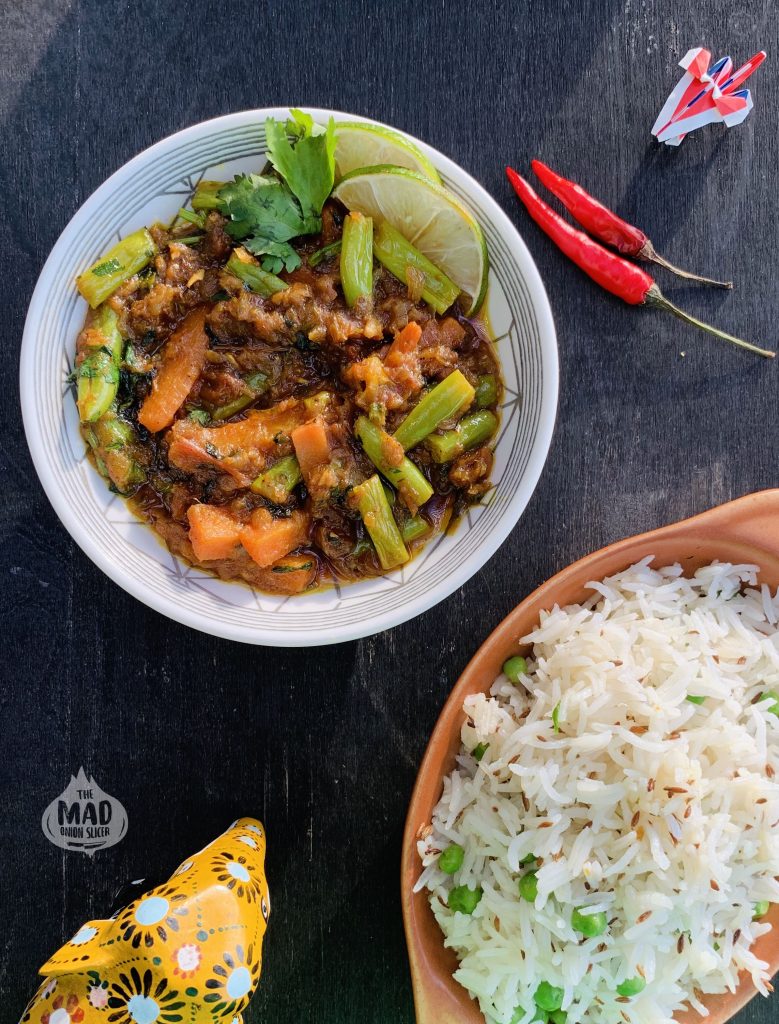 Over & out!