I've had a pretty awesome week. I attended my first ever Fashion Week in Delhi and was totally blown away by the experience. Work at the event kept me busy during the days and given the fact that I was put up in a hotel in Gurgaon, I was sure I wouldn't have the time to go out and stuff my face with the local food. However, things tend to happen on the fly with me and it so happened that old friend Khadeer Sheik was in town. This is the same Khadeer who's taken me exploring food joints in Hyderabad's Old City and I was damned if I was gonna let this opportunity go by. It didn't take us long to make plans and meet at Pragati Maidan where the fashion week was happening.
Choosing the place to eat was simple. After hearing about it from so many friends and finally reading Suhel's review of the place, Karim's near Jama Masjid was definitely the place to go to. I wrapped up work quickly, peeled my eyes away from the last show and we headed out. It wasn't too difficult to take off actually. Shahnaaz Hussain was in attendance and I was a little frightened. We got to Jama Masjid and decided to ditch the car and proceed on foot. As we made our way down the crowded lane, I noticed the dozens of kebab stalls and eateries all around. Spectacular street food, to say the very least!
We finally found Karim's, slightly tucked away from the main road, in what looked like three or four houses that had been modified to accommodate a restaurant. As expected of a restaurant with such a high pedigree, there wasn't an empty table in sight. We waited for some time and finally ended up sharing a table with some other guys. The sheer amount of meat being grilled here was amazing. I was in carnivorous heaven, if there is such a thing. The ribald Hyderabadi jokes that me and Khadeer cracked for the remainder of the evening only added to the non-vegetarianism. One thing I noted about Karim's was the crisp utilization of space. They hadn't wasted any room in the building and there were tables in places where you'd least expect them.
Once I'd taken in the surroundings, we ordered. We got some Chicken Burra kebabs, Mutton Shaami kebabs, Mutton Sheekh kebabs, some rotis and a biryani. All these took no more than 5 minutes to get to the table and we attacked them like it was our last friggin' meal on earth. I expected the chicken Burra to be a lot like Tandoori chicken, but boy was I wrong. This was very different indeed and the marinade appeared to have a good amount of nuts ground up and thrown in. Not too spicy, but with the green chutney that came with it, was an out and out flavour bomb! The Shaami kebab was a nice little mincemeat cutlet, but I must say I've had better. Next up, was the champion of the evening – the Mutton Sheekh kebab – a succulent kebab of lamb mince, wrapped around a skewer and grilled over coals – absolutely bursting with flavour. This really hit the spot and I ordered another round for myself as Khadeer looked on with a slightly raised eyebrow.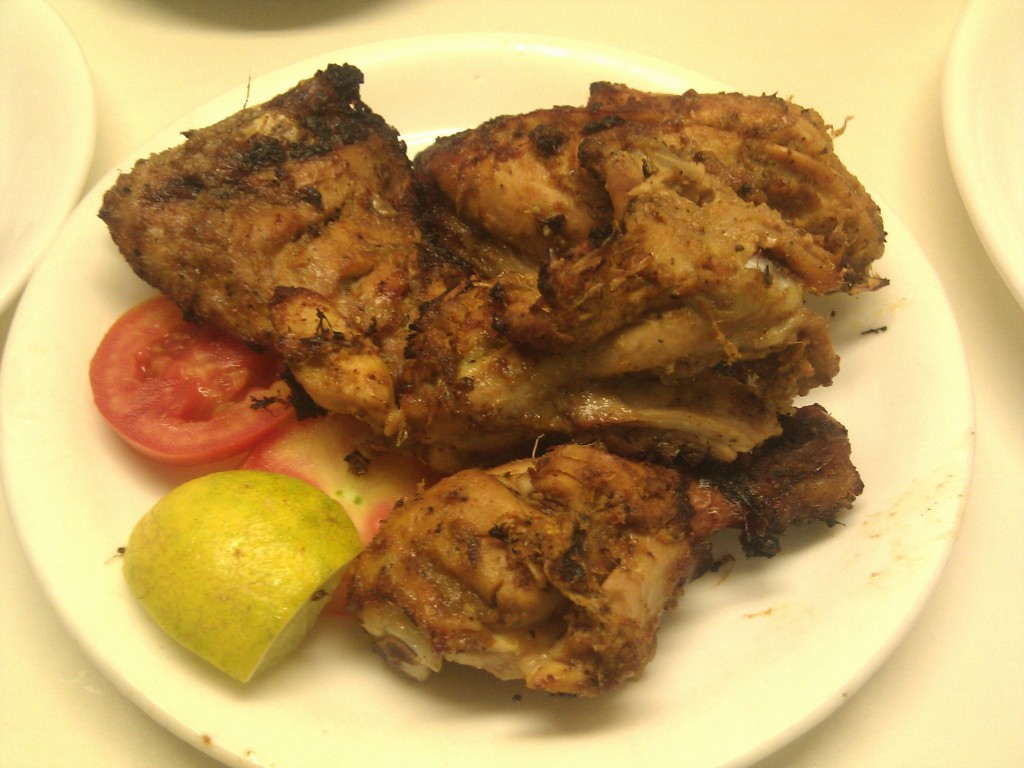 I liked the Tandoori rotis too. Slightly yellowish in colour, I thought I detected a hint of milk in the dough. I'll need to eat there another time to totally nail down what went into it. Being the Hyderabadis that we are, we ordered a chicken biryani. What showed up was a little dry, but tasted very nice with the mint chutney that came with the kebabs. I am no where close to being done with Karim's. There are a whole lot of things to be sampled on the menu and the next time I'm in Delhi, I am doing this, come what may.
Karim's is worth the hype, people. We paid 620 bucks for a fantastic dinner and then walked around the place a bit. Again, the street food rocked my universe. There was simply so much to choose from! Dessert was a small bottle of badam milk and a dish of phirni – all for twenty five bucks. The old school Campa Cola bottle in which the badam milk was filled, brought back images of my childhood when this drink was actually in production. (Side note: F*ck, I'm old!) Walked around some more, got a cup of chai, marveled at the scene around and headed back to the car. I've made some impromptu plans before, but this was the first one that saw me thrust into the heart of old Delhi surrounded by what I love the most – good food!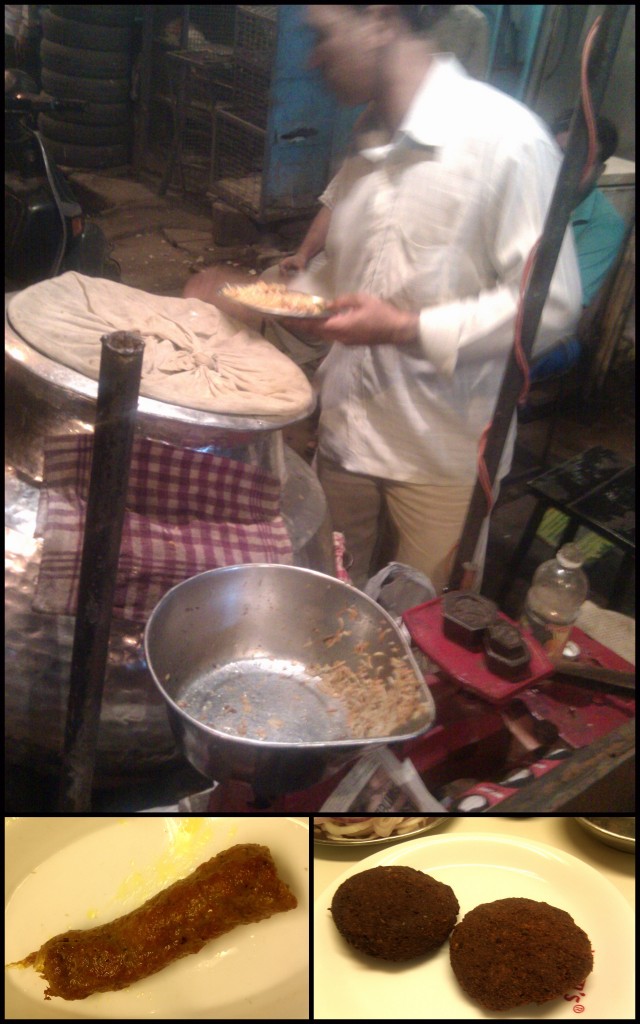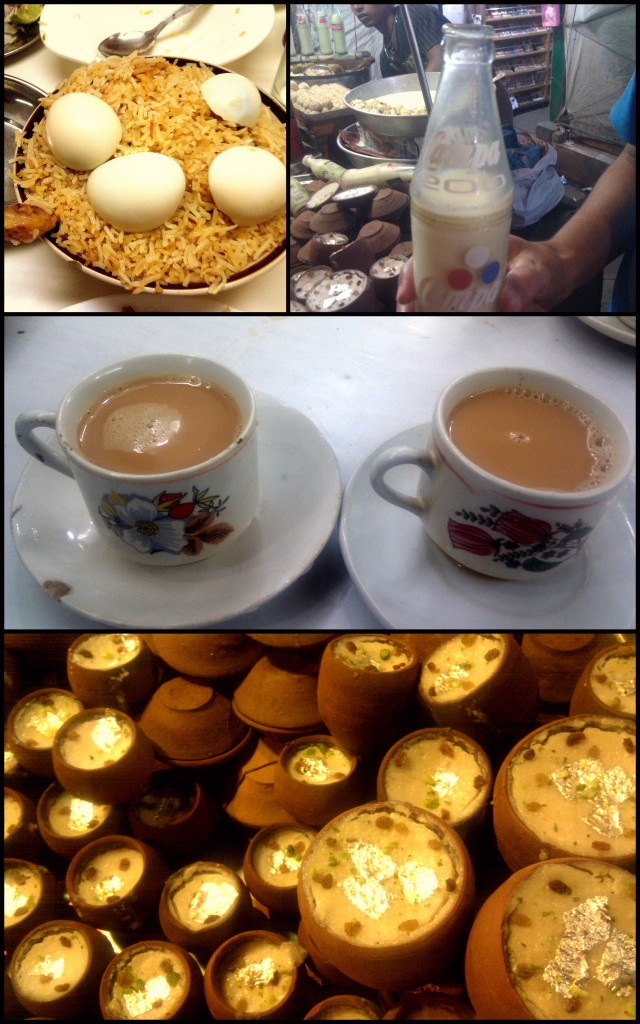 I dropped Khadeer off at his guest house and finally the day started to catch up with me. I dozed off in the back seat of the car and images of good looking women from the Fashion Week floated past. I tried to look cool in my formals, astride a rickshaw shaped like a peacock, parked outside the Chivas Regal Sponsor Lounge. As I tried to make eyes at Chitrangada Singh, somewhere in the distance, Shahnaaz Hussain appeared on skates and a young Czech model bust into tears. The show was over. I downed my Chivas, kick-started the peacock and soon found myself eating sheekh kebabs with Gauhar Khan at Karim's. It is impossible to look at your own face when you are asleep, but something tells me I was smiling.
The car sped on towards Gurgaon.
Over and out.