I'm in Mumbai right now and am having a right royal time. I've eaten at a few places during this short trip and intend to write about each and every one of them. Sunday afternoon saw me going to Mahesh Lunch Home for lunch. MLH came highly recommended and was the first one of my list. We headed over to Juhu and found ourselves waiting for a table. Always a good sign! Twenty minutes later, we were seated at a slightly snug but comfy table. Right away, I saw that Mahesh Lunch had a huge menu. Very very exhaustive!
I studied it for a good ten minutes and decided to order a portion of Koliwada prawns, one baked stuffed crab, one portion of Clams Sukka, one Rawas (fish) Balti curry and some steamed rice. We also got one portion of their special mutton curry and some rotis. Yes. I know. Its a hell of a lot of food and you're probably calling me a pig in your mind, but please remember, I was on a mission. The first thing that turned up, were the prawns. I was pretty amazed at how fast they got the order to the table. Five minutes tops.
The prawns were nice but thats it. They didn't make me want to jump out of the window or anything. They were just nice. I'd have liked something a little more spicy but I think thats what Koliwada prawns are like. Next up, was the crab. This was cooked continental in what looked like a Bechamel base and was very rich and full of flavour. Easy to eat because the meat had been picked out, cooked and put back in. It made me happy.
I then got to work on the clams. The portion size for this dish was a lot larger than I expected and there were what looked like 374 clams in the bowl. They had been tossed in a spicy red masala with coconut and chilli and made good eating. I briefly tasted the special mutton curry too. The special element is the fact that the mutton comes to you in two gravies – white and red. Nothing spectacular but they'd used really small dices of mutton – only a little larger than a brunoise – and this lent the dish an interesting texture.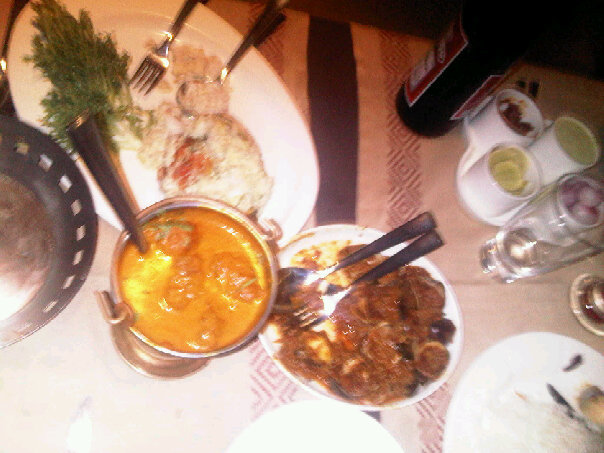 Featured: Baked crab, Clams Sukka, Balti fish (with Balti).
I finally got to the best part of the meal – the Balti fish curry. This was an insanely awesome Rawas fish fried and dunked into a rich gravy laced with coconut milk. It was a killer combo with the steamed rice and made me cry a little bit because it was so good. Polished off everything and then called for a wheelchair to help me out of the restaurant.
Mahesh Lunch Home reminds me of one of Bill Goldberg's catch phrases back in the WWE – "Believe the hype." All in all, it made for an excellent, excellent lunch and I recommend it to anyone who is a fan of seafood.
Learn more – www.maheshlunchhome.com
Over and out 😀