I'm not a big fan of contrived names really. In fact, I hate them. There was that short-lived place in Secunderabad called Tandoor and Fry, for example. I wanted to throw a rock at the place every time I drove by. What kind of lame-ass name was that? A kitchen tool and a method of cooking slapped together like a sambar sandwich that nobody cared about. Would you call a place Frying pan and Boil? How about Oven and Braise? Nice ring to it eh? I've managed to digress within the first three lines of my blog post. I'm sure that is a personal record of some kind.
Anyway, Not just Jazz by the Bay has a longish name, so thats what prompted the digression to contrived names and the vandalism it prompts in me. I'm not saying that this was a contrived name, but you have to admit, it is a mouthful. Will call it Not Just.. from now on. I'd read some good things about this place, so we decided to hit Not Just.. on Tuesday and see what all the fuss was about. I was instantly taken in by the ambience of the place and made myself comfy. Theres a very laid back and easy going feel to the place and thats what really stands out. I'd have liked to hear some jazz music but we'd walked in on Karaoke night. Anyway, Karaoke is always fun. In addition to an insane rendition of the Summer of 69, I got to hear Nelson Mandela's grandson belt out some pretty decent numbers.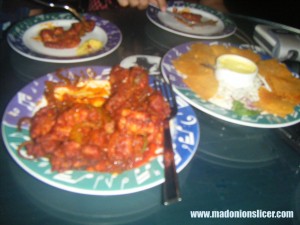 We ordered two starters with our drinks – Tai Pai Chicken and a portion of Nachos (featured in bad photograph above). The food was nothing out of this world, but the music and the vibe are what make the place a winner. I'd definitely go back to relax with a whiskey and listen to some good music. We got a bite to eat at the Pizzeria outside and killed an hour on Marine Drive.
This kick-ass song has been stuck in my head since that day. Thank you for this, Nelson Mandela's grandson.
Over and out. 😀