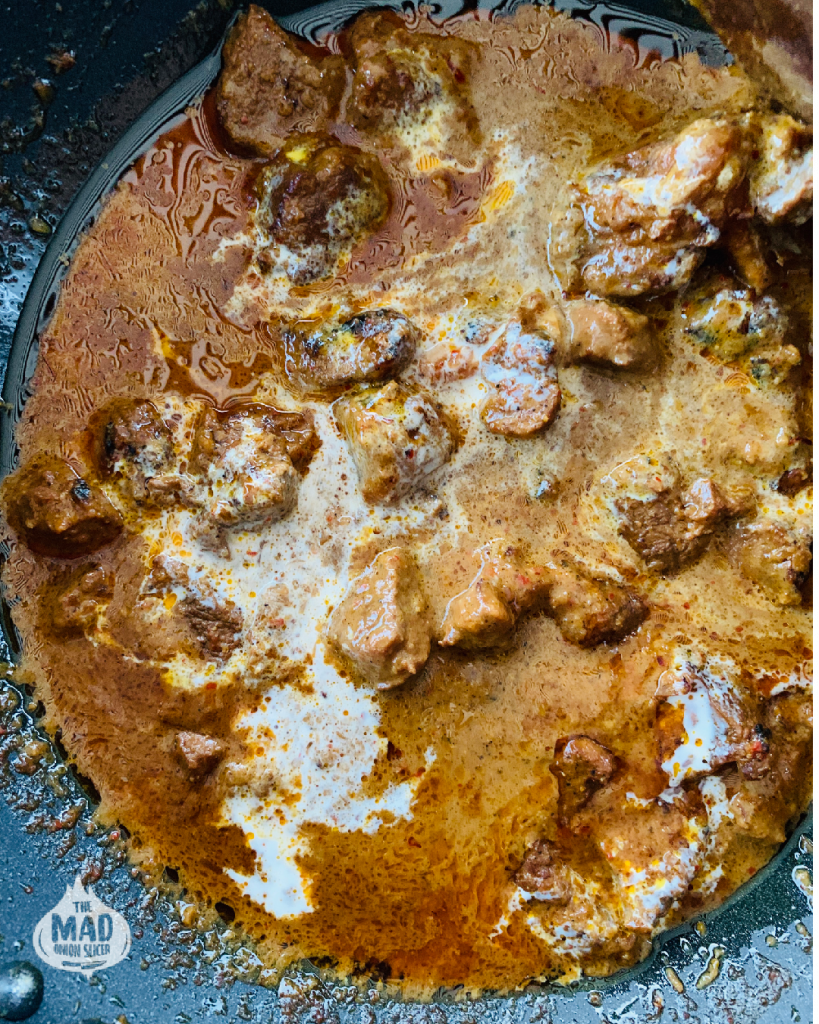 Get hold of 500 gm of the best leg mutton you can find. 
Add 1 tsp turmeric and salt, and pressure cook till the cooker screams at you thrice. Take off the heat, and let the pressure go down on its own. We're looking to get a head start on the cooking process with this, and only aiming to semi-cook the meat.
In the meanwhile, heat 2 tbsp of oil + 2 tbsp of ghee in a wok and throw in 3 sliced onions and 15 cashew nuts. Cook till the onions turn golden brown, making damn sure not to burn them, okay? Cool and puree in a blender.
In the same wok, heat another tsp of ghee and throw in 1 black cardamom and a big pinch of mace. 
Let the spices splutter for a minute and add 1.5 tbsp of fresh ginger garlic paste. Add a splash of water and cook for 2 min. It will make a noise and splutter and there will be some backlash but such is life.
Add the semi-cooked mutton from the pressure cooker to the pan. Only add the meat at this stage. Reserve the stock for later. Mix well, making sure that the meat is nicely coated with the gingery-garlicky spiced oil. Do this for at least 5 min.
After 5 min have passed and elbow fatigue sets in, tip in the brown onion and cashew nut puree you made earlier.
Mix well, and hit it with the following powdered spices. 1.5 tsp of red chilli, 2 tsp of coriander, 1 heaped tsp of Garam Masala powder. And salt.
Add half a cup of yogurt and mix well. Adjust consistency using the stock you got from pressure cooking the meat. 
Add 1.5 tbsp of Kewra (pandan extract water), plonk a lid on, and cook covered for 15 min on low heat. I ran out of Kewra so used Rose Water. It totally works too.
Open, add 2 tbsp of cream. Mix again and take off the heat.
Add a final sprinkle of freshly ground black pepper, garnish with julienned ginger and green chilli, and serve with Naan, Roti or Rice.
NOTES:
If you don't have a pressure cooker, add a dash of meat tenderizer and slow cook the meat on a stovetop for 60 – 90 minutes. The pressure cooker definitely speeds things up but slow cooking will give you a pretty great result.
This dish tastes best with mutton (goat). You can also use lamb, chicken or even beef but mutton is the best. If you're using chicken, skip the pressure cooker and just do the whole thing in a wok.
Garam Masala – there are lots of Garam Masalas in the market. The one I like the best is this one from Shan. https://c.lazada.sg/t/c.bddL
Over and out!