I am going to overly dramatize this, and describe it as the time a potted plant saved my life. I'm really just paying tribute to my curry leaf plant, but just go with it, okay? Now I've been on the road for a bit. Boston, San Francisco and then Vegas. Ate a lot of really great stuff but towards the end of the trip, started craving some home cooked food. Paro had been on the move too, so the fridge was all but a barren wasteland when we got back. I channeled my inner arctic scavenger, and plunged into the depths of the freezer. After what felt like an eternity in the Tundra, I emerged with 260 grams of boneless chicken breast.
I shifted my focus to the fridge and located one elderly lime sitting behind the jam jar. No tomatoes, no dahi, nothing. F*ck. This wasn't going to do, and I wasn't feeling up to going to the shop at all. As I sat down on the sofa to ponder the meaning of life, I spotted my curry leaf plant chilling out on the balcony. Inspiration struck and I decided to do something with it.
Ingredients:
Boneless chicken – 260 gm
Curry leaves – one cup, roughly 50 leaves
Shallots – 1/2 cup, sliced
Green chillies – 4, slit lengthwise
Turmeric powder – 1 tsp
The Spices:
Cloves – 2
Cinnamon – 1 inch
Fennel seeds – 1 tsp
Cumin seeds – 1 tsp
Green Cardamom – 2
Black peppercorns – 2 tsp
Coriander seeds – 1 tsp
Fountain Pen – 0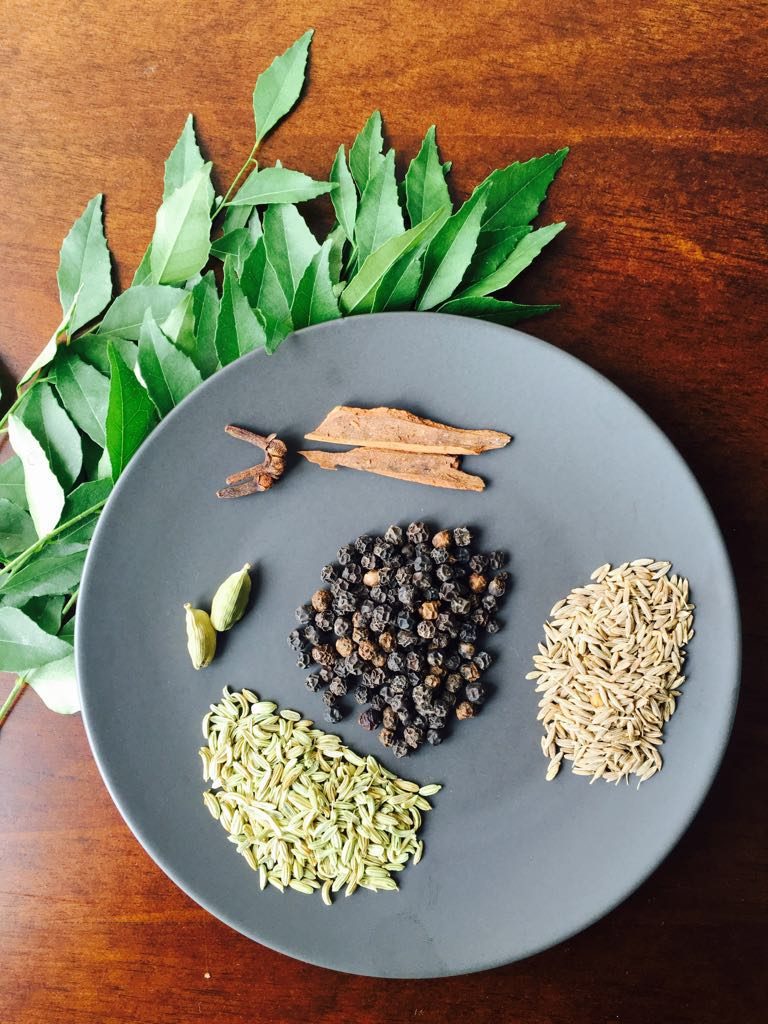 Method:
Dry roast the whole spices listed above. Once roasted and fragrant, toss in half the curry leaves. They will crisp up and become flaky in absolutely no time. Cool the mixture and grind to a fine powder.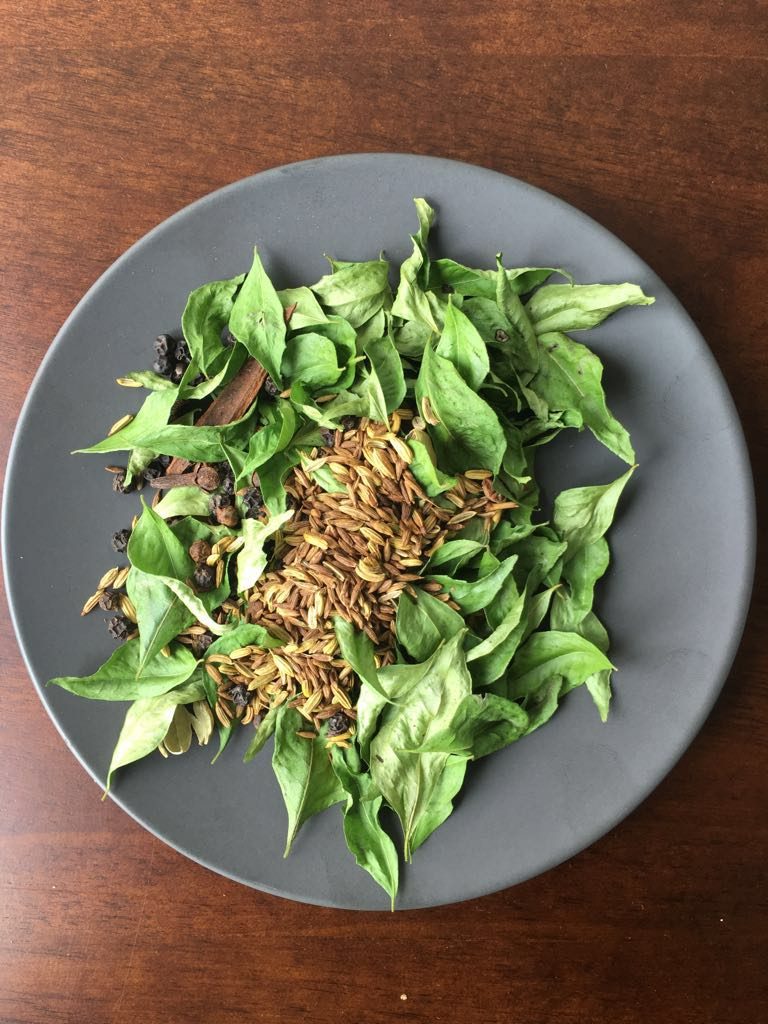 Heat oil in pan. Add chopped ginger and garlic and sauté. Toss in a couple of slit green chillies and let them do their thing for about two minutes on a high flame. Add a dash of turmeric and the sliced shallots and gently brown till done. Now add the rest of the curry leaves and add a pinch of sugar to help round off the flavours.
Once brown, add the powdered masala and mix well. The whole thing will look a little dark, but don't panic, that's just the pepper looking morose. Toss in the chicken and season with salt. Cook till cooked. Yes. I said cook till cooked. Should take 10 – 12 min tops. Serve with rice and daal.
I liked this thing a lot actually. It will probably taste much better with chicken on the bone and I especially liked how the oil takes on a lovely greenish tinge from the curry leaves. I was super hungry so didn't make much of an effort to take good pictures.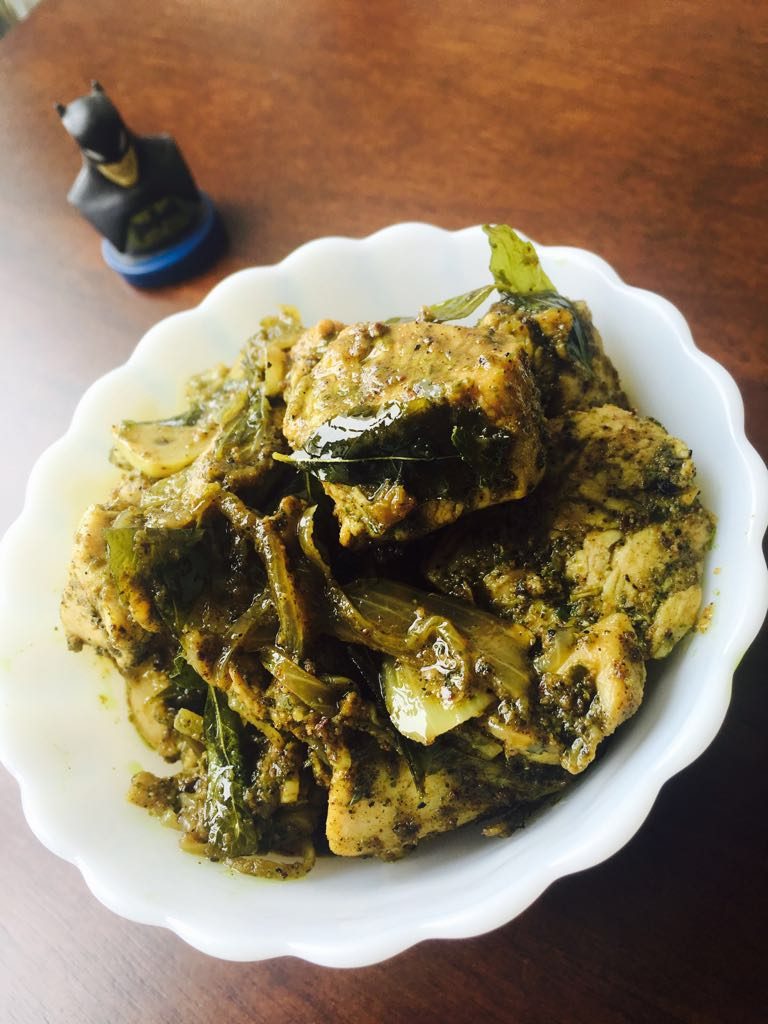 We both had a killer lunch and settled down very domestically to watch Marco Polo on Netflix. Paro soldiered on, but almost exactly like the arctic scavengers mentioned before, I went into a long peaceful hibernation and did not awake for a long time.
Over and out.