When you think about impulse purchases, the things that normally come to mind are expensive watches, unusually colored shirts or an impromptu holiday. My case isn't so glamorous. I went out to buy a carton of milk yesterday and came back with three bell peppers / capsicums. Now I love capsicum, man. I love to chop it up into tiny pieces and chuck it into my omelettes. I love to mix it into Paneer Bhurjee and eat it with rotis. But three is a fair bit. Even for me.
I decided to make Capsicum Chicken for dinner. My mum used to make this all the time and I have fond memories of stuffing my face with it as I grew up. The recipe is dead simple. Here goes.
Ingredients:
Chicken Thighs – 700 gm, cut into two pieces each, no skin
Onions – 2, chopped fine
Bay leaf – 1
Tomatoes – 2 diced
Capsicum – 2 diced
Ginger paste – 1 tsp
Garlic paste – 1 tsp
Garam Masala powder – 1/2 tsp
Red Chilli powder – 1 tsp
Turmeric powder – 3/4 tsp
Oil – 2tbsp
USB drive – 0
Heat oil in a wok and throw in the bayleaf, followed by the onions. Brown the onions till they are umm.. brown in colour. Shut up. You think of a better way to write that sentence. While the onions are browning, dice the tomato and capsicum. It's important that they are both cut the same size.
There is zero toleration for vegetable dice-crimination in this wok place. – Management
Once the onions are browned, add ginger and garlic paste, and a splash of water. Add the powdered spices and mix well. Turn up the heat and cook till the ginger and garlic pastes are fragrant (and noisy).
Add the chicken and season with salt. Give the whole thing a through mix and cook on a high flame for about five minutes.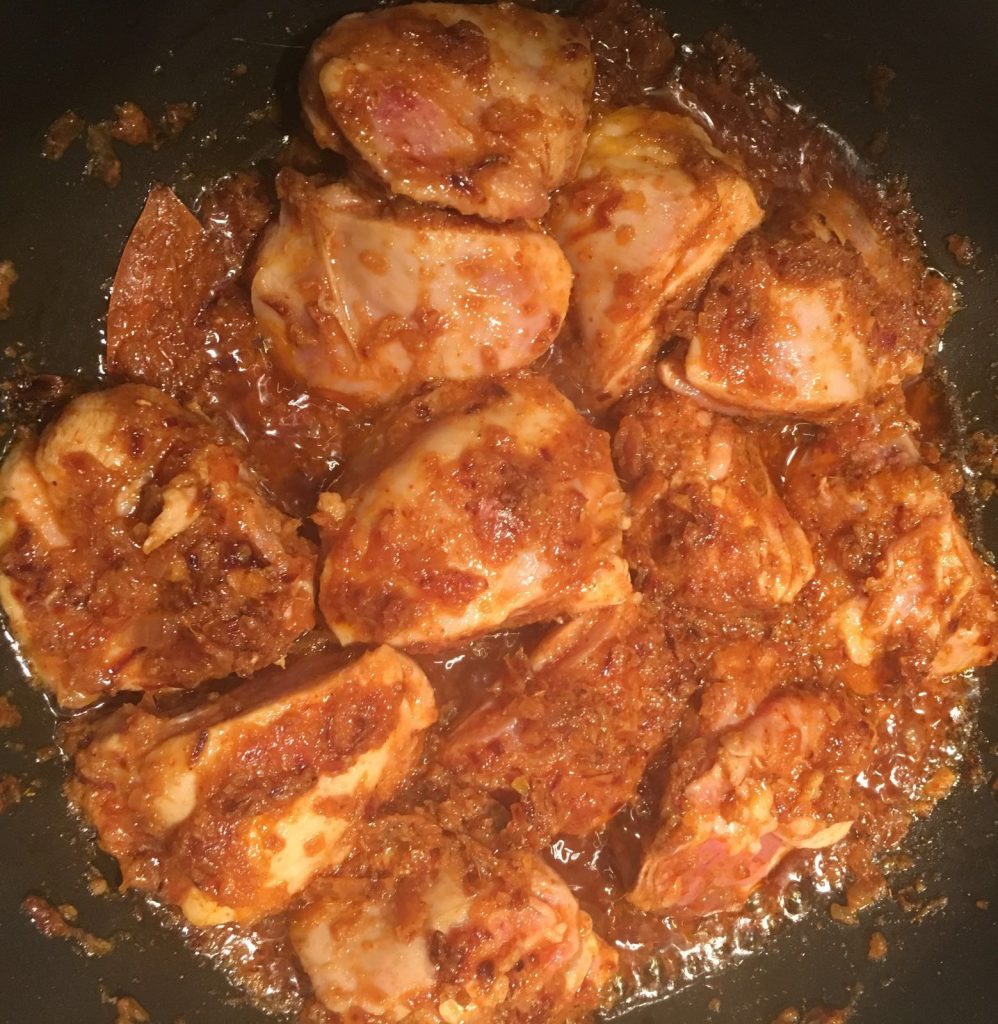 Next, add the diced tomato and capsicum. It's worth noting that we want them to be nice and chunky. The tomato isn't expected to dissolve into the gravy. Mix well, and cover with a lid. Allow the whole thing to cook for 15 minutes on a medium flame. Do NOT add water. The chicken will let out more than enough juices to cook in.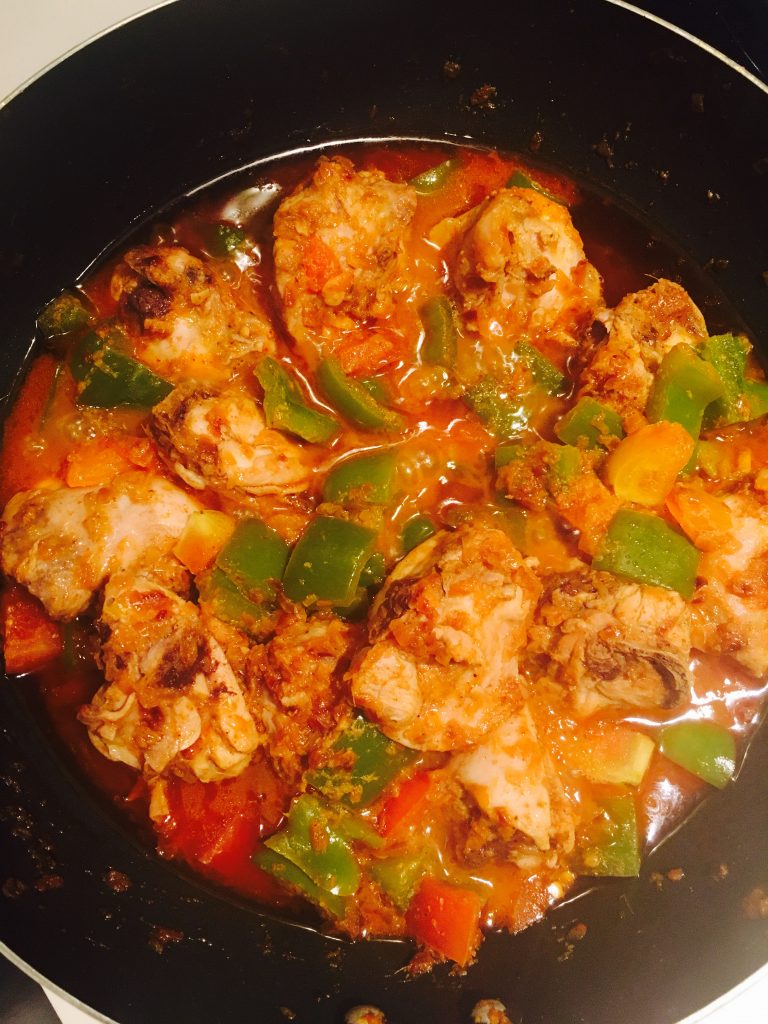 Serve piping hot with rice. All in all – a really fun quick recipe that can very easily be made while watching Marco Polo on Netflix.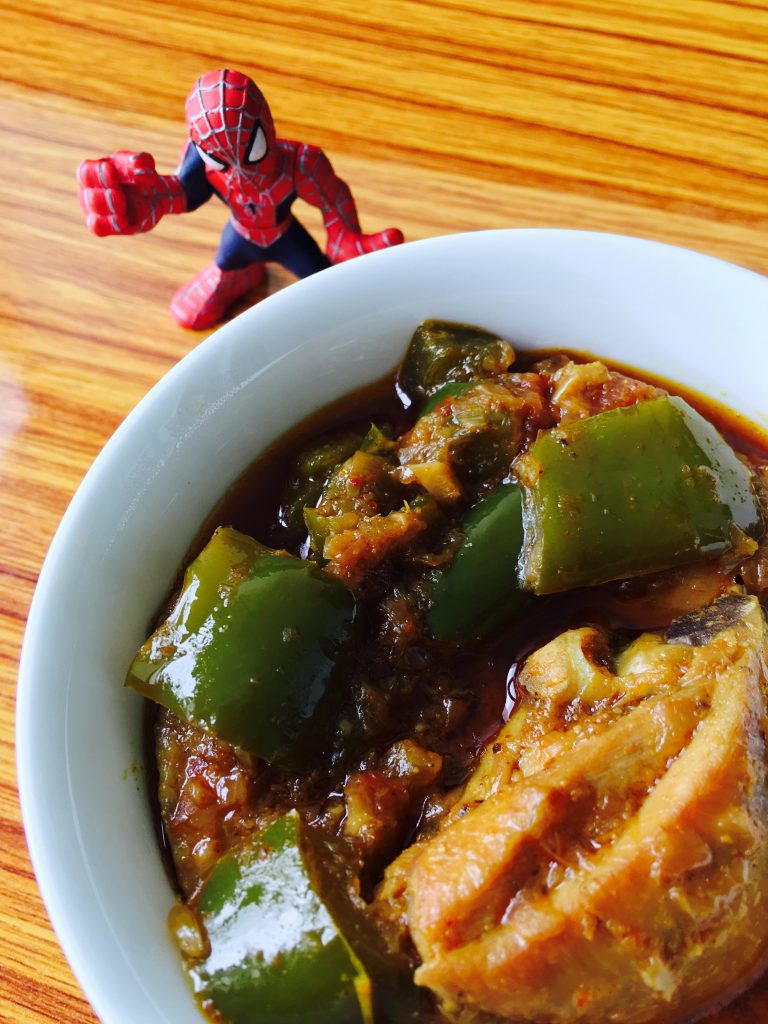 Over and out!