Made some Khatti Daal for lunch today. Paro was sick, so we had one of those comfort food meals: daal – chawal, dahi, pickle and some shaami kebabs. Now I grew up eating Khatti Daal all over the place in Hyderabad, but only recently got reminded of it at my good friend Gauri's place. Gauri is a fantastic cook, and is capable of turning out a full meal in the time it takes your average Janardhan to down a pint of beer. Pretty amazing stuff.
Khatti Daal is really quite simple. Khatti means sour and that's the very flavour we're gunning for. Here are the ingredients, in no particular order:
Toor Daal (pigeon peas) – 1 cup, washed and soaked
Tomato – 1 large, chopped
Green chillies – 3, slit
Garlic – 4 cloves, crushed / smashed / decimated
Ginger – 1 inch, grated
Turmeric powder – 1/2 tsp
Red chilli powder – 1/2 tsp
Tennis ball – 0
Tamarind – if you're using tamarind from a block, yank off a piece roughly the size of a lime. If you're using paste, use about 1.5 tbsp. If you're thinking of using lime instead of tamarind, please close this window and go evaluate your life choices over a cup of tea.
Pressure cook all the ingredients above till your cooker lets off at least three whistles. If you're doing this in a pan, soak the lentils in warm water for about 30 min before cooking and keep stirring and wait till they are completely soft.
While the lentils are cooking, soak the tamarind in some hot water and extract as much juice as you can. Once cooked, add the tamarind juice to the daal. If you're using tamarind paste, stir it in now. Adjust salt and get ready to start on the tempering.
Tempering / Tadka:
Oil – 2 tbsp
Mustard seeds – 1tsp
Cumin seeds – 1/2 tsp
Dry red chilli – 2
Garlic – 2 cloves, sliced
Curry leaves – 12
Heat oil, chuck in the mustard seeds. Wait for them to splutter. Perform a matrix move when one rogue seed pops and comes flying at you with a vengeance. Recover, and add cumin seeds, followed by everything else. Once your garlic starts browning a little, add the curry leaves and run for cover. Give the tempering about 30 seconds on high and then swiftly transfer onto the daal.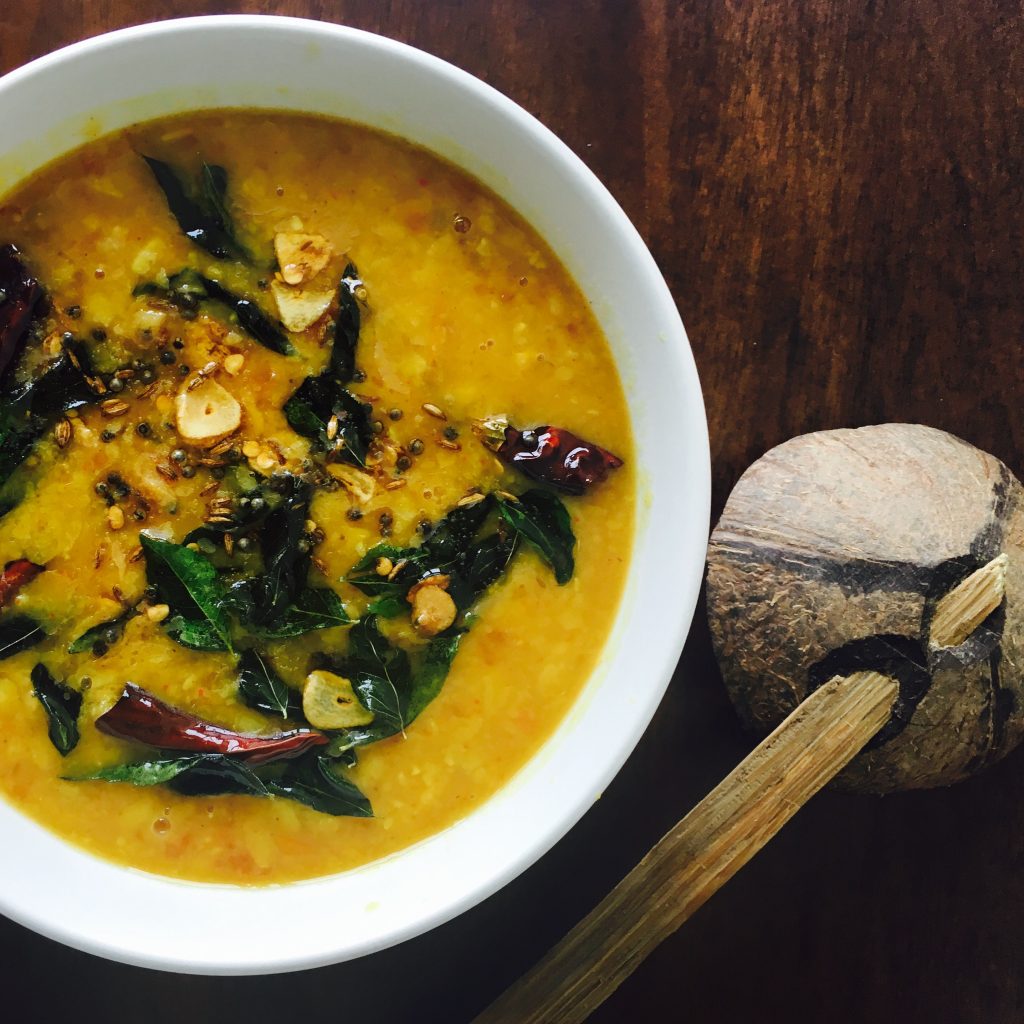 Not much more to say. Khatti Daal goes brilliantly well with steamed rice and some veggies or even something like Chicken 65 on the side. As you can tell, it's a tad spicy so feel free to adjust the chilli to your liking. The tamarind is the real hero of this dish, and the tomato has it's own little spots of glory. Overall, a nice little dish that reminds me a lot of Hyderabad. Give it a go and let me know what you think.
Over and out!